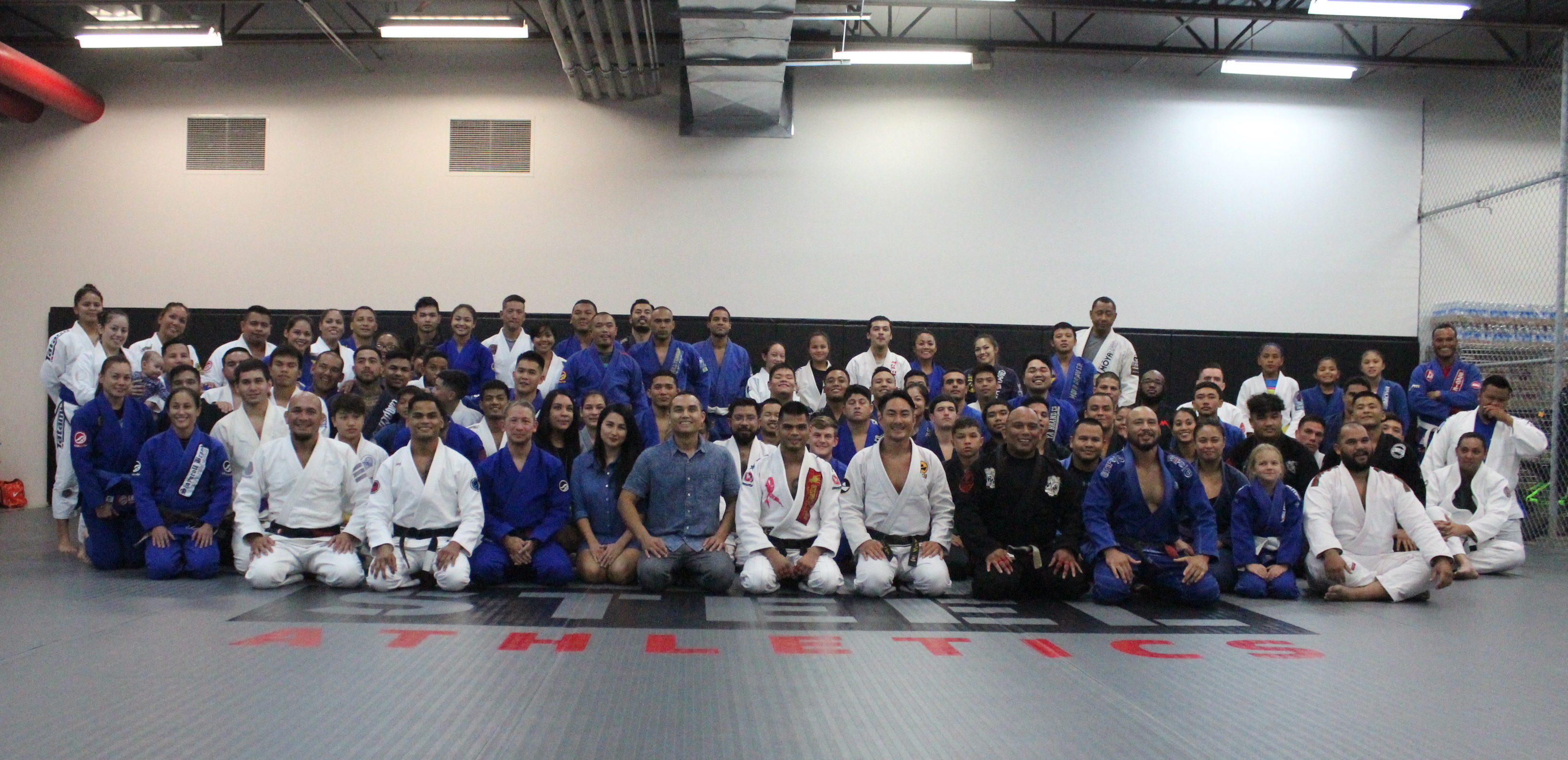 By Robert Balajadia
Over 100 jiu-jitsu practitioners gathered at the Steel Athletics gym Friday evening for the Hunter Rolls Autism Awareness Jiu Jitsu Seminar, united under one mission: to spread autism awareness on the island through the sport of jiu-jitsu.  Proceeds were dedicated to the "Hunter Speaks Autism Organization".
The idea for the Autism Awareness Seminar was sparked by standout Carlson Gracie brown belt Anthony Cruz around the Easter weekend.
"When the whole family got together that weekend I noticed how many of my first cousins, as well as my first cousin's children have autism. Learning that April is Autism Awareness month, I used this to give back and that's something I've never done in my life. Being a jiu-jitsu competitor you're focused a lot on yourself, like what you need to do to get better, so this is event is just inspired by my family," said Cruz.
Cruz's idea quickly manifested well with the rest of the jiu-jitsu community as each of the academies on Guam were quick to support the cause. They got in touch with the Hunter Speaks Autism Organization, which sprouted Friday's event, a first of its kind on Guam.
Dr. Vinny Duenas, father of the now six-year-old Hunter and co-founder of Hunter Speaks, was overwhelmed with positivity after seeing the turnout of participants in Friday's event.
"I'm truly humbled by the amount of support we're receiving from the jiu-jitsu community. These guys are role models for a lot of people here on Guam, so seeing them come out and support, I really hope others get to see this and also have the awareness of autism spread around the island," said Duenas.
The seminar was headed by each of the academies instructors such as Gabe Baker (Carlson Gracie), Luis and Elijah Reyes (FIGO), Jacob Guerrero (Spike 22), Omar Damian and Terrence Aflague (Heights Academy).
Black belt Terrence Aflague has had experiences teaching and rolling with people who have been diagnosed with autism.
"Jiu-jitsu is for everyone. I've taught kids who have autism and I think it's good for them to get on mat. For today, I'm excited to learn, excited to share and just excited for the togetherness of all the gyms for a bigger cause," said Aflague.
Gabe Baker also shared his experiences in working with practitioners who are diagnosed with autism, as well as what the event means as a whole.
"I want everyone to open up their minds and forget about what academy they're from and instead think of the cause. I've trained with people who autism and you'd have no idea they had autism with how competitive they are, they were trying to take my head off!," laughed Baker. "They love doing it, they indulged in it, and it's just awesome to see."
As for six year old Hunter, becoming a jiu-jitsu practitioner himself is right around the corner. And seeing how the jiu-jitsu community has rallied together for Hunter Rolls, Hunter might be seeing a gi and a mat sooner than later.
"It really motivates me to know that our children have just as much potential as everybody else. Instead of looking at their disabilities, we want to look at their abilities. To have the jiu-jitsu community do this for us is awesome. We are planning on getting him to sports soon so jiu-jitsu is going to be a first for him," said Dr. Duenas.
The Hunter Speaks Organization is also planning a stand-up paddle event later in June after a busy April, which was Autism Awareness Month.
"With Autism, a lot of people focus on April for "Autism Awareness Month", but it's not something that goes away after April; It's for life. We want to continue to bring awareness throughout the year and I think Guam is in a unique place to do that," added Duenas.
PHOTO GALLERY BROUGHT TO YOU BY: