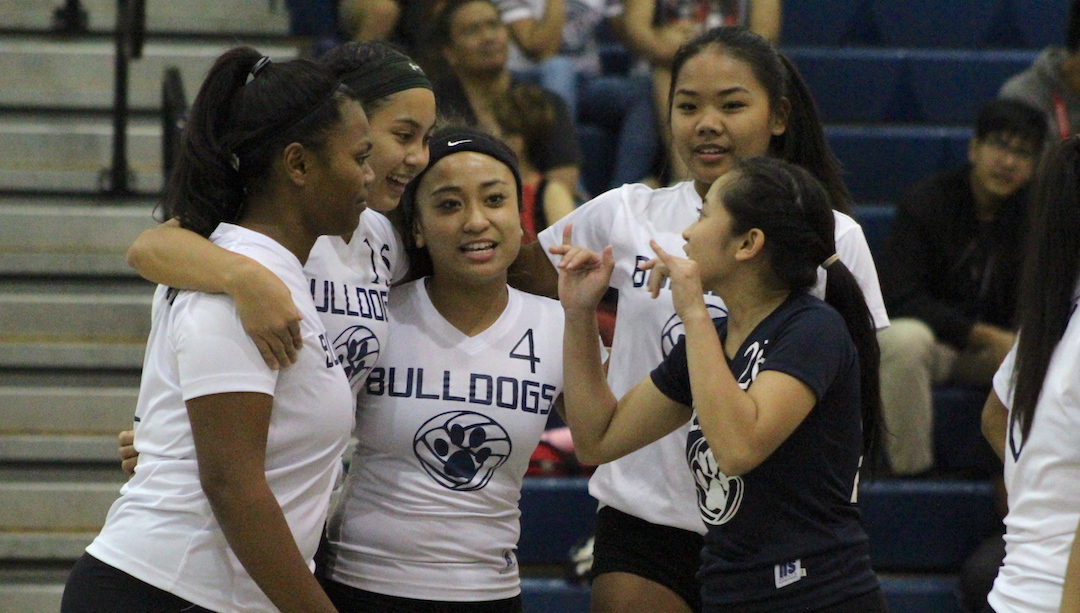 By Robert Balajadia
The Okkodo Bulldogs Girls volleyball team were eager to get this week started off on the right foot. After a rough week of games, Tuesday's straight set victory over the Sanchez Sharks in a battle of Northern schools was just the kind of lift the ladies needed. Okkodo defended home 25-15, 25-15 with strong play from Talia Aguon and a steady serving line.
"We're thinking really positive before this game," said Aguon on her teams strong performance Tuesday. "We're gaining a lot more confidence after having a good night like tonight."
Aguon led the team with five kills on the night as she took advantage of every free ball that came her way. She notched her first kill for the games first point, and one later to secure a 10-3 advantage to set the tone. She would follow up by attacking a free ball for the final point of the opening set, which was vital to the Bulldogs flow.
The Bulldogs went ace-happy in the 2nd set  as the ran went on a 6-1, including four aces, to get up 18-8. Another 6-1 run pushed the lead 24-10 to force a final timeout from the frustrated Sharks.
"We practice serving into the open spots a lot during practice," commented Aguon on the strong serving.
Hitting errors plagued the Sharks in both sets as their offense registered just three kills in each set. Okkodo had their share of errors, but the difference proved to come from the middle behind and Aguon and Danica Cabrera, who received the bulk of the passes.
Game recap
Okkodo opened the set strong behind serving from Mara Tamayo, as she orchestrated five points for a 10-3 lead. Errors would allow Sanchez back into the game, and a kill from Shark Jade Torre trimmed the lead to 16-10. Okkodo would get into a hitting groove as they coasted to the end of the 1st as Aguon smacked down a free ball.
The Bulldogs picked right where they left off in the 2nd set with Cabrera leading the way, registering two kills as they gained a 9-4 advantage. Two seperate 6-1 runs allowed the Bulldogs to surmount a 24-10 lead, but hitting errors and grit from the Sharks allowed a Sanchez 5-0 run for a 24-15 game.
After a timeout, Okkodo's Seiana Nedlic put the nail in the coffin with a kill from the outside to final the score.