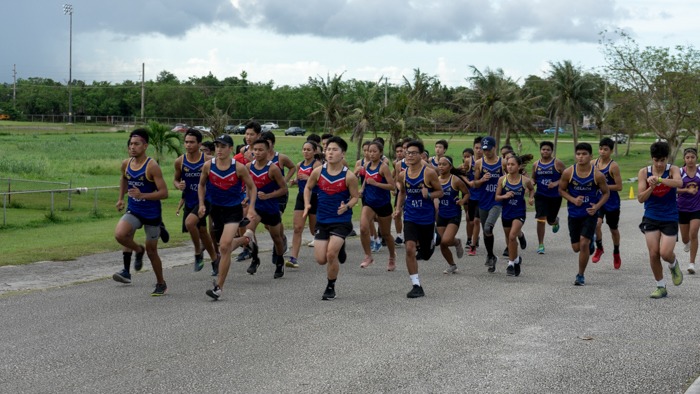 IIAAG 18-19 Cross-Country Meet #8 – 9/27/2018 11:57:26 AM
, Guam, Guam
GHS vs FD/AOLG
=================================================================
Name Yr Team Time Pts
—————————————————————–
Girls
—————————————————————–
1 Annika Almario 9t Academy of Our Lady 23:59.00 1
2 Tanea Henderson Guam High School 24:03.10 2
3 Letycia Lynch Guam High School 24:18.50 3
4 Sameha Wilbank So Guam High School 24:35.70 4
5 Sheila Dumaraog Academy of Our Lady 25:19.40 5
6 Lola Martin 9t Academy of Our Lady 26:38.10 6
7 Kyristen Farrior So Guam High School 26:46.30 7
8 Rian Guzman 9t Academy of Our Lady 27:31.50 8
9 Sierra Tenorio 9t Academy of Our Lady 28:32.10 9
10 Nierra Ubaldo 9 Academy of Our Lady 28:37.70 10
11 Maria Egurrola 9t Academy of Our Lady 29:22.40 11
12 Kayla Arellano 9t Academy of Our Lady 29:40.90
13 Audra Middelbrook Ju Guam High School 29:54.10 12
14 Kirsten Riley Ju Guam High School 31:43.50 13
15 Gabby Kranz Guam High School 34:58.60 14
—————————————————————–
Boys
—————————————————————–
1 Nicholas Keefe Ju Guam High School 18:21.50 1
2 Joey Vinch Ju Guam High School 20:05.00 2
3 Tucker Pullen Fr Guam High School 20:17.90 3
4 GianCarlo Hemerlein So Guam High School 20:29.00 4
5 Ethan Garcia Ju Guam High School 20:45.80 5
6 Ronan Perry Fr Guam High School 20:47.50 6
7 Thomas Fisher So Guam High School 20:50.40 7
8 Mason Calma Guam High School 21:00.20
9 Roy Manaloto Father Duenas Memori 21:01.70 8
10 John Danieli Se Guam High School 21:33.50
11 Alex Rink Fr Guam High School 21:37.30
12 Nathan Paz So Guam High School 22:21.50
13 Ethan Storie Father Duenas Memori 22:25.00 9
14 Desomon Nixon Guam High School 22:34.70
15 Aaron Gumataota Father Duenas Memori 22:47.70 10
16 Brian Mochida Father Duenas Memori 22:49.60 11
17 Anthony Pellosma Fr Guam High School 22:53.60
18 Alexander Hernandez Father Duenas Memori 23:16.60 12
19 Jonan Fejeran Father Duenas Memori 23:49.80 13
20 Matthew Cadiz Father Duenas Memori 24:19.80 14
21 Devin Lamb Father Duenas Memori 24:46.20
22 Stephen Stettenbenz Father Duenas Memori 25:01.00
23 BRian Songco Father Duenas Memori 25:02.40
24 Jacob Herrera Father Duenas Memori 25:09.00
25 Jimmy Castro Fr Guam High School 25:13.40
26 Tredan Rosario Guam High School 25:13.90
27 Thomas Haas Ju Guam High School 25:47.10
28 Clayton Brooks Father Duenas Memori 25:56.90
29 Tyrone Rosario Guam High School 26:37.70
30 Richard Grant So Guam High School 27:19.10
31 Kai Suzuki Father Duenas Memori 28:01.80
32 Ethan Guzman Father Duenas Memori 28:28.10
33 Andrian Baluyut Father Duenas Memori 29:15.50
34 John Tenorio Father Duenas Memori 29:52.00
35 Jacob Aguon Father Duenas Memori 31:48.00
36 Carlo Granillo Father Duenas Memori 42:18.00
Girls IIAAG GHS vs FD/AOLG Team Scores
=================================================================
Team Pts 1 2 3 4 5 (6) (7)
=================================================================
1 Guam High School 28 2 3 4 7 12 13 14
Total Time: 2:09:38 Average: 25:55.54 1-5 Split: 5:51
2 Academy of Our Lady 29 1 5 6 8 9 10 11
Total Time: 2:12:01 Average: 26:24.02 1-5 Split: 4:34
Boys IIAAG GHS vs FD/AOLG Team Scores
=================================================================
Team Pts 1 2 3 4 5 (6) (7)
=================================================================
1 Guam High School 15 1 2 3 4 5 6 7
Total Time: 1:40:00 Average: 19:59.84 1-5 Split: 2:25
2 Father Duenas Memori 50 8 9 10 11 12 13 14
Total Time: 1:52:21 Average: 22:28.12 1-5 Split: 2:15
GWHS vs SJS
=================================================================
Name Yr Team Time Pts
—————————————————————–
Girls
—————————————————————–
1 JENNA HAN 12 St. John School 20:31.42 1
2 MADISON PACKBIER 11 St. John School 20:50.84 2
3 KAILEA WIESE 12 St. John School 21:29.03 3
4 Gissa Dumaroag 9 George Washington Hi 22:45.53 4
5 JANALYN CRISS 9 St. John School 23:37.97 5
6 JENNY MANN 10 St. John School 24:23.24 6
7 Dae Pangelinan 10 George Washington Hi 24:37.79 7
8 Ave Santos 10 George Washington Hi 25:02.23 8
9 Raianne Quichocho 10 George Washington Hi 25:14.21 9
10 Railee Webb 10 George Washington Hi 25:17.35 10
11 Denelle Aldan George Washington Hi 28:34.46 11
12 Hannah Cepeda George Washington Hi 32:34.59 12
—————————————————————–
Boys
—————————————————————–
1 ZACHARY CRISS 12 St. John School 16:52.81 1
2 Luke Bukikosa 12 George Washington Hi 17:00.27 2
3 PHILIP SUHR 12 St. John School 17:07.73 3
4 ADAM CRUZ 9 St. John School 17:14.76 4
5 MARC RAJESH 11 St. John School 17:18.25 5
6 Christian Ruder 10 George Washington Hi 17:43.69 6
7 THOMAS YSRAEL 9 St. John School 18:40.78 7
8 LUKE JOHNSON 12 St. John School 19:55.93 8
9 ERREN CHEN 9 St. John School 20:05.49 9
10 Andrew Alconaba 9 George Washington Hi 20:11.65 10
11 TREY LARSEN 12 St. John School 21:05.38
12 BRIAN JOSEPH 10 St. John School 21:31.35
13 DERRICK YEN 10 St. John School 21:34.28
14 Matrix Dydasco 12 George Washington Hi 21:40.70 11
15 Resty Versario 9 George Washington Hi 22:14.78 12
16 Nathan Perez 9 George Washington Hi 22:29.96 13
17 HONGWEI LIU 12 St. John School 22:43.90
18 BRIAN LEE 10 St. John School 22:54.17
19 Michael Flisco 10 George Washington Hi 22:58.22 14
20 EUNJUN SHIN 9 St. John School 24:58.18
21 Zachary Cabrera 12 George Washington Hi 26:59.62
22 Aaron Olkeriil 10 George Washington Hi 30:43.04
Girls IIAAG GWHS vs SJS Team Scores
=================================================================
Team Pts 1 2 3 4 5 (6) (7)
=================================================================
1 St. John School 17 1 2 3 5 6 – –
Total Time: 1:50:53 Average: 22:10.50 1-5 Split: 3:52
2 George Washington Hi 38 4 7 8 9 10 11 12
Total Time: 2:02:58 Average: 24:35.43 1-5 Split: 2:32
Boys IIAAG GWHS vs SJS Team Scores
=================================================================
Team Pts 1 2 3 4 5 (6) (7)
=================================================================
1 St. John School 20 1 3 4 5 7 8 9
Total Time: 1:27:15 Average: 17:26.87 1-5 Split: 1:48
2 George Washington Hi 41 2 6 10 11 12 13 14
Total Time: 1:38:52 Average: 19:46.22 1-5 Split: 5:15
OHS vs HCA
=================================================================
Name Yr Team Time Pts
—————————————————————–
Girls
—————————————————————–
1 Minami Cramer 10 Harvest Christian Ac 24:00.83
2 Castor Jania 11 Okkodo High School 24:19.94 1
3 Farnaz Farahani 12 Harvest Christian Ac 24:26.18
4 Cuabo Chloe 11 Okkodo High School 26:05.87 2
5 Hannah Cathey 12 Harvest Christian Ac 26:41.57
6 Bantugan Alyanna 11 Okkodo High School 27:39.52 3
7 Aquino Genesis 10 Okkodo High School 28:08.43 4
8 Quichocho Jayna 9t Okkodo High School 29:13.21 5
9 Clark Kiana 10 Okkodo High School 32:38.02 6
10 Olarte Paulliene 9t Okkodo High School 43:40.36 7
—————————————————————–
Boys
—————————————————————–
1 Delos Santos Kyle 12 Okkodo High School 18:58.60 1
2 Keanu Hada 10 Harvest Christian Ac 19:42.10 2
3 Pangelinan Gabriel 10 Okkodo High School 19:59.21 3
4 Elomina Jayvee 11 Okkodo High School 20:01.52 4
5 Olandez Peter 11 Okkodo High School 20:09.71 5
6 Tamondong Darren 11 Okkodo High School 20:17.10 6
7 Edrosa Mason 11 Okkodo High School 20:23.85 7
8 Lacap Adrian 11 Okkodo High School 20:46.17 8
9 Palad Darius 11 Okkodo High School 20:53.22
10 Juico Jadrian 9t Okkodo High School 21:13.04
11 Nathan Chomel 11 Harvest Christian Ac 21:22.83 9
12 Imagawa Ronnie 11 Okkodo High School 21:39.79
13 Olandez Mathew 10 Okkodo High School 22:04.55
14 Asuncion Gerome 9t Okkodo High School 22:37.48
15 Brandon Deliguin 12 Harvest Christian Ac 23:12.03 10
16 Enqi Yang 9 Harvest Christian Ac 23:42.27 11
17 Alexavier Lake Harvest Christian Ac 23:50.91 12
18 Khan Vongjalorn 12 Harvest Christian Ac 23:53.19 13
19 Marquez Aron 10 Okkodo High School 23:55.14
20 Dimag Chance 9t Okkodo High School 23:57.04
21 Seungmin Kim 11 Harvest Christian Ac 23:59.40 14
22 Bacani Alvin 10 Okkodo High School 24:06.25
23 Masaki Tsuboyama 12 Harvest Christian Ac 25:02.78
24 Manacmul Charles 11 Okkodo High School 25:05.15
25 Tacubanza Nathaniel 11 Okkodo High School 25:05.83
26 Andrew Lu 9 Harvest Christian Ac 25:28.36
27 Shane Larkin Harvest Christian Ac 25:42.67
28 Ronald Adame 12 Okkodo High School 25:47.46
29 Jonathan Xu 11 Harvest Christian Ac 25:57.47
30 Keisi Clark 9 Harvest Christian Ac 26:01.49
31 Kaito Atsuta 12 Harvest Christian Ac 31:03.51
Girls IIAAG OHS vs HCA Team Scores
=================================================================
Team Pts 1 2 3 4 5 (6) (7)
=================================================================
1 Okkodo High School 15 1 2 3 4 5 6 7
Total Time: 2:15:27 Average: 27:05.40 1-5 Split: 4:54
Boys IIAAG OHS vs HCA Team Scores
=================================================================
Team Pts 1 2 3 4 5 (6) (7)
=================================================================
1 Okkodo High School 19 1 3 4 5 6 7 8
Total Time: 1:39:27 Average: 19:53.23 1-5 Split: 1:19
2 Harvest Christian Ac 44 2 9 10 11 12 13 14
Total Time: 1:51:51 Average: 22:22.03 1-5 Split: 4:09
SPCS vs SHS
=================================================================
Name Yr Team Time Pts
—————————————————————–
Girls
—————————————————————–
1 Jazmin Samonte 11 St. Paul Christian S 23:57.58 1
2 Lily Franklin 11 St. Paul Christian S 24:29.43 2
3 Geordyn Santos 11 Southern High School 24:39.22 3
4 Alana Aguon 12 St. Paul Christian S 24:48.31 4
5 Carlene Blailes 11 St. Paul Christian S 25:54.46 5
6 Edyn Santos 9 Southern High School 28:36.64 6
7 Adriana Caraig 11 St. Paul Christian S 29:07.19 7
8 Breanne Jamindang 9 St. Paul Christian S 29:09.85 8
9 Deborah Mangabat 10 St. Paul Christian S 31:15.56 9
10 Maryann Vaughan 10 Southern High School 31:24.24 10
11 Agatha Vaughan 11 Southern High School 33:28.62 11
12 Raisa Sinel 11 Southern High School 34:57.58 12
—————————————————————–
Boys
—————————————————————–
1 Brandon Miranda 11 St. Paul Christian S 17:39.47 1
2 LeonGuerrero Carlos 11 Southern High School 18:08.51 2
3 Kanta Yamazaki 9 St. Paul Christian S 18:13.49 3
4 Jacob Miranda 9 St. Paul Christian S 18:15.24 4
5 Keith Nauta 10 St. Paul Christian S 19:12.99 5
6 Masato Tsujii 9 St. Paul Christian S 19:47.84 6
7 James Labanza 11 St. Paul Christian S 20:12.98 7
8 Christopher Chiguina 11 Southern High School 20:28.04 8
9 Audrey Dela Cruz 11 St. Paul Christian S 20:39.41 9
10 Vegafria Craig 11 Southern High School 20:42.23 10
11 Wolfe Zach 11 Southern High School 20:50.24 11
12 LeonGuerrero Ramon 11 Southern High School 20:55.33 12
13 Hayato Tsujii 11 St. Paul Christian S 21:22.25
14 Illac Lalic 11 St. Paul Christian S 21:26.03
15 Bryzen Punongbayan 10 St. Paul Christian S 21:26.56
16 Aaron Torres 11 Southern High School 21:42.32 13
17 In Jo 11 St. Paul Christian S 21:55.74
18 Vegafria Christian 11 Southern High School 22:24.02 14
19 Nathaniel Clariza Southern High School 22:36.76
20 Layon Peter 12 Southern High School 22:42.89
21 Diaz Joaquin 11 Southern High School 22:44.65
22 Charles Jackson 9 St. Paul Christian S 22:48.33
23 Gumataotao Skyler 11 Southern High School 23:34.45
24 Damian Raigalipiy 11 St. Paul Christian S 23:54.57
25 Quinata Levi 10 Southern High School 24:07.12
26 Shintaro Hikichi 11 St. Paul Christian S 25:04.33
27 Redentor Borja 11 St. Paul Christian S 25:35.41
28 Chauncey Jamindang 11 St. Paul Christian S 27:09.08
29 Jacob Perez 11 St. Paul Christian S 27:34.89
30 Caleb Agustin 12 St. Paul Christian S 27:35.37
31 Fejeran Joshua 11 Southern High School 27:35.97
32 William Vaughan Southern High School 27:57.46
33 Travis Blas 12 St. Paul Christian S 30:48.82
34 Caleb Centeno 12 St. Paul Christian S 36:51.98
Girls IIAAG SPCS vs SHS Team Scores
=================================================================
Team Pts 1 2 3 4 5 (6) (7)
=================================================================
1 St. Paul Christian S 19 1 2 4 5 7 8 9
Total Time: 2:08:17 Average: 25:39.40 1-5 Split: 5:10
2 Southern High School 42 3 6 10 11 12 – –
Total Time: 2:33:07 Average: 30:37.26 1-5 Split: 10:19
Boys IIAAG SPCS vs SHS Team Scores
=================================================================
Team Pts 1 2 3 4 5 (6) (7)
=================================================================
1 St. Paul Christian S 19 1 3 4 5 6 7 9
Total Time: 1:33:10 Average: 18:37.81 1-5 Split: 2:09
2 Southern High School 43 2 8 10 11 12 13 14
Total Time: 1:41:05 Average: 20:12.87 1-5 Split: 2:47
THS vs SSHS
=================================================================
Name Yr Team Time Pts
—————————————————————–
Girls
—————————————————————–
1 Kerida Quinata 10 Simon Sanchez High S 26:25.00
2 Jerymae Segovia 9 Simon Sanchez High S 28:16.00
3 Edeenalyn Gatmen 12 Simon Sanchez High S 28:17.00
4 Raven Leonen 10 Simon Sanchez High S 28:37.00
—————————————————————–
Boys
—————————————————————–
1 Cody Villegas 10 Simon Sanchez High S 19:19.00 1
2 Ryniel DiRamos 12 Simon Sanchez High S 19:24.00 2
3 Terrence Johnson 10 Tiyan High School 19:27.00
4 Rico Castro 11 Simon Sanchez High S 19:49.00 3
5 Granville Tandoc 11 Simon Sanchez High S 20:15.00 4
6 John Medina 10 Simon Sanchez High S 20:23.00 5
7 Jerald Bagain 11 Simon Sanchez High S 20:47.00 6
8 Dru Sangueza 9 Simon Sanchez High S 20:57.00 7
9 Caleb Santiago 9 Simon Sanchez High S 21:03.00
10 Jim Pamplona 10 Simon Sanchez High S 21:46.00
11 Remoh Nel Sanchez 12 Simon Sanchez High S 22:04.00
12 Isaiah Malig 11 Simon Sanchez High S 23:22.00
13 Michael Sampang 10 Tiyan High School 24:08.00
14 Vincent Suamer Simon Sanchez High S 24:36.00
15 Julio Devera 12 Simon Sanchez High S 24:39.00
16 Aiden Flory Tiyan High School 24:41.00
17 Teo Galvez 9 Simon Sanchez High S 24:45.00
18 Jon Lordios 10 Simon Sanchez High S 25:32.00
19 Denniel Taloyo 9 Simon Sanchez High S 26:39.00
20 Nathaniel Sejaldo Tiyan High School 27:21.00
Boys IIAAG THS vs SSHS Team Scores
=================================================================
Team Pts 1 2 3 4 5 (6) (7)
=================================================================
1 Simon Sanchez High S 15 1 2 3 4 5 6 7
Total Time: 1:39:10 Average: 19:50.00 1-5 Split: 1:04

Foody's 5 Fun Facts
NFL Fan Edition: Sherwin Paet
DID U KNOW?
Frank 'The Crank' Camacho was a competitive youth golfer in Saipan with dreams of making it to the PGA.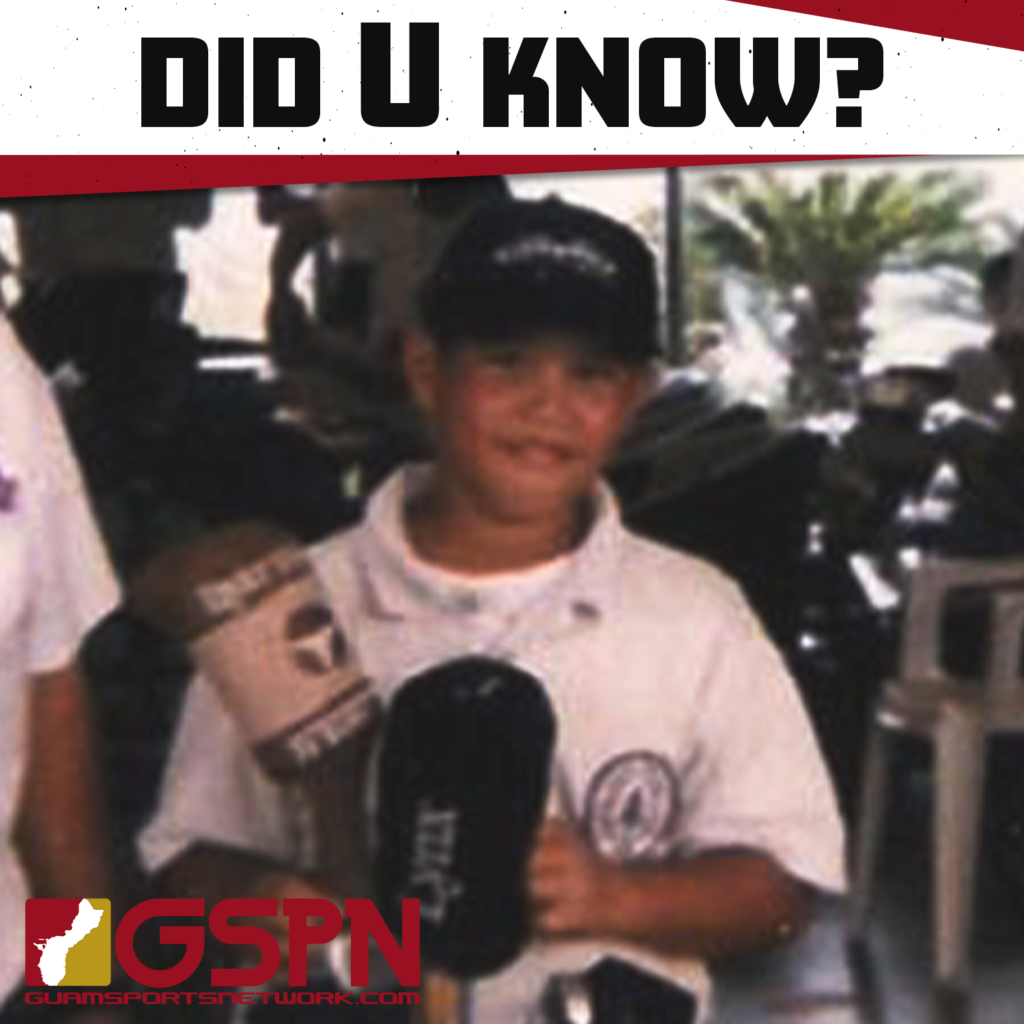 COMING SOON …
ALL SPORTING EVENTS HALTED DUE TO THE CORONAVIRUS ISSUE
QUICK HITS
Brazilian Jiu-jitsu gains another CHamoru black belt.
Johnny-James Lujan earned the honor in Colorado from Professor Tom Lynn, who is also a former US Olympian in taekwondo.
Lujan is the son of Johnny Lujan formerly of Mongmong and Janille Jamero Lujan formerly of Sinajana.