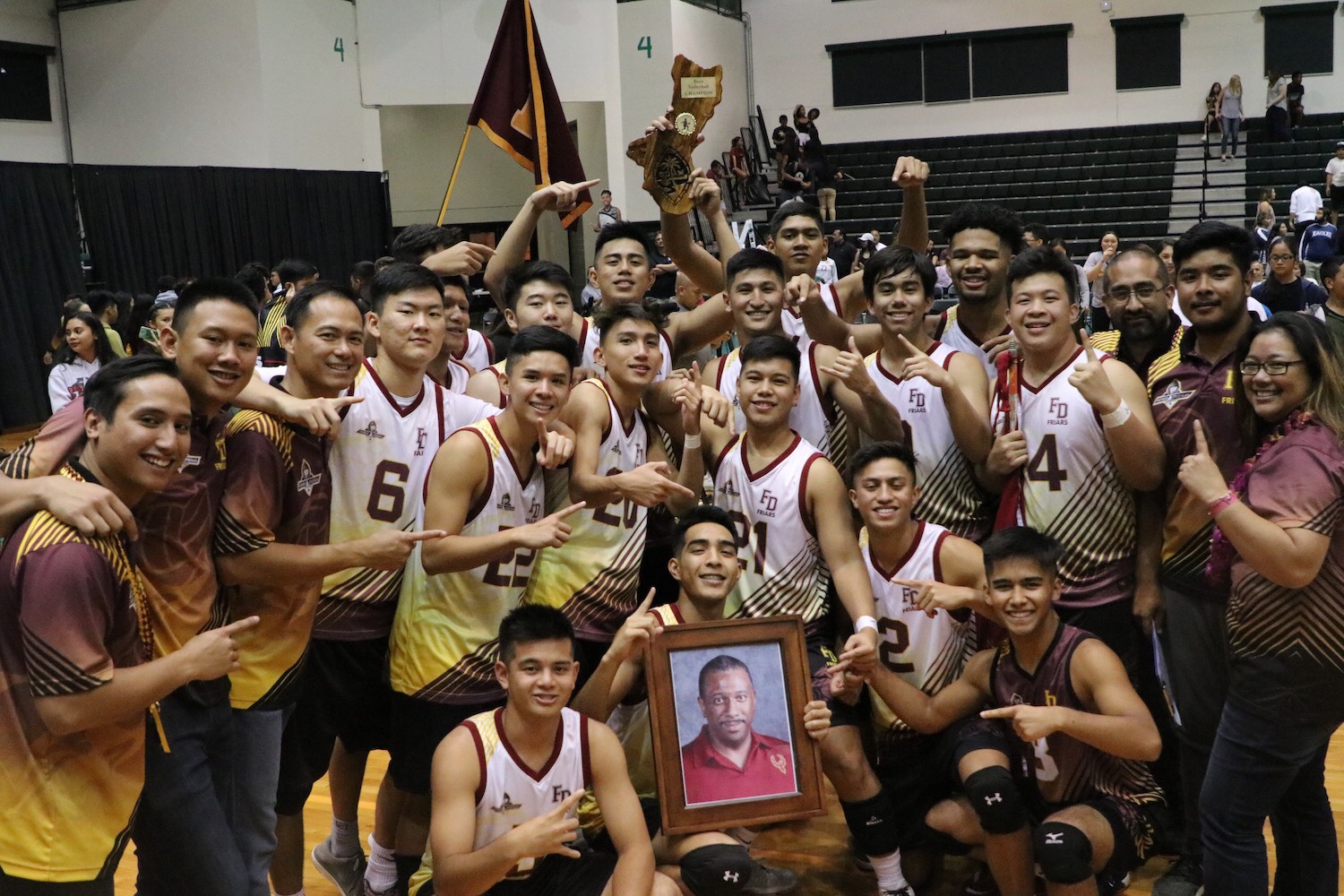 By Robert Balajadia
A day after saying their final farewell to their Principal Tony Thompson, the FD Friars Boys Volleyball team raised his portrait high Saturday night in the UOG Calvo Field House immediately after winning the 2018 IIAAG title in three sets over the Tiyan Titans 25-18, 25-17, 25-18.
Behind Co-MVP setter Logan Pangelinan, the Friars hitting squad fired away for 47 total kills with the combined efforts of Nathaniel Kyle Gaitan and Aidan 'Moon Walker' McDonald making up 37 of them. Gaitan flourished with 20 total while McDonald unleashed a punishing amount in 17.
With the sudden passing of Thompson before the playoffs, head coach Steve Pangelinan was worried the emotions would be too much for the team to handle. Instead, he saw the desire to win for Thompson overtake that doubt, which Pangelinan helped channel into quite the impressive volleyball display.
"At first I thought it was going to be a challenge, but it proved to be fairly easy," said coach Pangelinan on getting his team ready to handle the week. "Everybody knew the reason we were playing tonight so the boys had extra motivation to play our best."
Though Thompson wasn't there to watch his school win, the team felt Thompson's presence.
"Winning this was for him, I know he's proud of us," said Gaitan on winning his first title with FD.
"Everything we did was dedicated to him," said McDonald.
"[Thompson] was our biggest supporter. We knew he was with us today. He never missed any of our games so we knew he was watching over us today and we played like he was watching," said De'Aundre Cruz.
Early game nerves had the score close until the Friars broke away from a 13 score tie, using a 7-2 run to pull ahead 20-15 in the opening set. With five different Friars already registering kills at that point, the setter Pangelinan started to feel his team getting into what would prove to be an unstoppable groove.
"In the middle of the first set I started to feel it. Some sets I would give weren't too good, but our hitters were still putting it down. So I felt like whatever I put up they would put into the ground and I was comfortable with that, it allowed me to get into it," said Logan.
And Pangelinan felt no pressure to perform to a certain standard since being named MVP, taking inspiration from what his Co-MVP said in a previous GSPN interview.
"[Jude] said in that interview that people won't remember who won the MVP but instead who won the championship, which was a great mindset. So that's how I decided to go about it too, MVP didn't matter and all I wanted was that championship."
Tiyan was led in kills by Jude Cruz with eight, but the flow of the Tiyan offense didn't often go through the league Co-MVP. Fellow Titan's Ramil Padigos and Santos ended with five kills each.
Friars leave it all on court
The Friars scored the first points of the game after middle Brandon Mendiola and right side Noah Diaz got a hand in on a block. Gaitan shook up the Titan defense for a pair of early kills only to be answered by Titan's Cruz and Richard Santos, posting a close 4-3 1st set score.
McDonald unloaded thunderous kill down the left side of the Titan defense for his first kill of the game, only to attack the same spot that garnered a same result two plays later for a 7-6 Friar advantage.
Tiyan grabbed a brief lead in the set 12-11 after a Friar net error, but FD would take back command of the game with Gaitan and De'Aundre scoring points for a 14-13 lead. FD would continue to feed the hot hand of Gaitan and McDonald, closing the 1st on a 5-1 run for the 25-18 score.
"The line was open all night so that's what I adjusted to," said McDonald. "But winning this title just makes me hungrier, I'm ready for more!"
Heat check
The 2nd set was nearly identical to the first as both teams battled close with four kills from Gaitan and three from McDonald as FD held a slim 13-11 advantage. Gaitan would get back to back kills for a 19-15 lead and Pangelinan got into the scoring action with a sneaky kill to go up 22-16, forcing a Tiyan timeout.
Pangelinan would feed three different Friars for the final three points of the set as FD posted a commanding two sets to none lead over the Titans.
"We played our game and trusted our coaches. We have to give big props to our coaches for everything they do. We were ready for that final set," said Gaitan.
The Friar train would get off to a slow start in the 3rd set as they dipped into a 4-0 hole from unforced errors. Padigos would add to the Friars troubles with a block and kill as Tiyan held their biggest lead of the game 8-3.
McDonald refused to give up after misfiring on a hit, calling for the next pass as he smashed a mean kill to get FD within 9-7. The Friars used a 3-0, sparked by a block from Mendiola, to tie the contest at 10 all.
Friar Kaleb Tennessen registered his teams second ace from the service line to go up 18-16 as the Titans then pulled out their MVP Cruz from the contest. The surprising substitution was brief as Cruz checked in a point later, but the momentum of the Friars was already running rampant as Gaitan and McDonald blasted the Tiyan backline to go up 24-17.
Pangelinan received a pass from the middle that he laid out for right side hitter Enrique Untalan, who registered his first kill of the game to give FD their game-winning 25th point. Gaitan immediately rushed to grab the portrait of Thompson, who had special reserved seating on the Friar bench, as students rushed the court to celebrate.
The team ended their huddle with the FD Alma Mater, getting FD's eighth IIAAG title during the 2017-18 season.
The Friars have won two volleyball titles in three years with two vital pieces set to return for one more year in Pangelinan and McDonald. When asked if they're already looking ahead to next season coach Pangelinan simply stated, "Not yet. We're going to enjoy this one. Every season is different so who knows what next season is going to look like. We'll deal with it when we get there."
PHOTO GALLERY BROUGHT TO YOU BY:

QUICK HITS
3rd place: Big ups to the Para Todu Rugby Club for finishing 3rd out of 16 teams in the Manila 10's Rugby Tournament today. Biba Guam Rugby!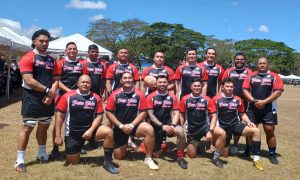 ——————————————
Guam MTB National Championship: Edward Oingerang and Jennifer Camacho are your 2023 MTB national champions. Oingerang finished the course in 1:13:24 while Camacho won her second straight title in 54:08.