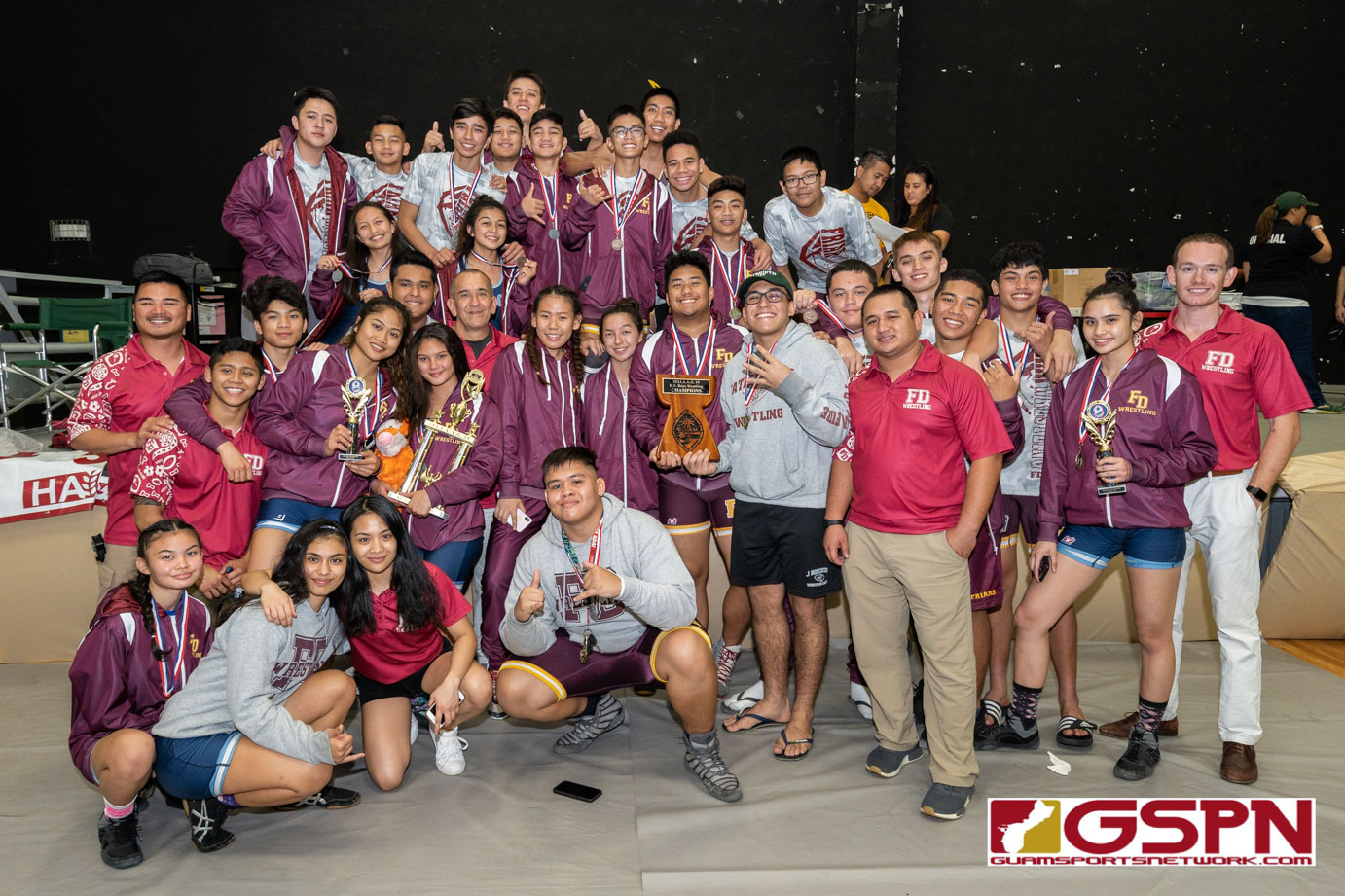 By Jay Leon Guerrero
It was an early ending for the 2018-2019 IIAAG Wrestling All-Island Meet with a low number of participants due to the absence of the Sanchez Sharks. After the all-day event, the FD Friars celebrated their fourth straight championship and the GW Geckos girls celebrated their championship hours after the GW boys team won the baseball title.
GW rallies to win girls championship
It was a three team race with three matches remaining in the all-island girls meet between the regular season record leader Tiyan Titans, the AOLG Cougars and the Geckos.
A clutch come-from-behind pin by freshman Alanah Balabagno in the 168-pound division helped push the Geckos within three points of the-then team point leader Cougars. McKenzie Quitugua followed with victory via pin fall in the 184-pound division to take the lead and clinch the championship.
Girls Final team scores:
GW Geckos – 136 points
AOLG Cougars – 130 points
Tiyan Titans – 122 points
Okkodo Bulldogs – 69 points
Southern Dolphins – 50 points
JFK Islanders – 48 points
Guam High Panthers – 42 points
"For the longest time, GW has been close to winning a title but was always coming up short. Knowing that I helped the team get closer with my victory makes me feel really good," said Balabagno. "I'm glad I decided to join wrestling; I'm really indebted to our coaches who helped us this season."
The Cougars came close once again and almost made history coming up short of a championship. Lauren Lujan, Andrea Salas, and Annabelle Basto each won gold medals for the Cougars. Lujan and Basto won the light and heavy weight MVP honors for the season after the coaches voted after the event.
Salas wins thrilling match
"Before every match, I tell myself that I have to want it more than my opponent," said Salas. Salas was tested early but overcame adversity and won via pin to give Academy the point lead mid-way through the meet.
Academy finished in a respectable second place, their highest finish in school history and are looking strong for next season.
"Academy in the past has been at the bottom of the rankings but now that we have more wrestlers coming out and wrestling under coach Terry Debold, we are doing much better," said Salas.
Debold's Dynasty Continues
The Father Duenas Friars once again walked away with a convincing win to claim their fourth straight title, continuing the dynasty under head coach Terry Debold. The Friars had nine total wrestlers in the gold medal matches and scored 139 total points.
Boys Final Team results:
FD Friars – 139 points
Southern High – 87 points
GW Geckos – 84 points
Okkodo Bulldogs – 76 points
Guam High – 39 points
Tiyan Titans – 38 points
JFK Islanders – 11 points
Caleb Laserna, Thomas Pool, Matias Calvo and Kobe Onedera each won gold medals for the Friars. After a disappointing finish last year, Laserna returned to wrestling and won his match in the 113-pound division via pin.
"I felt motivated after what happened last year. I decided to continue wrestling and push myself to go for the gold," said Laserna who finished the season undefeated.
FD team captain Calvo (14-0) and teammate Pool (11-0) also finished their season undefeated.
Galarpe, Bonnette win MVP honors
Lance Galarpe from Tiyan won the lightweight MVP honors. Galarpe held off FD's Kaleb Gamabala in the 120-pound gold medal match to finish his with a 13-1 record. Bonnette pinned GW's Devin Benavente in the 160-pound gold medal match and finished his season with a 12-1 record.
Girls IIAAG Wrestling results:
97: Tiara Fernandez, Tiyan (Gold), Emma Reese Gutierrez, AOLG (Silver), Elenice Leon Guerrero, GW (Bronze)
102: Alyssa Dumlao, Tiyan (Gold), Myah Blas, Tiyan (Silver)
112: Alyssa Molo, Tiyan (Gold), Erin Quichocho, GW (Silver), Leila Halmi, Guam High (Bronze)
117: Anica Menor, Tiyan (Gold), Jennifer Mesa, AOLG (Silver), Chloe Stanley, AOLG (Bronze)
122: Lauren Lujan, AOLG (Gold), Aveah Garrido, GW (Silver), Kiana Siguenza, Southern (Bronze)
127: Andrea Salas, GW (Gold), Kitana Neal, GW (Silver), Jenna Delos Reyes, Southern (Bronze)
132: Annabelle Basto, AOLG (Gold), Ahmylyn Cabrera, Okkodo (Silver), Randi Affleje, JFK (Bronze)
138: Jessy Blas, JFK (Gold), Jenny Choi, AOLG (Silver), Savana Taitague, Southern (Bronze)
145: Maya Fendi Kunihiro, Okkodo (Gold)
155: Alexandra Cruz, Okkodo (Gold), Ha'ani Peredo, GW (Silver), Anieva Cepeda, Tiyan (Bronze)
168: Alanah Balabagno, GW (Gold), Meghan Knaeble, Okkodo, (Silver), Machaela Schwappach, Guam High (Bronze)
184: McKenzie Quitugua, GW (Gold), Jaeda Aguon, JFK (Silver), Katrina Shadow, Guam High (Bronze)
225: Savannah LeMaire, Southern (Gold), Jonie Buccat, GW (Silver)
Boys IIAAG Wrestling results:
106: Ely Pocaigue, Southern (Gold), Keoni Lizama, FD (Silver), Alexander Hernandez, FD (Bronze)
113:Caleb Laserna, FD (Gold), Xander Duenas, Tiyan (Silver), Nicholas Gumataotao, GW (Bronze)
120: Lance Galarpe, Tiyan (Gold), Kaleb Gambala, FD (Silver), Skyler Lujan, Southern (Bronze)
126: Julius Gaduang, Guam High (Gold), Ricky Gamboa, Tiyan (Silver), Jordan Lujan, Southern (Bronze)
132: Mason Duenas, GW (Gold), Jonah Diaz, FD (Silver), Troy Muna, Southern (Bronze)
138: Shelby Meeks, GW (Gold), Samuel Gose, Okkodo (Silver), Izion DeLeon Guerrero, Okkodo (Bronze)
145: Peter Olandez, Okkodo (Gold), Noah Quichocho, GW (Silver), Elee Cruz, JFK (Bronze)
152: Mark Selfie, Guam High (Gold), Zion Ferrera, Okkodo (Silver), Jose Egurrola, FD (Bronze)
160: Brock Bonnette, Southern (Gold), Devin Benavente, GW (Silver), Matthew Olandez, Okkodo (Bronze)
170: Thomas Pool, FD (Gold), Nathaniel Diaz, Southern (Silver), Kaleb Mendiola, GW (Bronze)
182: Bartolme J Abuan, Okkodo (Gold), Coleman Pool, FD (Silver), Julio Fernandes Rosas, Guam High (Bronze)
195: Matias Calvo, FD (Gold), Gavin Terlaje, Southern (Silver), Jesse Santos, Okkodo (Bronze)
220: Kobe Onedera, FD (Gold), Aiden Tamayo, Southern (Silver), Anthony Meno, FD (Bronze)
285: Jose San Miguel, GW (Gold), Kyle Ada, FD (Silver), Alvin Joseph, Okkodo (Bronze)
PHOTO GALLERY BROUGHT TO YOU BY:

QUICK HITS
The Okkodo Bulldogs secured third place at the Far East Division I Girls' Basketball Tournament in Camp Humphreys, South Korea. Jasmine Samson and Haley Cabrera were named All-Tournament selections in recognition of their hard work on the court. Vaysia Blas won the 3-point shooting contest. The Bulldogs played nine games in three days with a squad of eight:
Erin Moldez
Jasmine Samson
Haley Cabrera
Sharm Tauiwei
Hanna Meinik
Jordyn Zacarias
Jordin Hernandez
Vaysia Blas