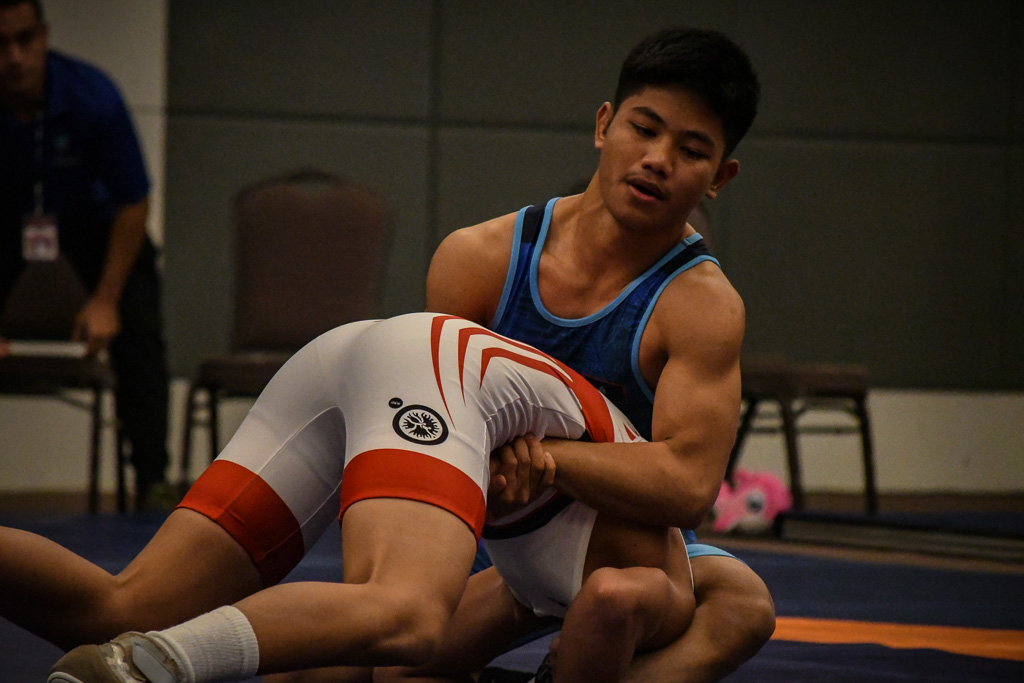 By Jay Leon Guerrero
Guam played host for the 2018 United World Wrestling Oceania Championships with eight nations competing at the main ballroom at the Leo Palace Resort. Wrestlers from American Samoa, Australia, FSM, Marshall Islands, Nauru, New Zealand, Palau and host Guam took the mat in the male and female categories. The three day event featured the freestyle competition (Friday),  the Greco Roman competition (Saturday) and the Beach wrestling event (Sunday).
The competition was used as an early gauge for wrestlers aspiring to earn a spot in the 2020 Summer Olympics in Toyko, Japan. Younger wrestlers in the cadet division (17-and-under) wrestled for a spot in this year's Youth Olympic Games which will be held in Buenos Aires, Argentina in September.
Sharks open event
Sanchez High School wrestling teammates Gavin Whitt, Lynch Santos and Paul Aguon all took the mat to open the event and immediately went to work with victories in the opening match. It was the first international competition for all three young wrestlers.
"At first, there was jitters but it went away when I got on the mat. I'd like to thank my family for their support and all my coaches for preparing me for this event," said Whitt. "There wasn't really any pressure on me. If you train hard in practice, then there is no reason to be scared," said Santos.
Whitt won the 55KG freestyle division with a victory over Luke Hopkinson from New Zealand. Santos got to the gold medal match with a victory over Orion Leland Ahsin Leaitua from American Samoa. Santos came up short of the gold after losing Westerly Pehi Tahi Ainsley from New Zealand via points.
Three Guam wrestlers qualify
The cadet division gold medallists from Guam tentatively qualified for the Youth Olympic Games. Paulina Jean Duenas, Kaetlyn Quintanilla, and Gavin Whitt all earned the right to represent the Oceania region in Buenos Aires, Argentina in September. An official announcement will be made by the Guam Amatuer Wrestling Federation later this weekend to confirm their nomination.
Aquino gets the victory
Guam's Mia Aquino won the women's senior 55Kg division with a majority decision victory (10-0) over Jessica Schrader Lavers McBain from Australia. Aquino will be competing in other competitions this year used the event to help her prepare.
"In order to compete for the world championship this year, I have to compete in my continental championship. Any form of competition that I compete in is always beneficial to my moving for qualifying for the Olympics. These competitions show me how my training been doing for me," said Aquino.
Tuck wins wrestling debut
Making his amateur wrestling debut was Guam's UFC fighter Jon Tuck. Tuck wrestled in the senior 79 KG division and got a pinfall victory over John Tulensru from the FSM. Tuck started slow but managed to take down Tulensru three minutes into the bout and worked his way to the pin.
"I took my time against my opponent because we really didn't know anything about eachother so I was really feeling him out," said Tuck. "I was enjoying the moment; enjoying being on the mat. I'm just happy to once again have another oppurtunity to not only represent my family but also my island; something I love to do," said Tuck.
Unfortunately, other wrestlers from New Zealand and Australia missed weight so Tuck's lone match was for the gold medal. "I wished the Australian wrestlers made weight, I was looking for some redemption from my UFC (Fight Night 101) match in Melbourne," joked Tuck.
Also winning gold for team Guam was Aguon in the junior 70KG division. Aguon won his second gold in the senior 70KG division. Santos bounced back and won gold in the junior 65KG division.
Ethan Aguigui electrified the crowd with a gold medal performance in the competitive senior 65KG division.  Aguigui needed five victories to win the gold.  John Rojas had two victories as well in the senior 74KG division, the gold medal results for the Rojas bracket was not available as of press time.
…photos by Raine Delos Reyes…
PHOTO GALLERY BROUGHT TO YOU BY: