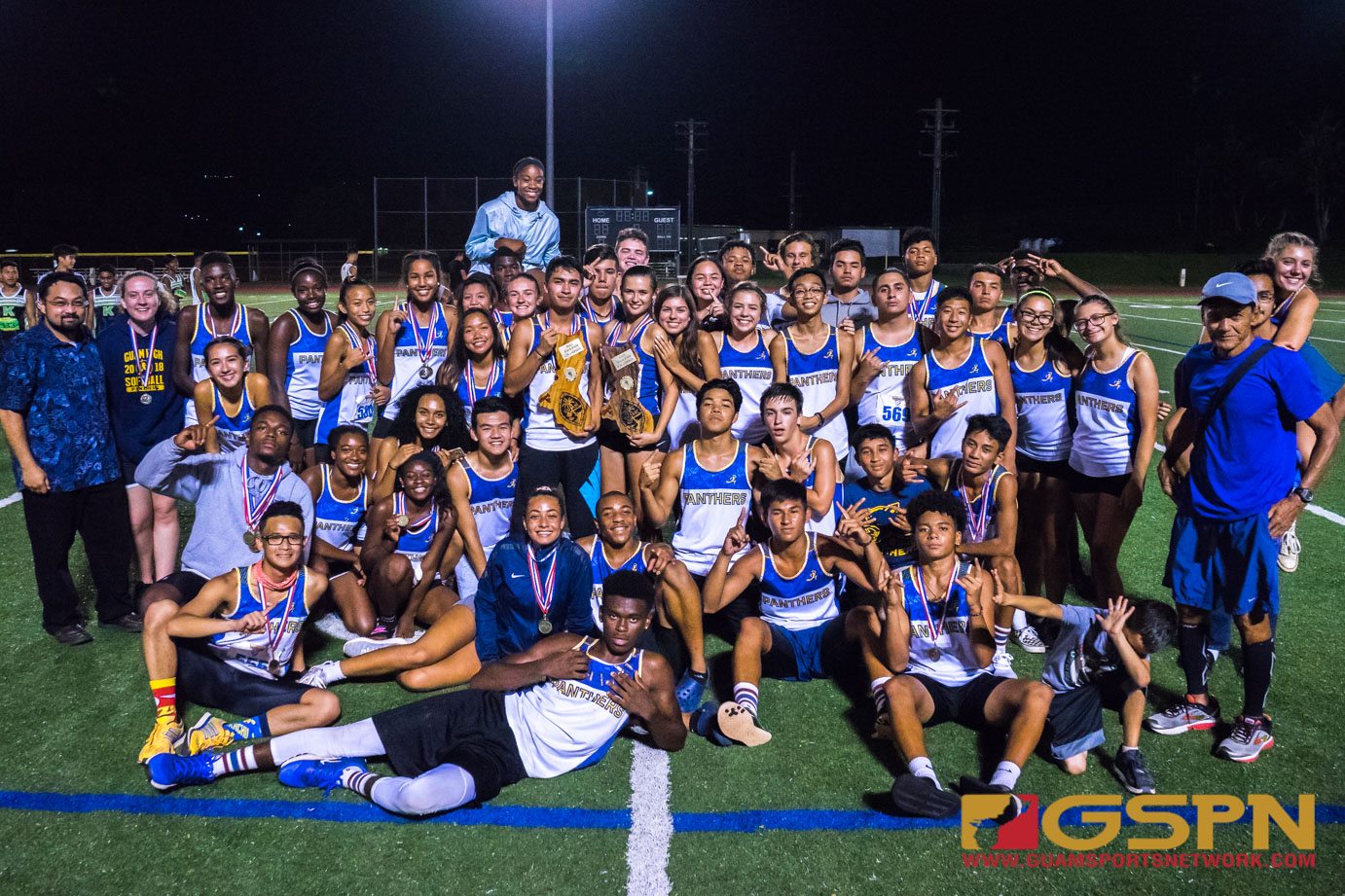 By Jay Leon Guerrero
The Guam High Panthers strike again! After starting the school year off with a double victory in cross country, the Panthers did it again bringing home the signature wooden Guam Seal IIAAG Championship trophies with a scoop in the boy's and girl's titles on their home track.
The Panthers, led by legendary coach Joe Taitano, managed to hold off the Okkodo Bulldogs in both division to win the titles. "I thought we did really well tonight. There were some events that i didnt think we would do well and we did good. And then there were some events that I felt we were strong and we didn't do too well at all. In the end, it all balances out and I still feel we did enough to win," said Taitano.
Senior Guam High captain Isaac Ventura contributed three gold medals to his team and is pleased with the results. "Coach told us to not get comfortable leading up to the all-island meet and stay on edge. His message was always do your best cause you'll never know when there's a guy coming up right behind you," said Ventura. Ventura ends his successful high school career with gold medals in the long distance (3000m, 1500m and 800m) races.
Emma Sheedy won two gold medals and said that she was privileged to be coached by Taitano for the last four years. "He is my all time favorite coach. He pushed me to do things I would never imagine doing," said Sheedy.
The Panthers held off a strong Okkodo team who took second in both divisions. The JFK Islanders won third place as well in both divisions to round out the top three. Here are the team scores:
Girls –
1. Guam High Panthers – 168.5
2. Okkodo Bulldogs 148.5
3. John F. Kennedy 126
4. Simon Sanchez 48
5. Academy of Our Lady of Guam 28
6. Southern Dolphins 21
Boys –
1. Guam High Panthers 182
2. Okkodo Bulldogs 139
3. John F. Kennedy 102
4. Simon Sanchez 59
5. Southern Dolphins 26.5 (tie)
5. Father Duenas 26.5 (tie)
7. George Washington 9
Performance of the night
Richelle Tugade from JFK was the only athlete who accomplished winning four gold medals for the all-island meet.  Tugade won the long jump along with the 100m sprints, the 100m hurdles and the 200m sprints. Tugade's older sister, Regine, won four gold medals as well in the 2016 all-island meet as well.
"She (Regine) told me 'your a Tugade, you got this. It's in your blood'," said Richelle Tugade. "Coming into the All-Island meet, I wanted to make sure that i was prepared mentally for the race," said Tugade. "I think i did a good job at it".
Tugade's teammate, sophomore sensation Joseph Aguon, also had an impressive night for the Islanders with fast times in the 400m and 200m races. Aguon edged out teammate Ryan Kent to win the 200m dash with a time of 23.45 seconds to Kent's 23.65 seconds. Aguon also won the 400m race with a time of 52.22 seconds.
"I felt accomplished today. My coach told me that no matter what you place or how you did, as long as you did your best and left all out there than that's good enough," said Aguon. Aguon will not stop his training, he will be going to Yap in July for the Micronesian Games.
Taitano credits Okkodo
"The all-island meet is very different from the regular season dual meets. Teams gain points if they place up the seventh position. Okkodo did a good job at filling in those positions, if they weren't winning the race; there was always a red shirt in the fourth, fifth or sixth position gaining valuable points," said Taitano.
Oyardo strikes gold on last race
"Our coaches did a good job this season to make us better. We had a lot of hard workouts but it all pays off in the end," said Okkodo senior Jonas Oyardo. Oyardo had one last shot to win a medal in the 4 X 400 relay after finishing fourth twice earlier in the meet. He helped get a lead to help the Bulldogs edge out the Panthers to win a gold with a time of 3:42. Guam High was second place with a time of 3:45.
Oyardo said that his team will be even stronger next year with hard work and the guidance from coach Desmond Mandell III. "We all just have to 'trust the process' in what coach was doing," said Oyardo.
Other good moments from the all-island include a double gold perfomance from Sanchez underclassmen Erjel Sanchez. Sanchez gave his team valuable points with a pair of gold medals to finish in a respectable fourth place.
PHOTO GALLERY BROUGHT TO YOU BY:

QUICK HITS
3rd place: Big ups to the Para Todu Rugby Club for finishing 3rd out of 16 teams in the Manila 10's Rugby Tournament today. Biba Guam Rugby!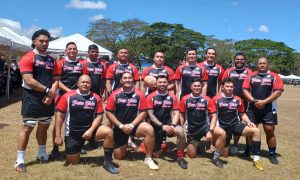 ——————————————
Guam MTB National Championship: Edward Oingerang and Jennifer Camacho are your 2023 MTB national champions. Oingerang finished the course in 1:13:24 while Camacho won her second straight title in 54:08.