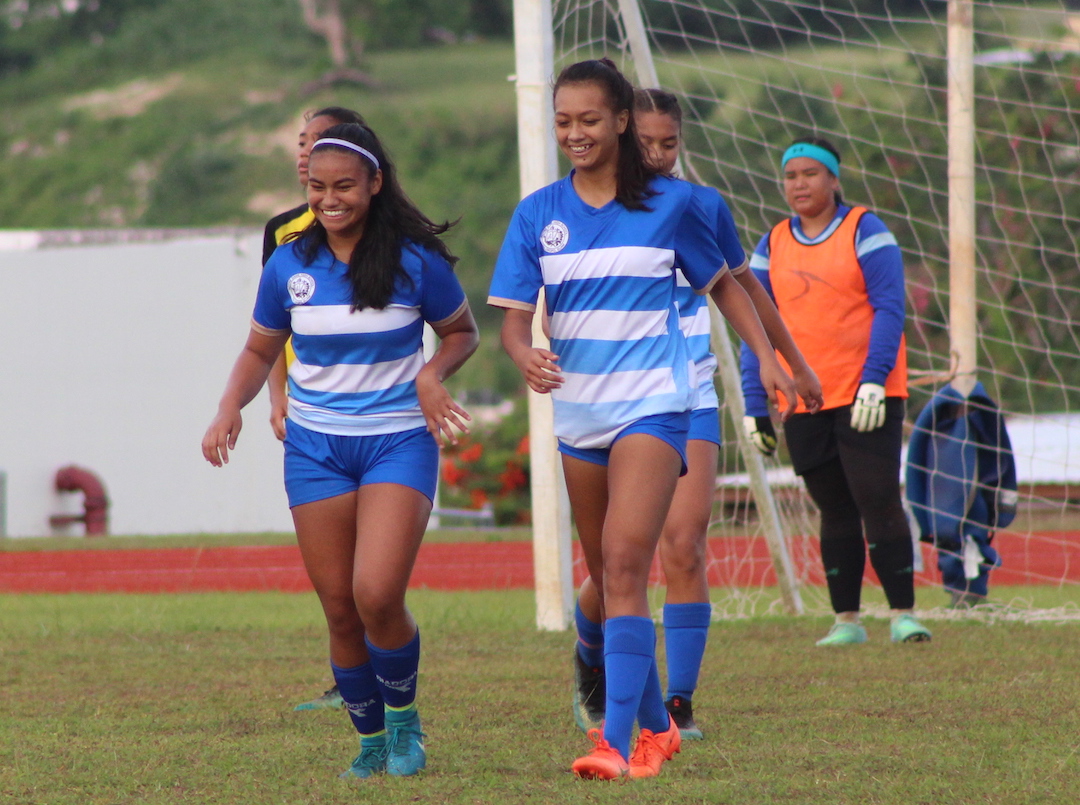 By Robert Balajadia
The ND Royals are preparing to play in their 13th soccer championship game in 15 years, winning eight of them. While you try to let that soak that in, the 2018 season has been dominant for the Royals as they tore up the IIAAG, averaging five goals a game and allowing a little over one score.
Standing in the forefront of the Royal attack is MVP junior Brianne Leon Guerrero, who has poured out 21 of the 56 seasonal combined Royal goals. Teammate sophomore Shyann Robert has added 10 of those scores, but the pair have connected on over 15 of the goals scored between them, becoming the most lethal dynamic duo in 2018.
The pair displayed the strength of their chemistry after Leon Guerrero (four goals) and Roberto (three goals) combined for seven total in the very first game of the season against the Cougars. Roberto assisted on two of Leon Guerrero's scores as Brianne got her leg in on one of Shyann's.
That became a theme for 2018 as the two played big parts in the scoring sprees the Royals dished out on the rest of the league and the playoffs aren't looking to be much different. They put down their biggest competitors in the GW Geckos by scoring eight goals and toppled the 2nd seeded JFK Islanders 6-1.
The secret between the dynamic duo isn't at all shocking given how long the pair have been teammates.
"We've been playing together since we were little, playing for Wolverines and then moving on to play Nationals," said Shyann.
"Then we moved to playing on Shipyard Women's and then we met up at ND," said Brianne as she finished Roberto's sentence.
And their 2018 success isn't stopping the duo from trying to still learn from each other.
"We already know how each other plays, but there's still ways to make our bond stronger. We try to get a strong connection with everyone on the team," said Shyann.
"We try new things in practice, like new plays, and just try to find different ways to make things work," said Leon Guerrero.
An even bigger advocate for the Royals 2018 success is their ability to have fun, with neither Bri or Shy never not sporting an ear-to-ear smile at some point in every game this season. With the title game close at hand, nothing's changing much.
"We always want to have fun and we're going to help each other. We are always having fun on the field," said Roberto.
"But we are going to play more focused, but we're still going to have fun," added Leon Guerrero.
Brianne has been a champion since her freshman year. Her freshman season ended in a wild extra time win over the Southern Dolphins and her sophomore season ended in a win over the powerhouse Geckos team with Leon Guerrero's lone goal being the only one of the game. She's since assumed the role as a leader on the team and she's doing her best to inspire her younger teammates much like she was inspired as an underclassman.
"All I want is for my teammates to do their best. I used to look up to all the upperclassmen when I was younger so I hope to be a role model to our younger group now. A lot of people expect so much for us since we're champions so we have to be able to keep it," said Bri.
The Royals have reloaded in talent with freshman Lauren Phillips, who is well on her way to stardom, having scored eight goals this year and the addition of defensive specialist Manami Rabago, who is also a freshman. Fellow sophomore Abby San Gil rounds out a strong crop of young soccer stars that are primed to keep the Royals in contention for, at least, a few more years.
It's been a Royal Soccer Dynasty since 2006 and the rest of the IIAAG just lives in it.

QUICK HITS
The Figo Islanders 40s women's softball team took gold in the Senior Softball World Championship in Las Vegas. Figo came out of the loser's bracket and beat the Arizona Belles 17-3 in the AA division championship game Sunday afternoon.
Other Guam teams that played in the 40s tournament were: Team SOTTA (women's) and Bud Light Guam, Friars 671 and Sindalun Guahan (men's).
Sindalu finished a respectable 4th out of 24 AAA division teams.