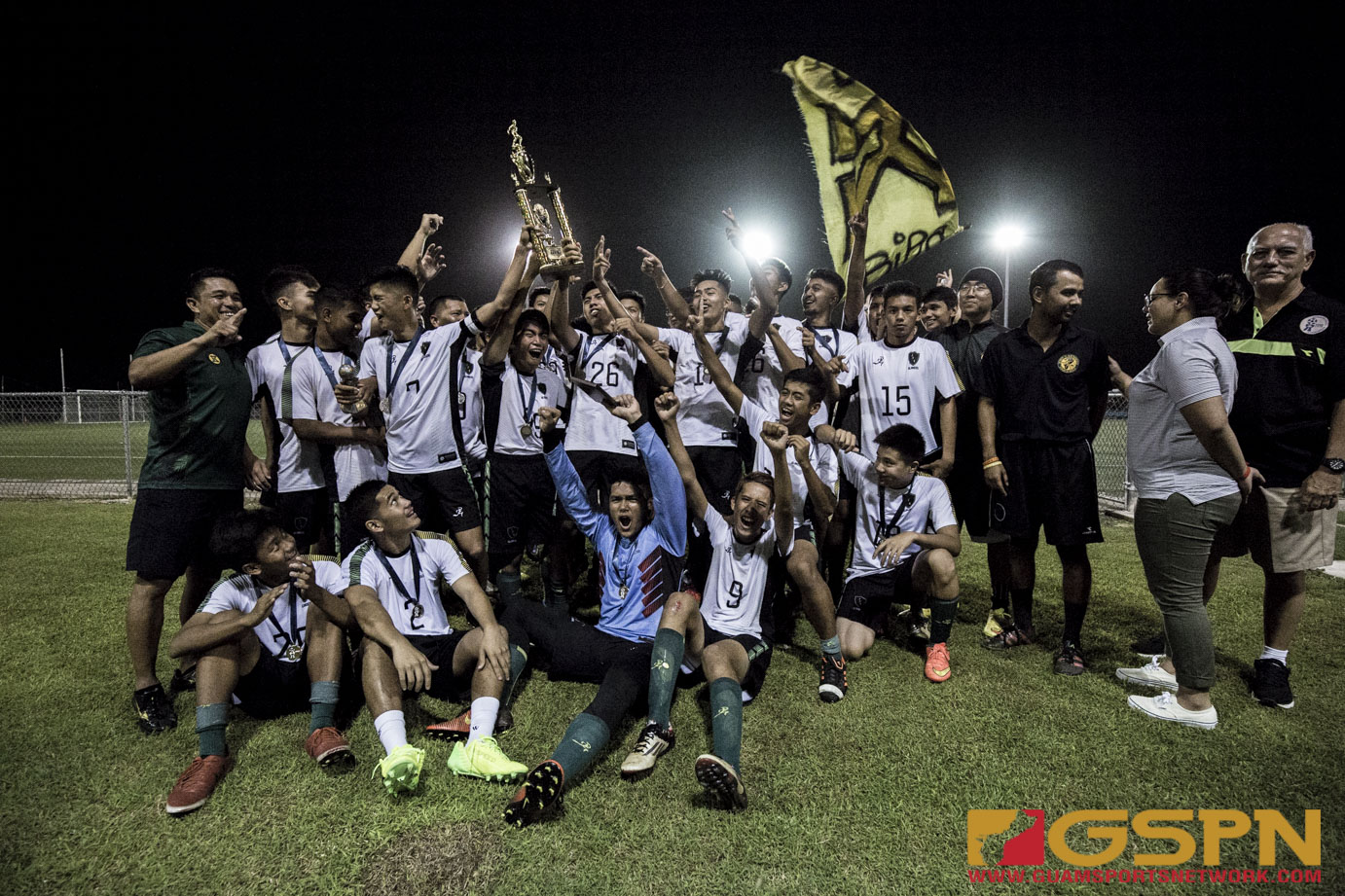 By Robert Balajadia
The JFK Islanders wrapped up a perfect season, just in time for the holidays, winning the 2018 IIAAG Boys Soccer title over the Harvest Eagles 3-1 at the GFA Field Wednesday evening. Down 1-0 at halftime, the Islanders deployed a more aggressive attack as they scored all three goals in the second half to keep their unbeaten season spoiler free.
The biggest factor in the Islanders in-game turnaround is no stranger to big moments. Striker Eddie Cho was named the MVP of the match after assisting on a go-ahead goal before putting one in himself while fighting off a triple team to go up 3-1.
"This year was special since it was my last one," said Cho putting on his hero cape in the big game. "We dominated this season going 14-0 and we didn't want to end it without a championship."
"That guy has got a big heart," said Islanders head coach Eladio Manansala on Cho. "That's why I chose him as one of our captains. You tell him one thing and he goes out and does that and more. He really wanted it this year after losing the title last season."
Cho, who has the make-up of the protagonist in your favorite anime, scored the game-winning goal his sophomore season in the finals against St. John's in 2016. Cho was one of the two scorers for the Islanders in a shoot-out loss to FD in last years finals. 2018 was Cho's last shot at a title, being his senior year, and the big game was just begging for another big-moment from Eddie.
Tied at one goal each, Cho broke down the Eagles defense after getting loose up the left sideline before sending a perfect pass to wide open teammate Noah Mueller for the go-ahead goal 2-1 in the 63rd minute.
Moments later, Cho took a through ball past two defenders and used his quickness to put a soft tap on the ball after getting the Eagles keeper to commit, scoring the Islanders third goal of the night to go up 3-1 late in the game.
"Our offense was fine, we just needed to change our formations. Coach gave us a really good pep talk at halftime and that boosted up our confidence," said Cho.
A different second half
Coach Manansala admitted to playing too defensively in the first half. A shift to move Mueller up to push the pace made all the difference as JFK unloaded 15 total shots at goal in the second half alone.
"I was tired of playing defense. We scored 70 goals all season so I figured it was time to go back to playing to our strengths. Let's stop playing defense and start scoring goals. We pressured them and once we scored that first one we knew that was it," said Manansala.
Bonner would put JFK on the board after scoring off his own rebounded attempt to start the Islander comeback. Cho would grab the pretty assist to Mueller for the 2-1 lead before giving the team some breathing room on his solo-score.
The Islanders were also caught up in the early game emotions, but coach Lad never allowed his boys mental toughness to waver despite trailing 1-0 at the half.
"They had to want it more than Harvest. They were getting frustrated and it was taking them out of their game in the first half. I told them that we needed to get back to playing Islanders soccer. I told them 40 minutes is a lot of time," said coach Eladio.
The Eagles scored the games first goal off a corner kick as Sung Wu Kim caught Islander keeper Allan Aranas off-guard after Micah Hennegan crossed it in. Kim's score put the Eagles ahead and Aranas knew he could have played it better.
"It bothered me a lot. There were a lot of ways I could have played that ball better. I told myself I needed to wake up and keep my communication up with my defenders," said Aranas on the first half goal.
Aranas spent the whole second half proving his abilities with seven total saves. But none were bigger than his block on Eagles leading scorer Hennegan in PK fashion in the games final minutes. Hennegan has been money all season kicking penalties and he was setting up for a routine trip to the box to try and get his team back from the 3-1 deficit. Hennegan's shot was center left and Aranas pounced on the shot to deny the score.
"I didn't know where he was going to shoot it, but I just looked at the direction of his foot. I just trusted my reflexes then to try and catch the ball," said Aranas.
The blocked shot would keep the two-goal lead intact for JFK as four minutes of extra time officially expired to put JFK back on top of the IIAAG Boys Soccer world.
…more photos by Michael Ebio coming soon…
PHOTO GALLERY BROUGHT TO YOU BY: