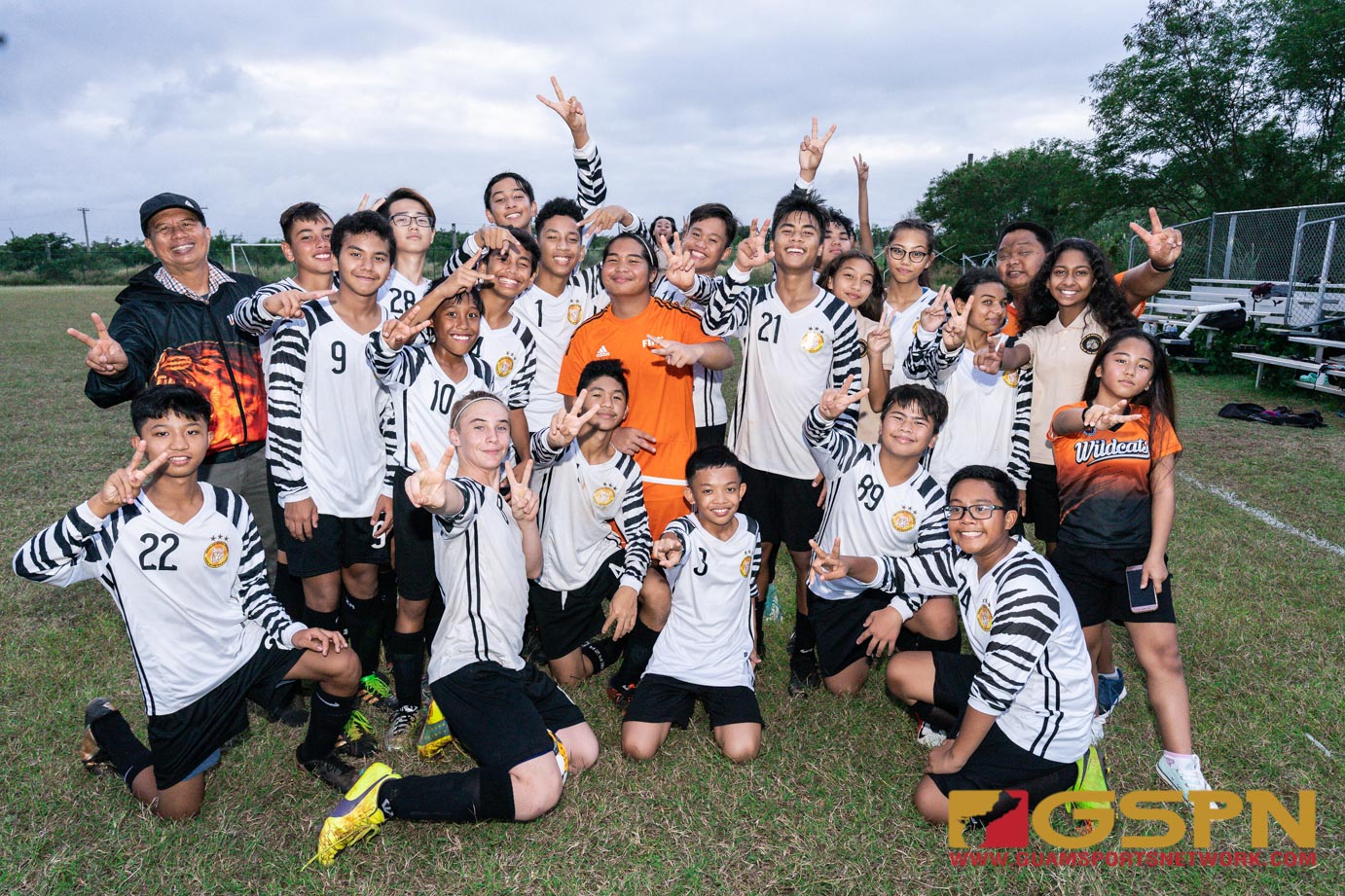 By Robert Balajadia
The Untalan Wildcats finished their championship season in style Tuesday evening, netting a 5-0 victory over the visiting FBLG Hawks at the Tiyan High field. Winning the title with the best record in the GDOE league for the second straight year, the Wildcats finished the season much like they started, in dominant fashion.
Striker EJ Sablan led the way with a hat-trick, scoring two of his three goals within the first 15 minutes of the game. Adding to the scoring was Ashton Aguon, who scored from the right wing midway through the first half. Sablan scored his final goal off the crossbar late in the second half and teammate Arthur Manglona added the finishing touches for the final goal in the closing minutes.
"Since this was my last game I had to go out and try and make all of my shots. Chemistry has been so good and our team has played so well this season almost scoring double digits each game," said Sablan.
EJ is an 8th grader which means his next venture will be high school soccer. Sablan will be following in his older brother Sean Sablan's footsteps to play for the FD Friars.
Head coach Sam San Gil knew he had a group of special players but the goal to bring home a second straight GDOE title was the only thing on the Wildcats minds.
"We always came with this end in mind, which is a championship. The boys knew that we had to put our work in to get here. I always tell them wish, will, want and work. We proved to have the will power to put the work in during practice and you can see now that all the boys are enjoying themselves.
The group was tasked to continue to play soccer in the outside leagues to help sharpen their skills and coach San Gil gave credit to all those organizations such as the Sidekicks, Islanders, Tumon and all the clubs alike.
"When you coach them good in practice then you don't need to coach them during the game. You just guide them and give them minor points and these boys already knew what they had to do," added San Gil.
The Hawks came close to avoiding a shutout on a penalty kick, but the Wildcats keeper played spoiler denying the shot.
PHOTO GALLERY BROUGHT TO YOU BY:

QUICK HITS
The Figo Islanders 40s women's softball team took gold in the Senior Softball World Championship in Las Vegas. Figo came out of the loser's bracket and beat the Arizona Belles 17-3 in the AA division championship game Sunday afternoon.
Other Guam teams that played in the 40s tournament were: Team SOTTA (women's) and Bud Light Guam, Friars 671 and Sindalun Guahan (men's).
Sindalu finished a respectable 4th out of 24 AAA division teams.