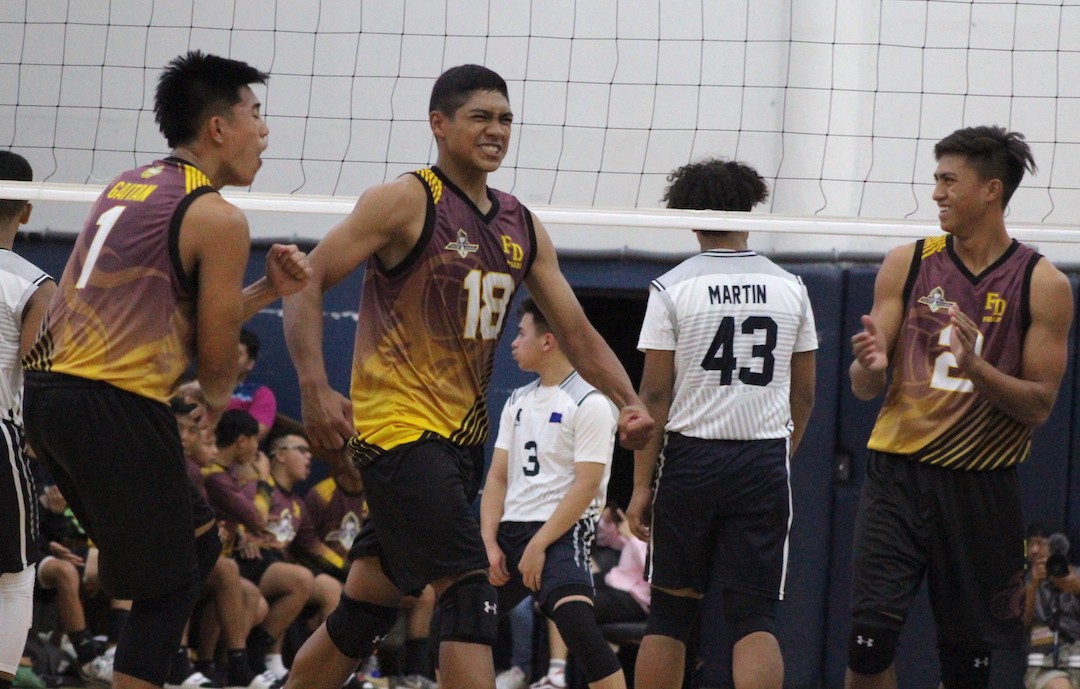 By Robert Balajadia
FD Friar Aidan 'Moon Walker' McDonald defied gravity and laws of physics as he racked up 25 kills (yes, you read right), lifting the Friars in a wild three set victory Friday evening over the home team St. Paul Warriors 23-25, 25-23, 25-18.
McDonald's teammate Nathaniel Kyle Gaitan calls him a 'cheat code' due to his video game-like stat lines and the Friars are happy to have such a game-breaking talent in their midst. The team turned to McDonald in the clutch against the Warriors and he delivered time and again as FD was in danger of getting swept in straight sets.
"I didn't expect that," said McDonald on his big night. "I don't count kills, I just play my game so I really never saw something like this happening."
The young, but talented group of Warriors let the Friars know right off the bat that it their visit wasn't going to be comfortable. Fuelled by defense, the Warriors controlled the pace of the opening set as they took a 16-12 advantage behind strong serves from freshman Elijah Garrido.
Before the Friars knew it, the Warriors had seized the set 25-23.
Friars survive 2nd set 
Gaitan had a 15-kill night, though he didn't start the game as the Friars were working in some new rotations. The original set of starters made their way back at the start of the second set, but even they had to adjust to the Warriors young weapons as they were facing a 10-4 deficit after a pair of kills from Jonathan Sevilla.
Shades of their first loss of the season against the GW Geckos started to settle in and Gaitan wanted no part of that feeling again, which sparked a late set rally.
"After that loss to GW, coach really inspired us to push ourselves. We really wanted to win today and we just want to keep working hard and play our game. St. Paul is a really tough team so we had to really come together at the end," said Gaitan.
Warriors middle Isaiah Macalma smashed a kill off a block to give the Warriors a 13-8 lead and teammate Jessie Martin let loose a thunderous shot that left a dent in the Friars backline. A defensive change to bring Kaleb Tennessen in to the game gave FD more stability against the Warriors attack, paving the way for McDonald to let loose.
Tennessen gave the Friars their first lead of the set 18-17 from the service line, but it was short lived as the Warriors took back the lead 19-18 after a Friar error. A bad pass from the Warriors backline allowed McDonald to soar and smash a big kill off a free ball for a 22-21 lead.
With the score knotted at 22, the Friars turned to McDonald on three straight tries. McDonald's first big shot was dug up, his second was blocked just enough to send the ball back to FD. But his third attempt tore some of the floor off the gym and McDonald let out a wave of emotion. McDonald put even more power in the Friars 24th point with the team feeding off his energy.
"I knew I could hit it over those blocks and jump as high as them so I just kept pounding," said McDonald on the tie-breaking sequence. "The sets were high, but it was my job to keep reaching high."
FD would close out the set to force a third and final.
Friar offense takes over
The Warriors matched wits with the Friars all 3rd set long, but McDonald started to take-off midway through and there was just no slowing him down.
Aidan unloaded four kills in part of a 5-1 Friar run to go up 19-14. FD started to work the ball around more, but miscues allowed the Warriors to shave the lead 22-18 after trailing by six. The Friars were fishing for a way to close the set before finally going back to McDonald for the 25th point, locking his 25th kill of the night.
After the match, McDonald took notice of the gritty Warriors, who also pushed the leagues top team the Tiyan Titans to three close sets.
"They are young, but they have a lot of guns on them. They always have their hype up so that's good to see," said McDonald.
The Friars will travel to Sanchez on Saturday while the Warriors get a break over the weekend before traveling to Guam High next week Tuesday.
PHOTO GALLERY BROUGHT TO YOU BY:

2022 GSPN I MÅS METGOT COMPETITION
I Mås Metgot Athlete Spotlight: April Flores
2022 GSPN I MÅS METGOT COMPETITION
I Mås Metgot Athlete Spotlight: April Flores
2022 GSPN I MÅS METGOT COMPETITION
I Mås Metgot Athlete Spotlight: April Flores
QUICK HITS
Guam boys Kekoa Toves and Matias Calvo went head-to-head on the rugby pitch as American International College took on Dartmouth College, both top-ranked men's rugby programs in the country.
Calvo (FD) is the captain of Dartmouth and scored, but Toves (Sanchez) and his AIC squad came away with the win in Springfield, Mass.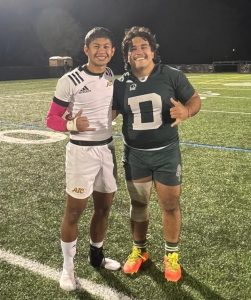 ———————————————–
1LT Belizabeth Nicole V. Rengiil is known to be the first female from Guam and Palau to make the All-Army Women's Rugby Team. She is an active duty Signal Officer with the US Army and is stationed at Joint Base Lewis-McChord in Washington.
Her team won the Armed Forces Women's Rugby Championship with a 4-0 record.
Belizabeth is the daughter of Edwin and Juliana Rengiil with siblings Johanna and Edwin-Isaiah Rengiil from Mangilao.