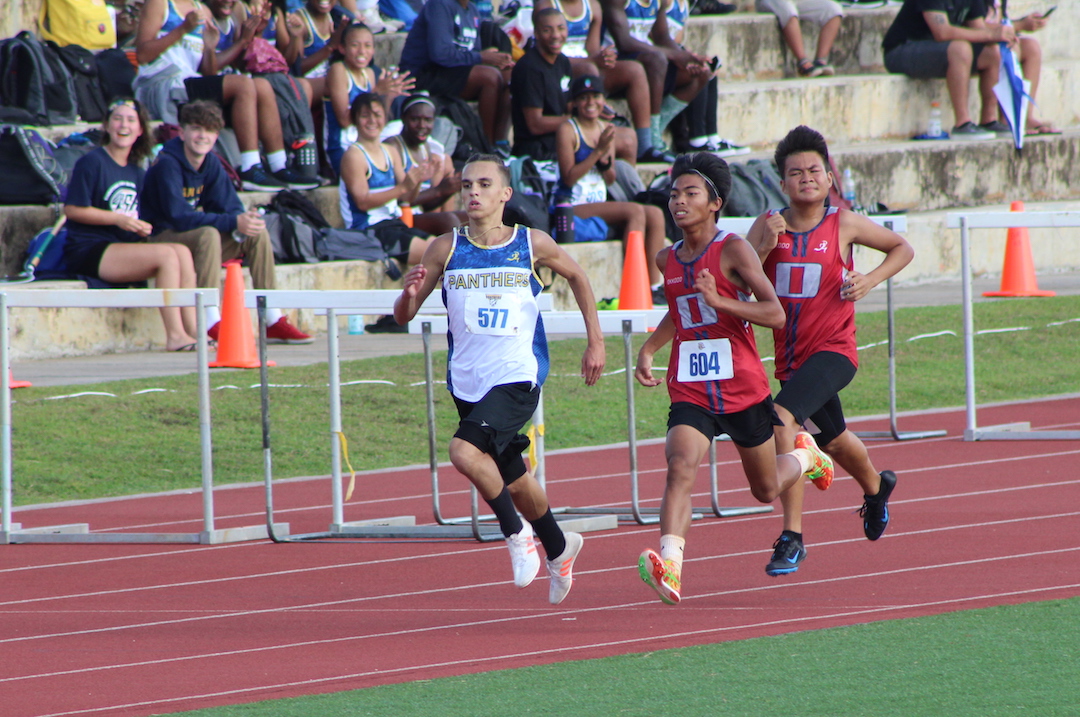 By Jay Leon Guerrero
For GSPN
After a disappointing opening meet, more than 300 high school Track and Field athletes took the Guam High Track for week number two. The first meet was cut short due to lightning with several events remaining.
On Friday night, the weather cooperated and all teams got their first glimpse of a complete meet.
Joseph Aguon from JFK was preparing for his 400 meter race last week just before the lightning storm hit. "I was actually in the next heat and preparing for my race and then the lightning struck. I was excited to finally race in the 400 and I was going for a new PR (personal record)," said Aguon.
Aguon, a sophomore, took off and ran the race in a blazing 51.92 seconds. Darin Pascua and Carlsen Ponce, both from Okkodo, finished second and third place, respectively. Pascua had a time of 54.15 seconds, Ponce 54.34 seconds. Aguon also won the 200 meter sprint race later in the evening with a time of 23.88 seconds.
A pair of Sharks finished 1-2 in the boys 110 meter hurdles with Erjel Sanchez and Carl Zagada winning the event. Sanchez, a sophomore, had the fastest time finishing the race in 17.79 seconds, Zagada clocked in at 18.24 seconds. JFK hurdle specialist Richelle Tugade won the girls 100 meter hurdles with a time of 16.80 seconds.
Elizabeth Quintanilla from Southern High also earned valuable points forget team, winning her heat in the 1500 meter race. Quintanilla said she has grown in the sport and learned to have patience to store energy to finish the race. "I just wanted to be able to get that final push and run a fast enough time to qualify for the all-island meet," said Quintanilla.
Quintanilla held pace with Janelle Angara in the 1500 meter race until the final 130 meters. Quintanilla made strong kick to separate from Angara for a time of 5 minutes and 36 seconds. Angara ran a strong time and finished with a time of 5 minutes and 39 seconds. Angara won the 3000 meter race earlier in the evening with a time of 12 minutes and 40 seconds.
"Our team is focused this season and we all keep motivating each. We are striving to do better than we did last season because we have more athletes," said Quintanilla. Quintanilla won her heat and finished second overall in the 1500 meter event. Guam High's Emma Sheedy was first overall with a time of 5 minutes and 24 seconds.
Guam High athletes continued to own the top of the standings of several events in week two. Led by legendary coach Joe Taitano, the Panthers have a goal of winning both boys and girls titles.
If the all-island meet was Friday night, the Panthers had enough points in both the boy's and girl's divisions to win it all. The Guam High girls had 53 points after 15 events, just ahead of JFK and Okkodo who managed 41 and 20 points, respectively. The Guam High Boys earned 48 points after 15 events, finishing ahead of Okkodo and JFK who earned 32 and 28 points, respectively. But it's a long season and things can change with the all-island meet scheduled for next month.
With captain Isaac Ventura leading the way, the Panthers are one step closer at accomplishing their goals. Ventura won the 1500 meter event with a time of 4 minutes and 29 seconds. He also won the 800 meter race with a time of 2 minutes and 10 seconds.
"We are all excited and confident to have runners from the cross country team joined by other athletes for track season," said Ventura. The Panthers have a larger roster compared to last season and will need valuable points from the underclassmen to win the championship. "When I was a freshman, I was nervous for the first couple of meets and I'm helping pass over some of my advice and knowledge to my teammates to help them".
Khalid Volious from Guam High won all four events he entered Friday night winning the high jump, triple jump, long jump and the 4×100 relay.
PHOTO GALLERY BROUGHT TO YOU BY:

QUICK HITS
Guam MTB National Championship: Edward Oingerang and Jennifer Camacho are your 2023 MTB national champions. Oingerang finished the course in 1:13:24 while Camacho won her second straight title in 54:08.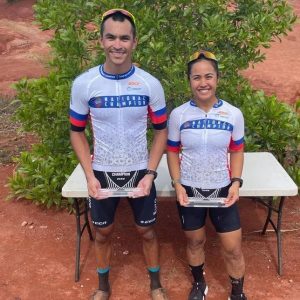 ——————————————
Kobe Miyashita, with St. John's coach Arvin Flores, was named the 2023 IIAAG Middle School Boys Volleyball MVP!