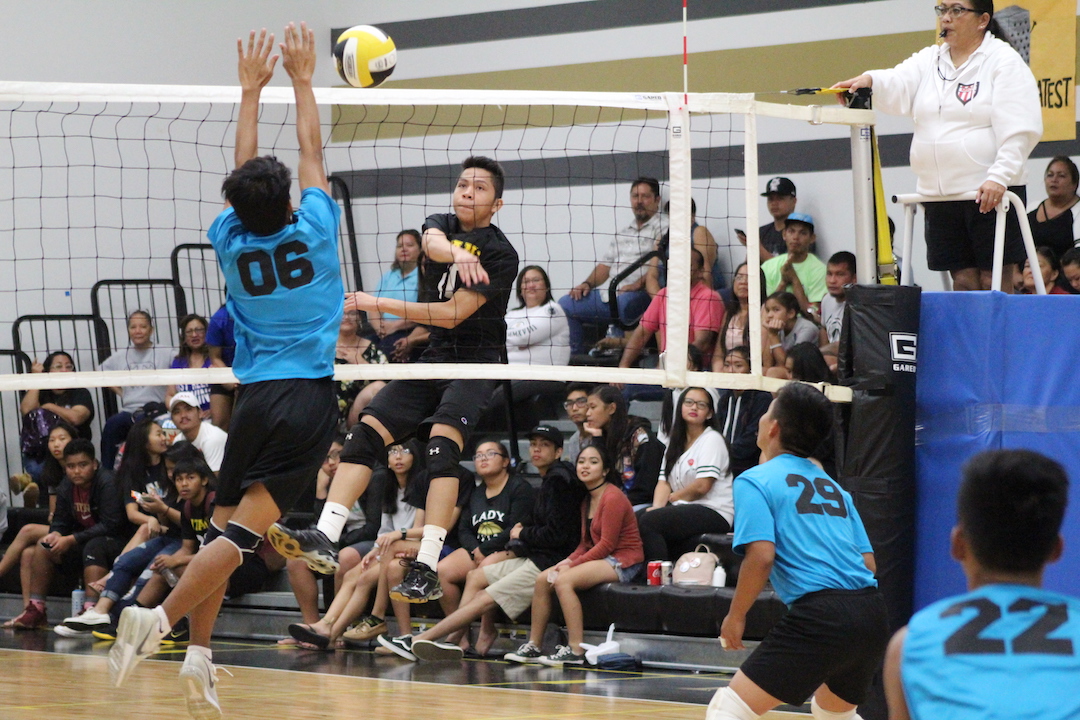 By Robert Balajadia
The Tiyan Titans continue to blaze a trail in the 2018 IIAAG boys volleyball league after picking up their sixth win (6-0) over the visiting Southern Dolphins in straight sets 25-14, 25-12 Tuesday evening. Tiyan got consistent work load from Ramil "The Bounty Hunter" Padigos and Jude Cruz to stay firmly ahead in each set.
Cruz finished with six total kills while Padigos rounded up seven. Despite a healthy work load, Cruz didn't quite see the Titan offense functioning as well as it should have given the opportunities that presented itself.
"We were really sloppy. I felt like we could have cleaned up our passing and placement hitting. Some of the sets were a little too low, but that means the hitter has to adjust to it and we could've played better," said Cruz.
Cruz was critical on his teams performance Tuesday evening as the Titans are approaching every game like it is their last. Despite who the opponent is, Tiyan is going to be putting out their best effort each and every game on the schedule.
"We have to take every game seriously because if we let our guard down then someone is going to overthrow us. Regular season or playoffs, we always have to perform 100%. We can't any team for granted. Even though that team isn't giving us the same level of competition doesn't mean that we should bring down our level of play. We have to maintain a higher standard," added Cruz.
Free ball advantage: Tiyan
The Dolphin defense seemed to be riddled with communication errors after Tiyan secured five aces in the opening set. A pair of kills from Padigos followed by two up the middle from Neil Ericsson quickly put Tiyan up 15-9.
Titan Jericho Snaer served up a 6-0 Tiyan run as they went up 21-9 before an error broke the streak. Southern managed a short 4-0 rally at the end of the set behind Keo Taianao, but a service error gave the Titans the set.
Padigos had it cooking in the early goings of the 2nd set after registering two quick kills and a block for an 8-1 lead. Ericsson got into the action by notching a pair of kills himself to take a 12-4 lead. Cruz and Santos each scored kills to balloon the lead 15-4 before Southern could kill the run.
Tiyan's serves were met with little resistance as Southern struggled to generate any hitting, leaving the door open for the dangerous Titan swingers to get going. Cruz and Padigos added their final kills within the Titan's final five points as they closed out the Dolphins in straight sets.
Tiyan will host the Guam High Panthers on Friday while the Dolphins will travel to St. John's that same evening.
TAGA
SCHOOL
WINS
LOSS
PCT.
THS
6
0
1.00
SPC
5
1
.800
SSHS
3
3
.400
OHS
3
3
.400
SJS
1
4
.200
JFK
1
5
.200
GADAO
SCHOOL
WINS
LOSS
PCT.
FD
4
1
.750
HCA
3
1
.750
GW
3
3
.600
ND
2
3
.500
SOHS
1
4
.250
GHS
0
4
.000
PHOTO GALLERY BROUGHT TO YOU BY:

COMING SOON …
GUAM SPORTS ON HOLD DUE TO SUPER TYPHOON MAWAR
QUICK HITS
Bishop Obispos beat Mt. Carmel for the IIAAG Middle School Girls Basketball championship 37-25.
—————————————-
The Benavente Roadrunners crushed the Agueda Pirates 17-1 to win the 76 PONY Middle School Baseball League. Rodney San Nicolas was a beat, striking out 13 batters in a complete game while going 4-for-4 at the plate, including a homer and 4 RBI.