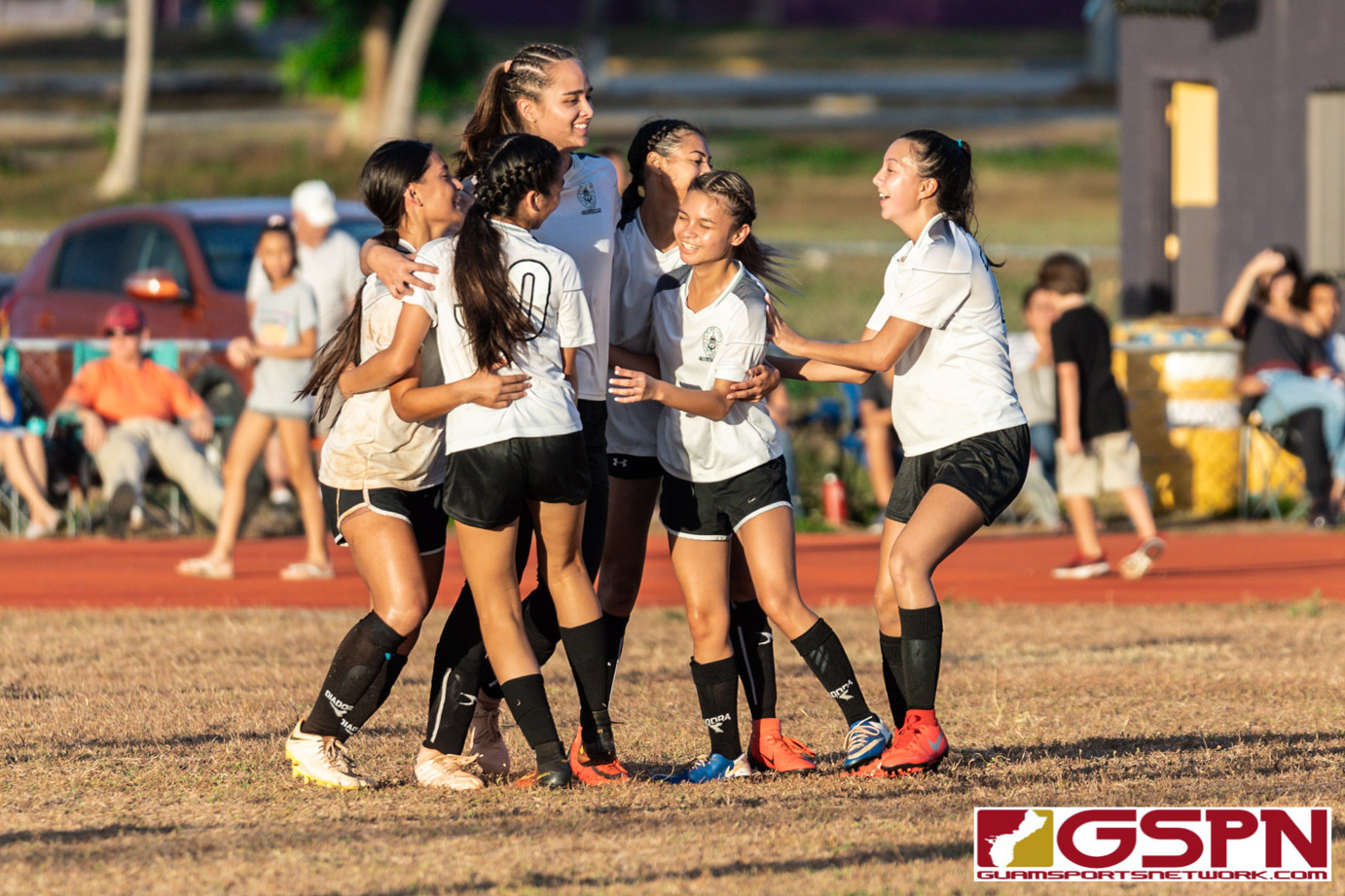 By Robert Balajadia
The Academy Cougars only lost two games throughout the 2019 regular season and they got revenge against one of those teams Thursday evening a rescheduled semifinals match against the Guam High Panthers at the GW Field.
Academy got a clutch performance from seniors Inina Yatar and Mia San Nicolas as each scored a goal in the final 15 minutes of the game to complete a 2-1 comeback. With the Academy high school graduation set for Friday evening (5/17), losing in the semis a day before was an emotion neither of the Cougar seniors wanted invoke.
"I can't imagine it. I would've been devastated," admitted San Nicolas on the possible rain cloud over their graduation.
"We wanted to avoid that pretty badly," said Yatar.
Neither team was able to put up points in the first half, but the Cougars were the more aggressive team. Aside from the ramp up in physical play, which both sides expected, Academy's shots were out of sync. San Nicolas had two of her best looks in the first half sail just over the post and shifty midfielder Chloe Salas couldn't get either of her four shots online.
The Panthers drew first blood in a tone-shifting second half after a persistent effort from freshman Jadyn Palomares gave Guam High the opening they had been vying for. A poor clear by the Cougar defense allowed dangerous leg Alex Shimasaki to swing a free ball to a waiting Jadyn. Palomares used one move to get free before sending a tap wide right, beating the diving Cougar keeper Phoebe Shmull in the 53rd minute to put the Panthers up 1-0.
Guam High loaded their backline to keep the Cougars scorers contained until a corner kicke opportunity opened up in the 69th minute. Freshman Coco Paulino got the call for the kick from the right side and Yatar knew just how to play it. A Panther defender got first contact, but Yatar threw a legal shoulder in on the play as her attempt in the box hit the back of the net.
"Before [Coco] even kicked it I knew that I wanted to jump in there and put my body into it. I'm not really good at headers, so I just wanted to make contact with it. I knew that our team needed it and everyone had their heads down at that point so I'm really happy I was able to help out in that way," said Yatar.
With momentum, the Cougars got another break after a whiffed clear from the Panther defense allowed a ready Salas to dribble the ball up the left wing. Chloe then used a tip pass to get the ball to San Nicolas in her favorite spot with a single defender in front of her. Mia's first shot didn't have much power, but it bounced off the Panther defender in a perfect way, allowing San Nicolas to reload and rocket the go-ahead goal from 10 yards out in the 73rd minute.
"I told myself that this one was going in and I'm not going to miss this one," said San Nicolas on the goal. "I'm excited to finally get the chance to play in my first soccer championship game since I've been a part of this team as a freshman."
Academy's only other loss came against the ND Royals who they will face for the final time in the IIAAG Championship Game this Saturday at the GFA Training Facility @ 7 pm.
PHOTO GALLERY BROUGHT TO YOU BY:

2022 GSPN I MÅS METGOT COMPETITION
2022 GSPN I MÅS METGOT COMPETITION
2022 GSPN I MÅS METGOT COMPETITION
2022 GSPN I MÅS METGOT COMPETITION
2022 GSPN I MÅS METGOT COMPETITION
2022 GSPN I MÅS METGOT COMPETITION
COMING SOON …
GNYFF Championship Saturday
2nd Annual Greg D. Perez Fishing Tournament on Saturday
GML Playoffs
1st Quarter Sports
QUICK HITS
Team Onslaught represented Guam at the National X-Ball League paintball tournament in Sacramento, CA. The squad finished in 3rd place out of 12 teams in the Division 5 category.
Front L-R: Frankie Borja, Robert Delos Reyes
Back L-R: Marvin Reyes, Ericka Camacho, Gavin Santos, Nick Rivera, Nikki Tan, Adrian Mora, Ralph Sgambelluri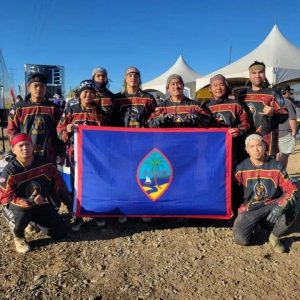 ———————————————–
Purebred Jiu-Jitsu Guam adds three more to their black belt stable. Daniel Cayanan, Cameron Mantanona and Peter Ungacta received their black belts on Saturday from Professor Stephen Roberto.