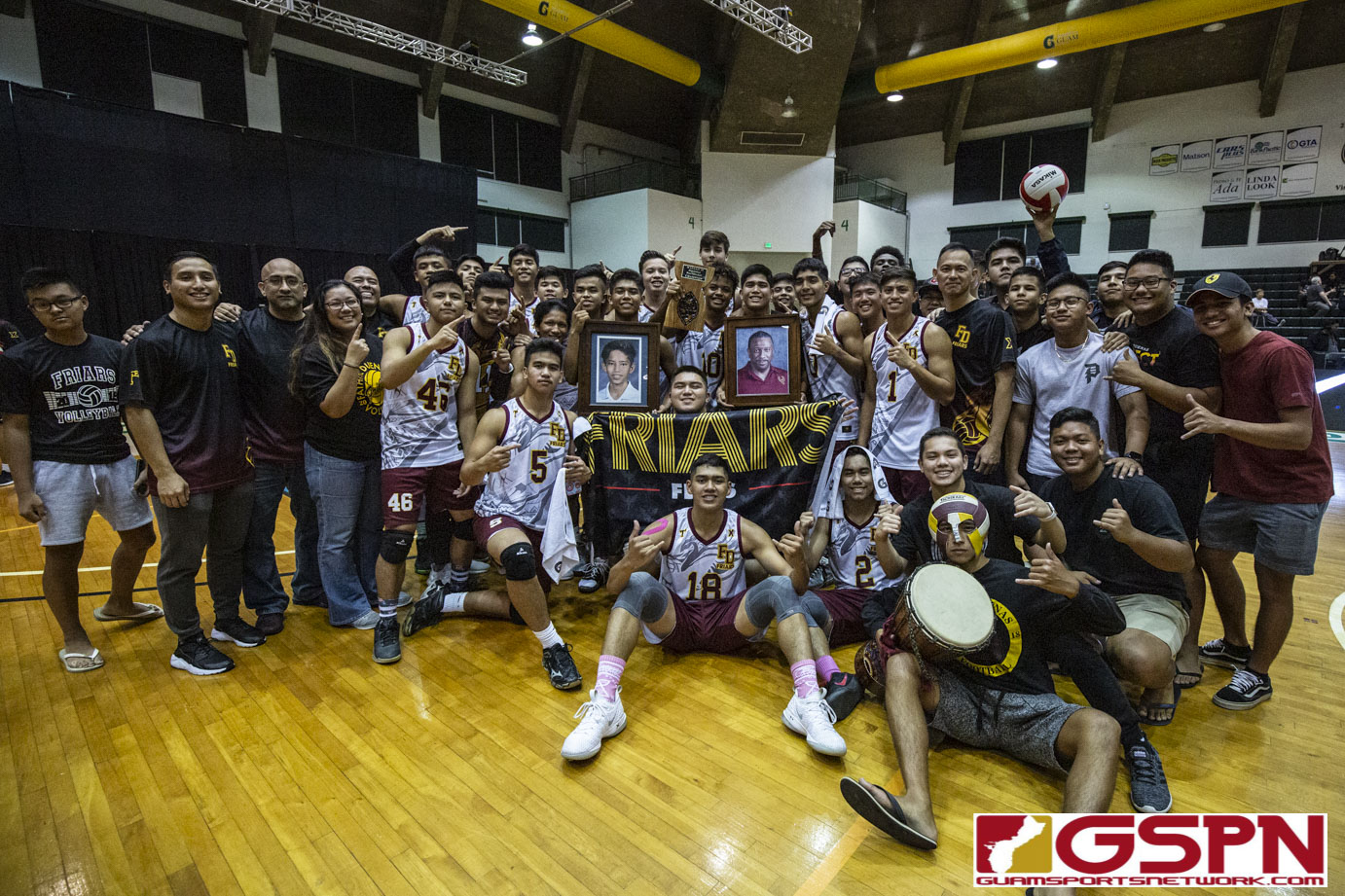 By Jay Leon Guerrero
The FD Friars defended their IIAAG Boys Volleyball League title against a hyped Harvest Eagles team in straight sets (25-16, 25-21, 25-17) at the UOG Calvo Field House Wednesday evening. Their championship win marks their third title in four years under head coach Steve Pangelinan.
A pair of MVP's led the Friars to victory with setter Logan Pangelinan (2018 MVP) and outside hitter Aidan McDonald (2019 MVP) coming up huge in the final game of their high school careers.
"We all dedicated this victory to Tony Thompson, Xavier Akima and Mr. (Joey) Santos," said McDonald.
McDonald was instrumental in the championship game with 15 kills.
"We had one day to practice for this game against Harvest. We needed our starters to get a lead to begin every set to prevent them from getting momentum," said Steve Pangelinan.
Steve Pangelinan said that Harvest is a good team that plays well if they have momentum and his team did well to prevent that.
"We focused on defense and blocks as well against them," said Friar outside hitter Noah Diaz.
The straight set victory ended a dominant season for the undefeated Friars, who haven't lost a game all year.
1st Set
McDonald wowed the crowd early to open up the contest with three statement kills as the Friars controlled momentum to go up 8-2.
FD looked to runaway with the first set but the Eagles started a small comeback with Harvest's Jacob Oshiro and JR Noh each recording kills to trim the deficit to eight points. The Eagles then committed unforced errors and the Friars held on to win 25-16. Diaz recorded the finishing kill for the Friars off the right side from Pangelinan.
2nd set
The Eagles committed four hitting errors to start the second set as the Friars once again established an early 8-2 lead. The Eagles trimmed the lead to four points (19-23) with plays by setter Chase Keith and outside hitter Mason Caldwell.
Steve Pangelinan called a timeout to settle the wild Eagle crowd and he sensed momentum shifting. The Friars answered their coaches call after the timeout and McDonald ended the second set with an emphatic game winning kill for a 25-21 victory.
3rd set
The Friars wanted to end the game early and went up 7-0 to start the third set. A pair of Eagle seniors helped the Eagles claw back into the contest with Oshiro and Caldwell producing kills to trail 10-15.
The Friars regained momentum with Jeremiah Nguyen and Diaz recording kills as the Friars went back ahead 21-14. The Friars played good defense the rest of the way with Kaleb Tennessen and Camden Camacho anchoring the back row to win 25-17.
Nguyen, a sophomore, recorded 10 kills for the Friars.
"We went into the third set and played like we were down," said Nguyen. "We are just going to keep working hard and hopefully we can do this again next year."
"It's a great to feel this way again after losing the rugby championship last quarter," said Diaz. Diaz had seven kills, a block and an ace. "I hope we can keep this going for the next group," said Diaz. "They just got to keep playing hard and practicing."
"Before this all started, would have never thought we would get three titles and an MVP," said Logan Pangelinan. "Its pretty cool," said Logan Pangelinan who's father is head coach Steve Pangelinan.
"I try to just be 'coach' and not think about being Dad out there," said Steve Pangelinan. "Next year we should be competitive, I don't like to think of this as a dynasty; we will just take it one year at a time."
Oshiro had six kills for Harvest; Caldwell had five kills and two aces. Noh had four kills, Alan Thomas had three kills.
…More photos by Michael Ebio coming soon…
PHOTO GALLERY BROUGHT TO YOU BY: