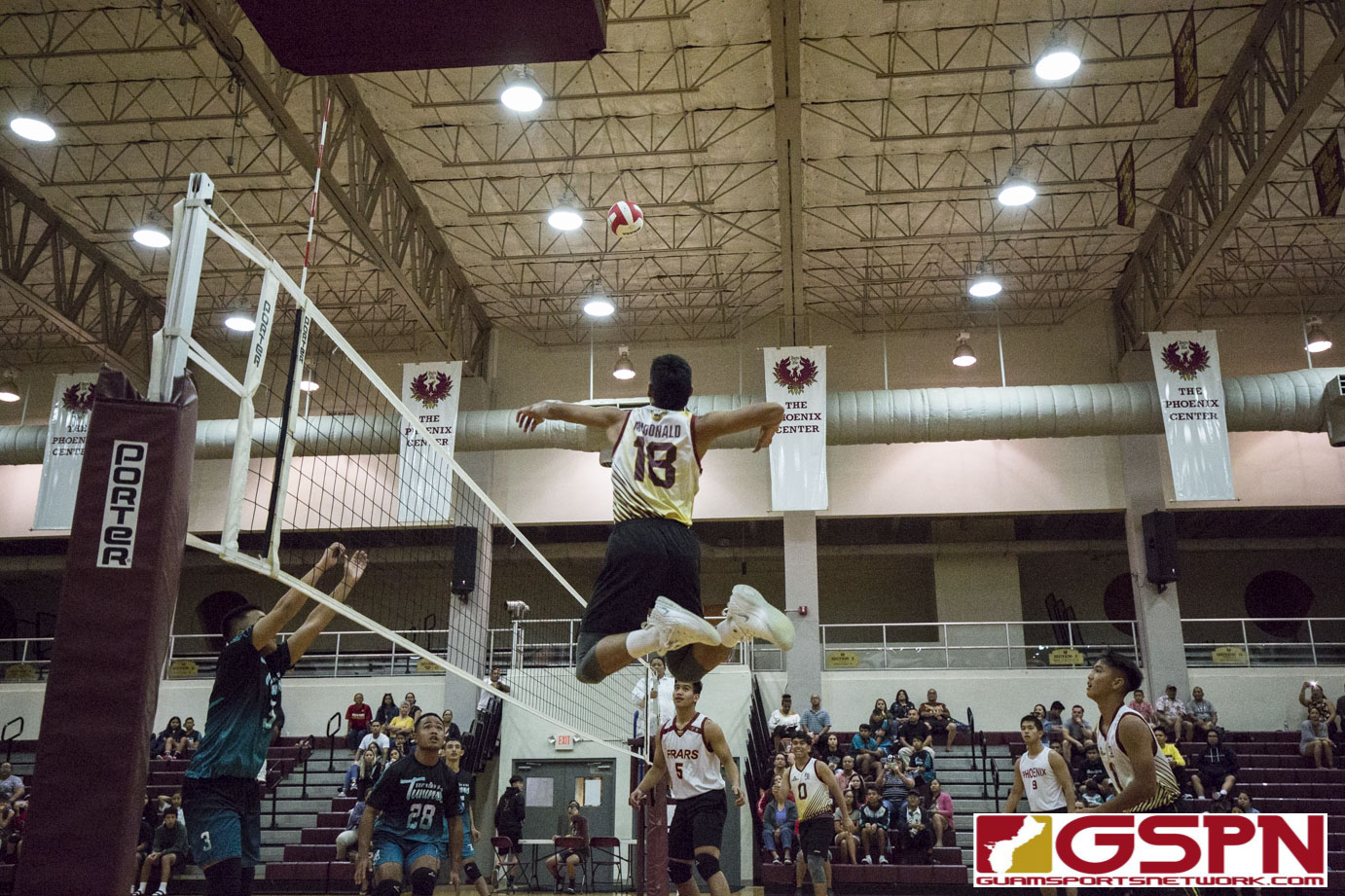 By Jay Leon Guerrero
The FD Friars began their quest of defending their IIAAG Boys Volleyball Championship with a straight set victory over the Southern Dolphins (25-16, 25-13, 25-17). The new IIAAG format features varsity games in the best-of-five set series which enables more playing time for teams.
The Friars looked strong to open up the contest with reigning MVP Logan Pangelinan providing pinpoint sets to different power hitters. Aidan McDonald, Elijah Garrido and Daryll Robles each recorded kills to go ahead 4-1. Southern's Nathan Naputi recorded a service ace to awaken the Dolphin crowd in attendance.
Southern took advantage of unforced errors and the first set was tied 10-10.
FD woke up and threw a few thunderous kills behind McDonald and Brandon Soriano recording kills to take momentum to lead 17-14. McDonald started a rally with six straight serves to help win the first set 25-16.
Southern jumped to a quick 2-0 lead to start the second set with Coby Maestrecampo serving an ace. The Dolphin lead was short-lived after outside hitter Tony Quinene recorded two kills to go up 6-4. The Friars never looked back and continued to play solid defense with Kaleb Tennessen returning every kill with accurate passes to Pangelinan. The Friars got three aces from Raymond Castro and won the second set 25-13.
"Our team is still learning everyday with every practice. We are working on getting better, especially with our defense and blocking," said Tennessen. "One thing I learned tonight is that I need to more to get our defense down".
Fegurgur makes debut
FD's 6'7″ middle blocker Matt Fegurgur catapulted the Friars to a 14-2 lead to open the third set. The FD standout basketball center recorded two blocks and a kill early in the third set to keep FD's momentum going.
The Southern supporters were not disappointed with the effort from the Dolphins as they continued to play hard and made a small run to trail 16-12. Eyan Samelo, Austin Riola, and John Topasna each recorded kills during Southerns comeback run. The Friars, however, continued to utilize their size and went to the middle with Fegurgur finishing the contest with a final kill to win 25-17.
McDonald had a game high 11 kills for the contest. McDonald stated that his squad does not need to feel pressured to defend their championship; they just need to stay disciplined.
"We just need to stay focused and continue to listen to all our coaches. I think if we just listen to them, we should be fine," said McDonald. McDonald also said his setter (Logan Pangelinan) is a key to their success. "He's always the person we turn too to bring our energy up when we are down," said McDonald.
Pangelinan was happy with the victory but said his team can still improve. "We need to work on establish our rhythm a little early. We had some early errors in the first set but got comfortable in the second and third set," said Pangelinan.
"We are a different team and we have a couple of good additions with Brandon (Soriano) and Matt (Fegurgur)" joining the team this year. Fegurgur had a game high two Blocks, both in the third and final set.
Rioja led the Dolphins with four kills. Garrido, Robles, Quinene and Soriano each recorded four kills for the Friars who improve to 1-0.
FD won the junior varsity game in three sets (23-25, 25-14 and 25-11).
PHOTO GALLERY BROUGHT TO YOU BY: