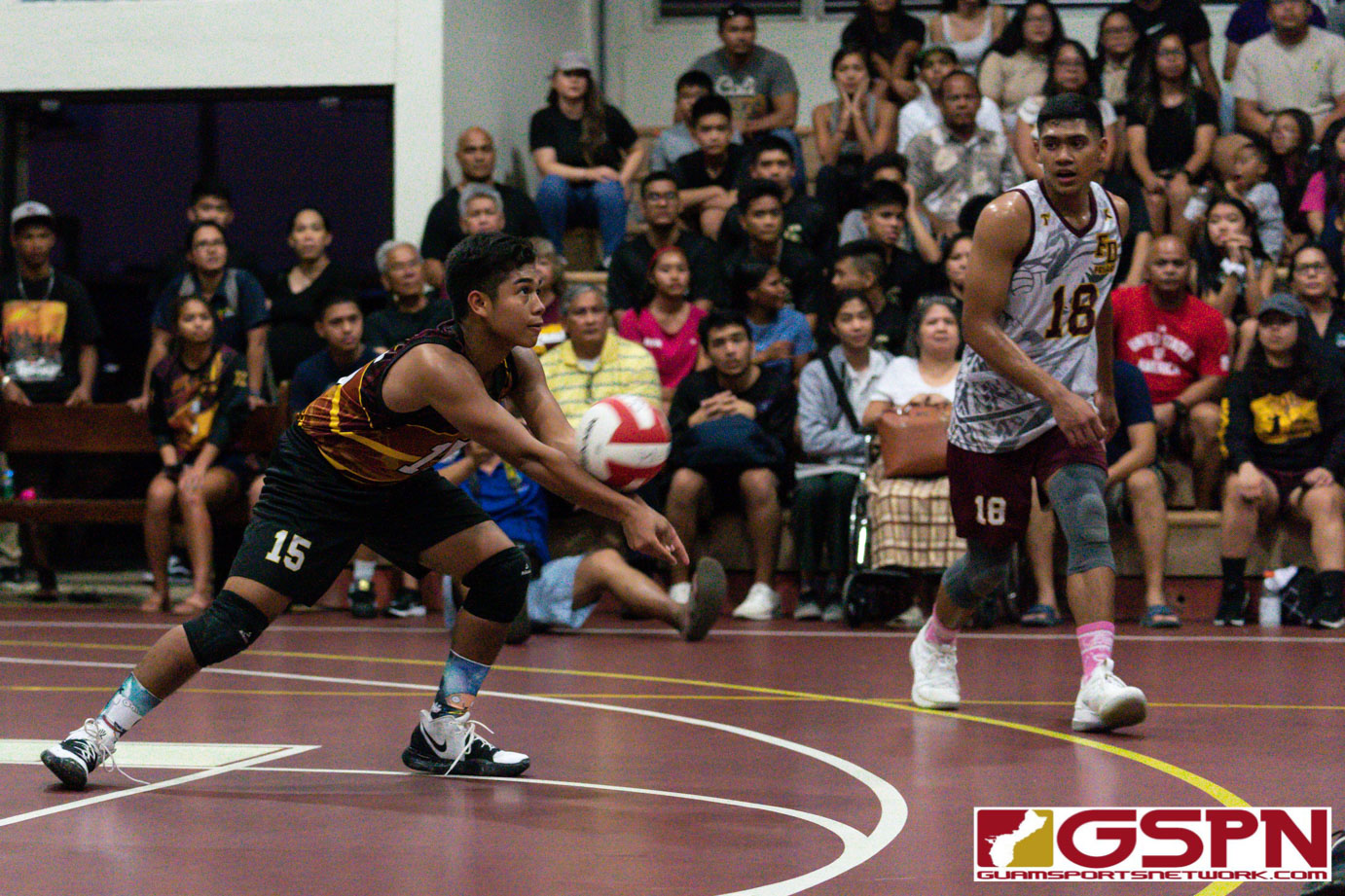 By Robert Balajadia
The Tiyan Titans and FD Friars volleyball team last met for all the marbles in last years IIAAG title game which FD won. The hype behind their first meeting since that game was built behind both teams unbeaten 2019 run heading into their Tuesday clash.
Playing at the FD Jungle due to the premier of the 'Mama Mia' play taking over the Phoenix Center, the Friars (8-0) fired on all cylinders and dropped Tiyan (7-1) in straight sets 25-13, 25-20, 25-18.
Aidan 'Moonwalker' McDonald finished the night with 18 total kills with eight coming off a fired up 1st set.
"They were undefeated, but we wanted to stay undefeated too," said McDonald on the hot start. "This team works hard in practice and that's what we display in here. It shows especially when we listen to our coaches, everything runs smooth."
Friar Logan Pangelinan was feeding his hitters all evening with 32 of their points on the night coming off kills, 28 from Pangelinan's sets. When FD is performing like they do Tuesday evening they feel unbeatable.
"We feel like we're the best team on island," said Jeremiah Nguyen, who finished with seven kills, on when his team is clicking. "We prepped a lot for this game so we really wanted to come out and win this one. We hope that we can perform this way come playoffs."
Game recap
McDonald wasted no time getting into his rhythm with four thunderous kills early to get his team up 12-6. Right side hitter Noah Diaz brought in a pair of points on a block up the middle, followed by a sneaky kill for a 19-8 advantage. Aidan tore the roof off the Jungle with a massive slam down the right side with the home up 21-8. McDonald would lock up his eighth kill for FD's 25th point in the set.
Tiyan responded in the 2nd set with their lead man Neil Ericsson registering two early kills and a block with the visiting team holding a 12-10 lead. McDonald would continue to percolate with a pair of kills to keep the score close as FD still trailed 15-14. Nguyen would cash in his biggest set, locking in back-to-back kills to recapture the lead for good 17-16. Ericsson would keep the Titans in the set with a big block to pull within 21-20, but Brian Anderson and Diaz would further the FD lead ending the set on a Tiyan error.
Pangelinan would get everyone involved in the final set with 12 of their kills coming off his assists. A cross-court pass to McDonald would give them a 17-12 lead before Pangelinan would feed Brandon Soriano and Nguyen directly after with FD going up 20-14. McDonald would have the final say of the game, breaking laws of gravity for a big smash to end the night.
Now that FD has toppled each of their biggest contenders from last season, the post season and another run at the title is all their concern. That means every team they face will get their best as they don't plan on overlooking any opponent.
"We're not going to take any games lightly. We're going to play each and every game like it's our last one," assured McDonald.
PHOTO GALLERY BROUGHT TO YOU BY:

2022 GSPN I MÅS METGOT COMPETITION
2022 GSPN I MÅS METGOT COMPETITION
2022 GSPN I MÅS METGOT COMPETITION
2022 GSPN I MÅS METGOT COMPETITION
2022 GSPN I MÅS METGOT COMPETITION
2022 GSPN I MÅS METGOT COMPETITION
COMING SOON …
GNYFF Championship Saturday
2nd Annual Greg D. Perez Fishing Tournament on Saturday
GML Playoffs
1st Quarter Sports
QUICK HITS
Team Onslaught represented Guam at the National X-Ball League paintball tournament in Sacramento, CA. The squad finished in 3rd place out of 12 teams in the Division 5 category.
Front L-R: Frankie Borja, Robert Delos Reyes
Back L-R: Marvin Reyes, Ericka Camacho, Gavin Santos, Nick Rivera, Nikki Tan, Adrian Mora, Ralph Sgambelluri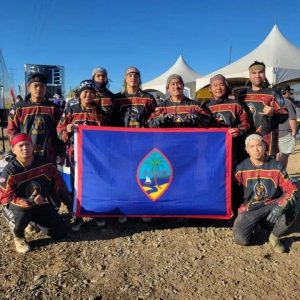 ———————————————–
Purebred Jiu-Jitsu Guam adds three more to their black belt stable. Daniel Cayanan, Cameron Mantanona and Peter Ungacta received their black belts on Saturday from Professor Stephen Roberto.