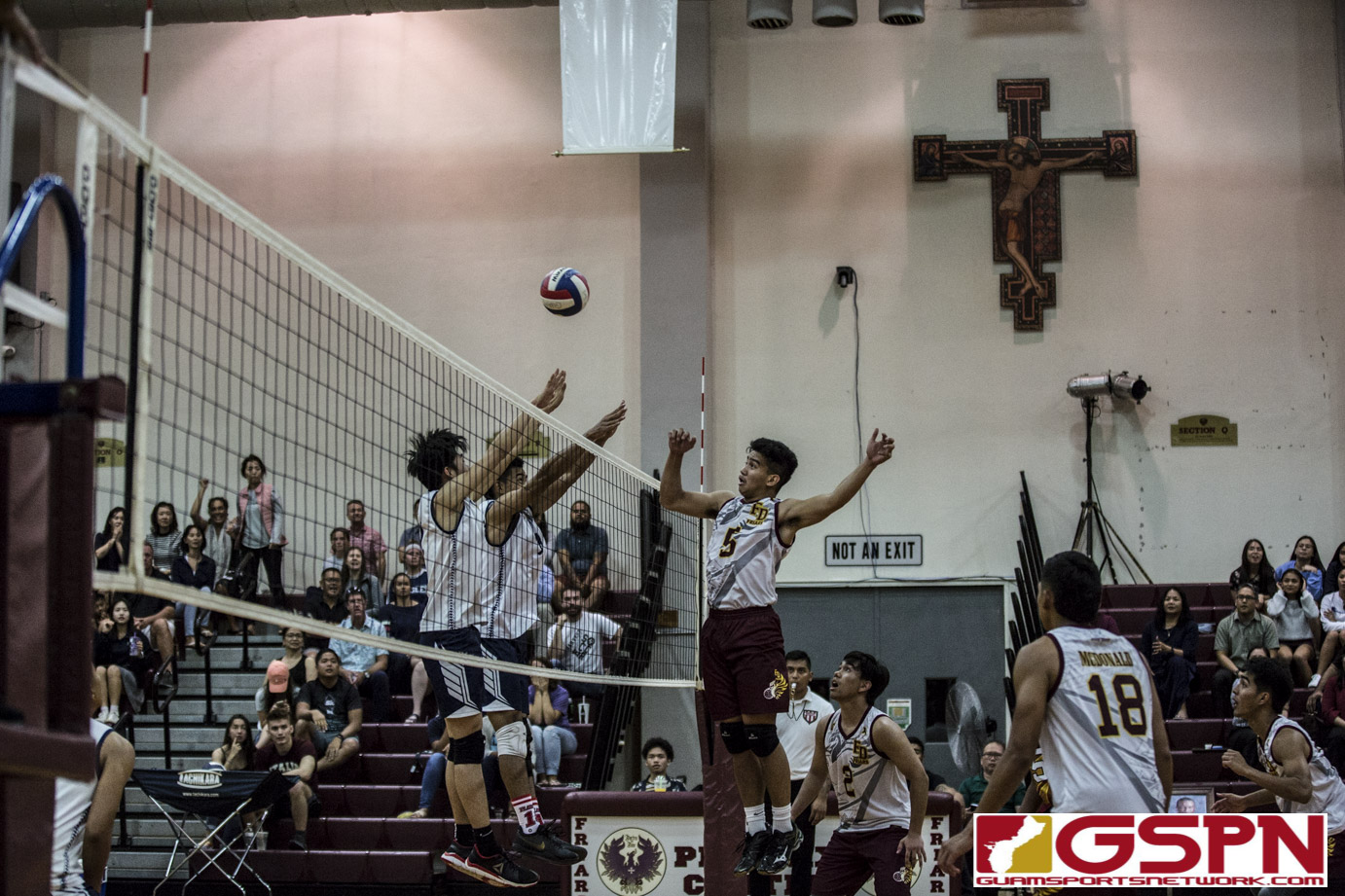 By Robert Balajadia
The FD Friars and Harvest Eagles have developed an exciting volleyball rivalry over the past few years which made their first meeting in 2019 at the Phoenix Center Friday evening one of the season's most anticipated matches. The defending champion Friars looked sharp, besting the Eagles in four sets 25-17, 25-16, 22-25, 25-17.
Outside hitter Aidan 'Moonwalker' McDonald of the Friars pushed out 14 kills to lead the team, who looked sharp for all but the 3rd set. The Eagles hitters behind Mason Caldwell and Jacob Oshiro poured in their best set with the visiting team handing FD their first set loss in four games this season.
"We were getting too comfortable out there and we took it too light in that set. We weren't talking out there in that 3rd set, but we had to keep the hype up and we knew what we needed to do," said McDonald on dropping their first set this season.
FD recollected themselves in the 4th where they scored 11 of their 25 points on kills with McDonald putting the game away with his final shot down the right side of the defense.
Friday's showdown wasn't any ordinary game for the Friars as they were fully aware of how dangerous the senior-led group of Eagles have become. Caldwell led his team with 10 total kills and McDonald said the boys were keying in on Caldwell's ability to affect a game.
"We had to throw two to three blockers on [Mason] and we worked on that a lot in practice," said McDonald on the Eagles streaky outside hitter. "There was a lot of hype tonight, but we were confident in ourselves and in our coaches."
Game Recap
FD opened up the game with four different players scoring kills on their first four points to get the offense off to a hot start. McDonald would get his first block on the night, following it up with a smashing kill on the next series to go up 18-12. Caldwell would sneak in two kills to start heating up before a tip from Noah Diaz would give the home team the opening set.
The Friars dominated the 2nd after being tied at 11, wth McDonald crushing a big kill off a block to give the Friars the lead for good. FD's libero Kaleb Tennessen would serve through the teams 7-0 run in the set with McDonald notching his eighth kill to go up 21-14. Brandon Soriano would put the set away with a shot up the middle 25-16.
JR Noh would get the Eagles going in the 3rd with three straight kills for an early 3-1 advantage. FD would take back the lead off back-to-back kills from Jeremiah Nguyen only to be answered by an ace from Ryan Root and a pair of kills from Caldwell later in the set to give the Eagles their largest lead 13-7. Caldwell would get his second kill of the set to go up 22-17 before a short Friar run to get as close as 24-22. Out of the timeout, Caldwell would get a set-clinching kill off the block to force the extra set.
Even though the Friars went down in the 3rd, McDonald could see the boys regaining focus in their short run in the later parts of the set.
FD started to gain separation during the 4th sets midpoint with McDonald shaking up the backline for a kill to go up 16-13. FD would close the final set on a 9-1 run with highlights coming from right side hitter Noah Diaz, ending in a McDonald kill.
The Friars improve to (4-0) on the season while the Eagles take their first loss (3-1).
PHOTO GALLERY BROUGHT TO YOU BY:

National Guard Athletes
Scott Eclavea
Scott Eclavea is a jiu-jitsu black belt and an accomplished MMA fighter. The Guard has given him an outlet in combatives to display his martial art skills, where he's become a head instructor for that program. Eclavea has served since coming out of high school and the Guard has only changed his life for the better.
COMING SOON …
LIVE FOOTBALL ON GSPN
Semifinals: #1 FD vs. #4 Southern (Friday 7 pm)
GSPN Preseason Basketball Tournament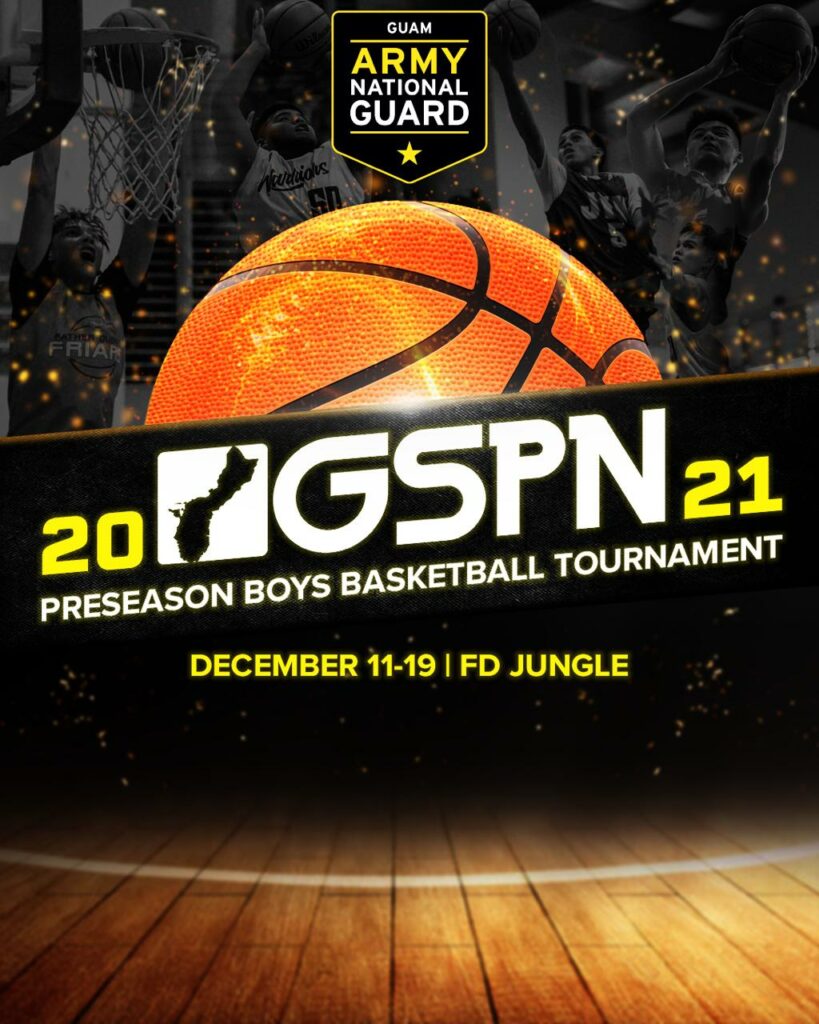 QUICK HITS
Robert Artero Maley recently captured the 182-lb. division of the Costa Mesa Classic, winning via pin in 4 out of 5 matches. Robert is a 4-year varsity wrestler at San Clemente HS (Tritons) and is currently ranked 15th in California's high school scene. He is the son of Jacque Artero Maley (AOLG 1991).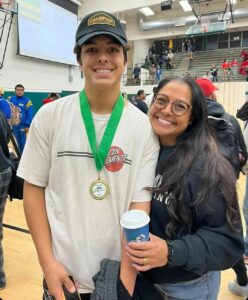 ——————————————–
Pat Taitano and Rich Abiador, teammates on the 1995 SPG volleyball team, have led their high school girls volleyball teams to the Washington State Championships in Yakima, Wa.
Taitano coaches Mt. Rainier High while Abiador leads North Creek High.
There for support is Dr. Mark Perez, a health professor at Central Washington University and a former UOG volleyball player.