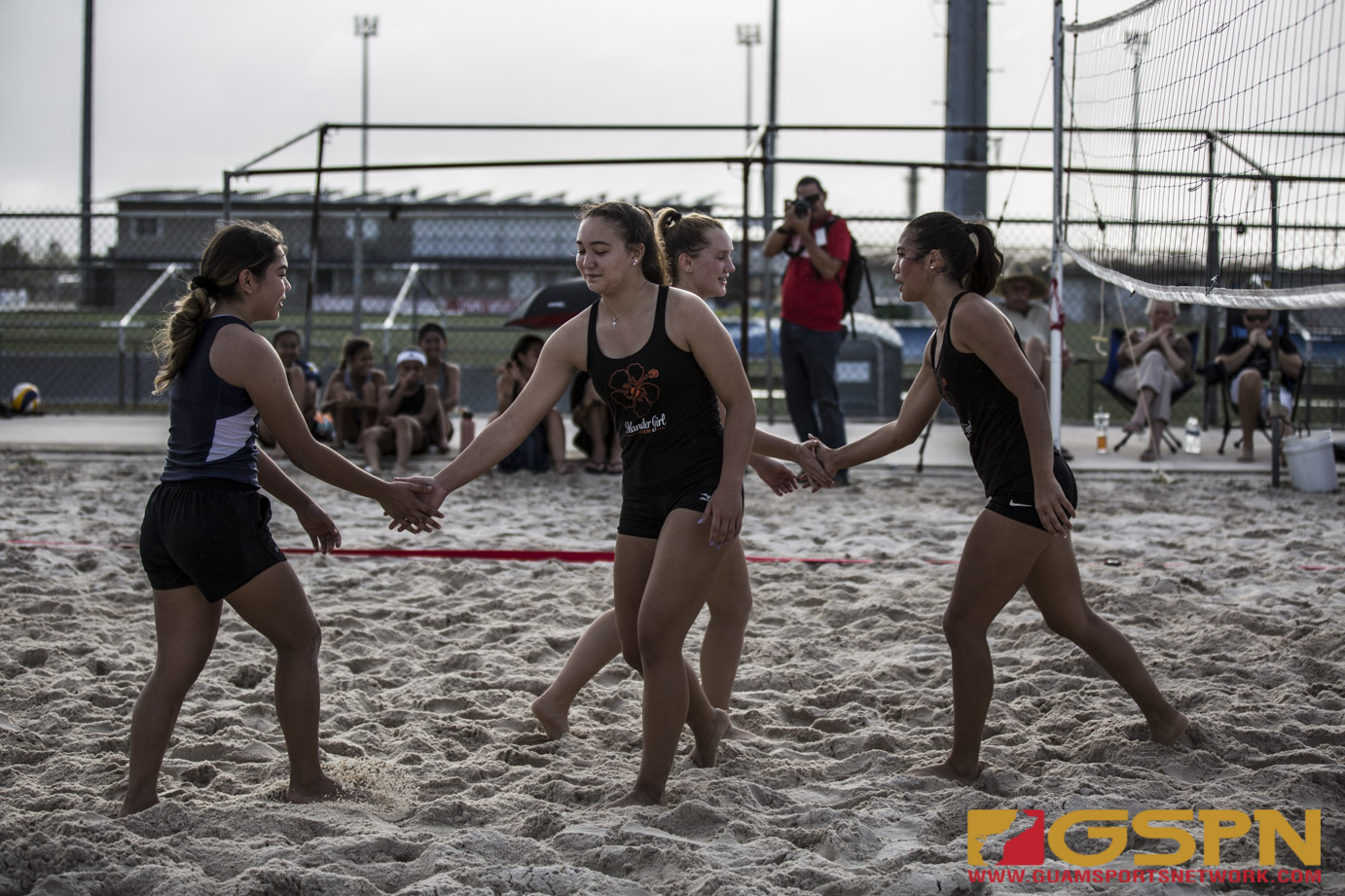 By Robert Balajadia
In the past two years the IIAAG has experimented adding new sports to its quarters with bowling making an audition in the 4th quarter of last season and beach volleyball putting together an exhibition season for 3rd quarter in 2019. The beach volleyball league is already in its fourth week of play with four teams taking part of the inaugural season. All games have taken place at the GFA sand courts.
Tuesday afternoon featured a match between the St. John's (red) team against the Harvest Eagles. The other two teams that make up the league are St. John's (white) and Tiyan, who played their games over the weekend.
Each of the four teams has a make up of three duos, with alternates, with each match pitting the three duos against each other. The league follows standard beach volleyball rules being a first to 21 with a third set being a first to 15, with switching sides after every eight point. The winner of the match is decided with the team who won the most of the days three matches.
For Tuesday, St. John's (red) defeated the Eagles two games to one with the dynamic duo of Hallie Wigsten and Tylee Shepherd defeating Natalie Bruch and Trinity Terlaje in the last match with the games split at one each.
The Eagles picked up the first win of the day with the pair of Minami Cramer and Lina Sakane getting past the St. John's sisters of Lane and Page Murrell 21-9, 21-16. On the other court, St. John's Kristen Serrano and Yasmeen Lopez defeated Eagles Sam Larzano and Vanessa Kim 21-10, 21-12 to set up a pivotal third game.
The duo of Hallie and Tylee, now known as "Cookies & Cream", were dominant at the service line as they wrapped up the match in straight sets 21-8, 21-9.
Forging bonds
Wigsten and Shepherd are two of the best the IIAAG has when it comes to indoor volleyball. The sophomore Shepherd is coming off an MVP season and Wigsten has been poised for stardom since entering the high school scene two years ago. Their talents on the court, plus their strong chemistry, have only translated to good things on the sand. Aside from rocking a tan and getting a face full of sand on occasion, the two have adjusted to beach volleyball nicely going unbeaten (4-0) on the season.
"With all the wind, rain, pushing off the sand and rule changes – it makes the game really different," said Wigsten.
"The sand makes you work harder because you can't move as fast or jump as high which makes you have to decide where to hit and you can't always hit it straight down," said Tylee.
Luckily for "Cookies & Cream", the chemistry and bond they currently have was forged well before the season. The two have been playing volleyball together since middle school making the transition effortless as far as communication goes.
"I'm really lucky," said Wigsten on having Tylee as a running mate. "When it's just you and another individual, it's important to have a really good relationship with your partner. Not only is she my beach teammate, but she's also a really good friend of mine outside of volleyball. It makes the whole thing more enjoyable because we're not afraid to tell each other what we want."
"What I love about having Hallie as a teammate is that she's always hustling. That helps me because I can get lazy sometimes and I know that if she needs to yell at me or push me to get better that I'm always open to listen to her," said Tylee.
Old bonds are getting stronger and new bonds are forming as well, which is the case for Eagles sophomores Cramer and Sakane. Even though the pair don't play indoor volleyball together, the beach scene has given them the chance to display their talents, individually and as a tandem.
"I've spent a lot of time watching volleyball but haven't gotten the chance to play since I tend to play a different sport 1st quarter. It's nice to finally have a time to play volleyball," said Cramer on the league.
"I definitely want other teams to join so we can have more games. It's a really great chance for you to get to know your teammate better and communication is key. It's a great experience and I'm for sure going to play next year," said Sakane.
The season has two more weeks left of play before the playoffs and Championship in March. Knights Athletic Director, and official for the league, is hoping to cement beach volleyball as a permanent sports program in the IIAAG's quarterly rotation which could happen as early as next year.
PHOTO GALLERY BROUGHT TO YOU BY:

QUICK HITS
Bishop Obispos beat Mt. Carmel for the IIAAG Middle School Girls Basketball championship 37-25.
—————————————-
The Benavente Roadrunners crushed the Agueda Pirates 17-1 to win the 76 PONY Middle School Baseball League. Rodney San Nicolas was a beat, striking out 13 batters in a complete game while going 4-for-4 at the plate, including a homer and 4 RBI.