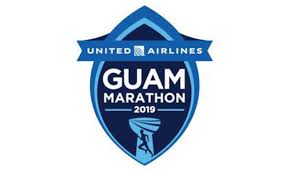 (April 9, 2019 – Tumon, Guam) — It is officially marathon week on Guam, and United Airlines Guam Marathon (UGM) is proud to announce updates for the event. Guam Sports Events, Inc., organizers for UGM, along with title sponsor United Airlines and Gold Sponsors Guam Visitors Bureau and Pacific Islands Club, invite the island to enjoy the exciting festivities planned for UGM weekend.
Registration updates
GSE announced that online registration will end at 11:59 p.m. today, April 9 and adds that in-person registration will be available for the first time at the Håfa Adai Expo on April 12 and 13.
Ben Ferguson, UGM Event Director noted, "As we begin UGM week, we are excited to announce important updates and key event dates. There's still time to register for the 2109 races, and we suggest signing up online before midnight tonight, April 9, to take advantage of the current rates. We will offer in-person registration this year at the expo and will be happy to assist runners who wish to register then."
Marathon Weekend Festivities
The annual Håfa Adai Expo and the new resident-only promotion, the UGM Big Draw, are taking place on Friday, April 12 from 11:00 a.m. – 6: 00 p.m. and on Saturday, April 13 from 9:00 a.m. – 5:00 p.m. at the Pacific Islands Club Pacific Pavilion. Participants and the general public are invited to bring their family and friends to enjoy a fun filled day of cultural activities, games, live entertainment, local vendors, and a chance to meet international runners and UGM ambassador, Naoko Takahashi, 2000 Olympics Gold Medalist from Japan.
"United Airlines is excited for race weekend," said Sam Shinohara, Managing Director, Airport Operations, Asia/Pacific. "This is what our local and international sales teams work year-round to achieve for sports tourism for Guam. UGM is an important economic contributor for our island, and this is our time to shine with our visitors."
"It will be a very exciting week on island," said Pilar Laguaña, President and CEO of Guam Visitors Bureau. "We thank everyone for helping us to warmly welcome our visitors who are traveling to Guam from 20 different countries to participate in our island's premiere running event. We invite our residents to come out with their family and friends to enjoy the festivities and experience what race weekend is all about and to join us on race day as we cheer on our friends, family and visitors throughout the course and at the finish line. It's the perfect time to show Guam's warm Håfa Adai spirit!"
Laguaña sends a special invitation to all, "Be sure to stop in to GVB's #InstaGuam booth to take your photo and share your UGM experience with the world."
The much anticipated two-day Håfa Adai Expo will feature a new retail experience by the official apparel partner of the UGM — Run Guam. Run Guam will be unveiling its new locally designed line of UGM apparel, gear and souvenirs at the expo. The expo will also offer many options to shop and learn about great running gear and apparel by UGM sponsors and exhibitors.
Shinohara noted that the United team is looking forward to connecting with customers during race weekend. "Stop in to share the Håfa Adai spirit at our United booth at the expo or on the course at our aid station at the top of JFK Hill. We'll also be giving away roundtrip tickets to anywhere United flies in Asia and Micronesia at the start of each UGM race," Shinohara said.
UGM has also announced that its runners perks program, Eat.Shop.Run is in full swing, and participants are encourage to take advantage of exclusive discounts and special offers provided by local partners through April 28, 2019.
UGM BIG DRAW
Resident runners who have registered before April 9 will be eligible to win prizes during the UGM Big Draw, a resident-only promotion supported by UGM's generous sponsors. Up to $25,000 worth of prizes including gas cards, hotel stays, luxury goods, and gift cards will be given away during the expo.
All participating UGM runners must pick up their race packets at the expo prior to race day on April 14. Participants should bring a valid photo ID and a copy of their race registration confirmation. Race packets include the runner's race bib, timing chip and sponsor giveaways. Runners will also receive their race shirt and the 2019 souvenir booklet filled with articles, training tips, and event information.
Road Closure Announcements
GSE would like to ask the public to be extra careful on the roads from April 11 through April 15. During race weekend, the public should anticipate heavy pedestrian traffic in the Tumon area from April 12-14.
GSE announced that beginning at midnight on April 14, road closures will go into effect and recommends that drivers consider taking alternate routes. Drivers should expect delays along the race route and exercise extreme caution.
Affected roadways on race day, April 14:
12:00 a.m. Hilton and Proa intersections; Pacific Star Resort & Spa Intersection
1:00 a.m. Marine Corps Drive – Two Lane closure from K-Mart to Adelup
1:00 a.m. Marine Corps Drive southbound lane closure from Adelup to T. Stell Newman Visitor Center (right before Naval Station). Northbound lanes will be converted into two-way traffic.
10:00 a.m. Hagåtña, Asan, Maina and Piti lanes open
11:00 a.m. Tamuning and Tumon lanes open and Tumon intersections open
United Airlines Guam Marathon Schedule
April 9 Online registration ends at 11:59 p.m.
Eat.Shop.Run Runners Perks Program ongoing
April 12 Håfa Adai Expo and Packet Pickup Day 1 – 11:00 a.m. – 6: 00 p.m.
UGM Big Draw Giveaways
Registration available at the Expo
April 13 Håfa Adai Expo and Packet Pickup Day 2 – 9:00 a.m. – 5:00 p.m.
UGM Big Draw Giveaways
Final registration and packet pickup day before event
April 14 UGM Race Day at Gov. Joseph Flores Memorial Park (Ypao Beach)
Road closures begin at midnight
UGM Start Times:
3:00 a.m. Marathon start
4:00 a.m. Half Marathon start
5:00 a.m. 10K start
6:00 a.m. 5K start
Roads reopen between 10 and 11 am
April 28 Eat.Shop.Run Runners Perks Program ends
###
About the United Airlines Guam Marathon
The United Airlines Guam Marathon (UGM), now in its seventh year, will take place on Sunday, April 14, 2019. UGM is organized by Guam Sports Events Inc., a nonprofit organization that hosts annual sports tourism events to promote Guam's Håfa Adai spirit and attract more visitors to Guam. Considered to be Guam's premier running event, UGM includes 5K, 10K, half marathon (13.1 miles) and marathon (26.2 miles) race distances. UGM is Guam's first International Association of Athletic Federations (IAAF) approved marathon and has also been officially certified by the Association of International Marathons and Distance Races (AIMS). This designation means that marathon runners may use UGM as a qualifying event for the Boston Marathon. UGM is proud to welcome back United Airlines as its title sponsor and Guam Visitors Bureau and Pacific Islands Club as gold sponsors of the 2019 event. For more information or to register for the 2019 United Airlines Guam Marathon, visit unitedguammarathon.com. Online registration closes April 9, 2019. Event information, updates, training tips, and the live social media feed from the UGM community can be accessed through the free UGM mobile App and on Facebook and Instagram (@unitedguammarathon). Tag UGM using the official event hashtags #unitedguammarathon and #runinparadise.

2022 GSPN I MÅS METGOT COMPETITION
2022 GSPN I Mås Metgot Competition Recap
2022 GSPN I MÅS METGOT COMPETITION
2022 GSPN I Mås Metgot Competition Recap
2022 GSPN I MÅS METGOT COMPETITION
2022 GSPN I Mås Metgot Competition Recap