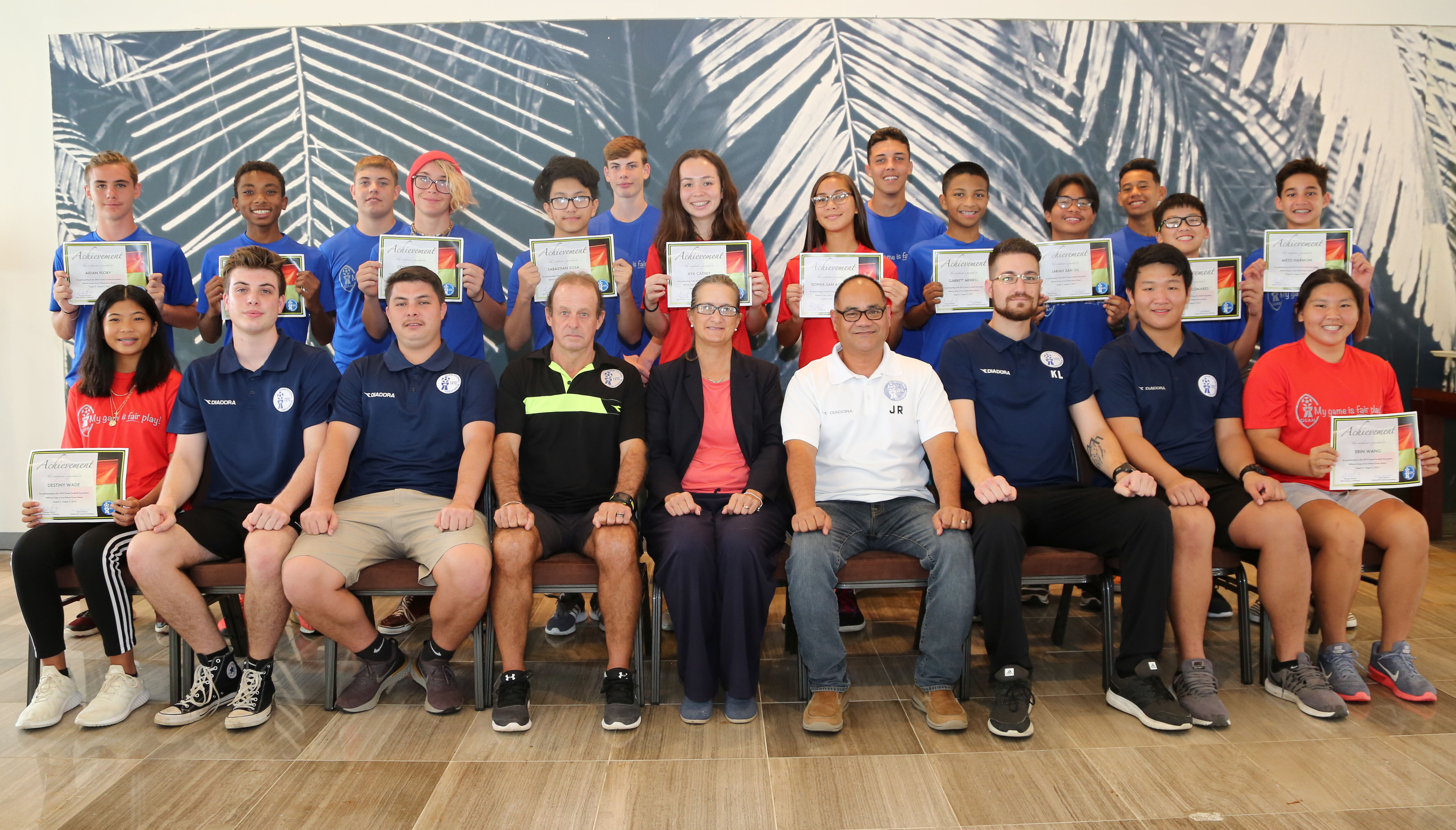 PRESS RELEASE – Close to 20 youth referees caught a glimpse of what to expect as an international official during Guam Football Association's 2019 Referees Camp held over the weekend at LeoPalace Resort Guam.
The Referees Camp, with its third year in the books, captured the attention of referees from the Triple J Auto Group Robbie Webber Youth League and inspired them to keep moving up the elite referee pathway.
"A friend told me about being a referee and he said he was making a lot of money – of course I wanted to make some money too," said Aya Cathey, a second-year participant. "I didn't see it as interesting at first, but thought, maybe I should just go to a referees course and see how it goes. I started officiating and found that I actually enjoyed it.
"As I saw other youth referees go up and go up to higher level matches, I wanted to get better to also move up. I haven't yet officiated at the high school level, so for now, that is my immediate goal as a referee," the 17-year-old added.
In two youth league seasons, Cathey has officiated at the U8 to U14 levels and was appointed to one U16 match, she said.
The Referees Camp, mainly an incentive camp for first-time referees, also included a few classroom sessions, a modified fitness test, and practical sessions with an overnight stay at LeoPalace Resort Guam, similar to preparations for international tournament duty, but on a much smaller scale.
"For next year's camp, and future camps, I'd like to incorporate even more activities, whether it be on the field or in a meeting room," said Shawn Spindel, GFA Assistant Director of Referees. "I'd like to see it grow so it's not just one night, but maybe two, even three nights and eventually progress to where it's a weeklong program – somewhat of a course they'd take as if they were off-island ahead of a tournament, treated the exact same way as international referees. I would also definitely like to see more female participants – I'm hoping we can get eight to 10 females interested in officiating to participate in next year's camp.
"I do feel that the referees are enjoying themselves a lot more each year in the camp, and the relationships they are building with fellow referees continue to strengthen. They are willing to communicate more with each other and basically become friends. I've told them – if you have poor communication skills, you can't really develop a trust with your fellow referees and there'd be no way you can be able to officiate a match efficiently," added Spindel, one of Guam's first-ever FIFA Assistant Referees.
The camp concluded with a short certificate presentation ceremony with Joe Roberto, Chairman of the GFA Referees Committee, Cheri Stewart, Acting GFA General Secretary, and George Stewart, GFA Director of Referees. Also at the camp were facilitators Eladio Manansala, Kyle Legozzie, Erlissa Delfin, Josiah Elwell, and Derrick Yen.
"This was my first camp that I attended, and I would recommend it to my friends," said Meto Harmon, who also plays for Days Inn/Community First Dededo Soccer Club. "It was a good experience sharing it with my friends and experiencing LeoPalace Resort Guam for the first time. I started as a referee to get some money, but now I also want to become a referee in the older division leagues."
Camp participants receiving a certificate of completion were Aya Cathey, Caleb Elwell, Aidan Flory, Conor Flory, Meto Harmon, Cason Jackson, Terrance Johnson, Andrew McCormic, Ska Medina, Garrett Merrill, Jason Palomares, Sophia San Agustin, Jariah San Gil, Sabastian Sosa, Destiny Wade, and Erin Wang.
PHOTO GALLERY BROUGHT TO YOU BY:

Foody's 5 Fun Facts
High School Football All-Stars
DID U KNOW?
With a 10-1 finish this season, the ND Royals JV Volleyball Team has earned the top spot in the league for a third straight year! ND's assistant coach Art Stanley refers to his JV team as 'The Farm', breeding talent into their three-time defending champion varsity team as well.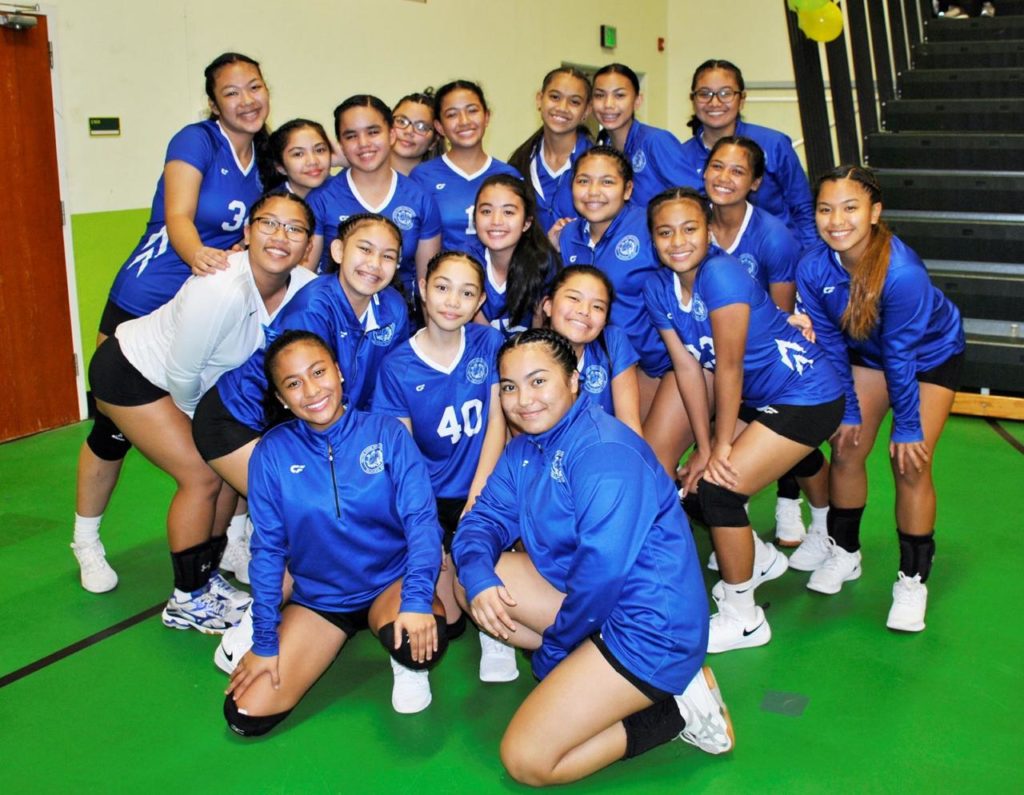 COMING SOON …
– More 2nd Quarter Sports
– NFL Week 11:  Steelers at Browns
– IIAAG/GDOE Split on Jan. 1st
– GSPN Preseason Basketball Tournament Jan 3-10
QUICK HITS
GSPN celebrates 8 years! Chartered 11/11/11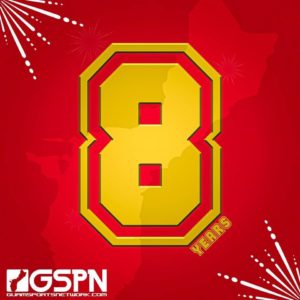 —————————————————-
Destiny Castro heads into her senior season at Chaminade as a preseason All-Pacwest Conference all-star. Destiny is a first team all-conference returnee and is already the school's all-time scoring average leader (16.2 ppg) and steals leader (200).