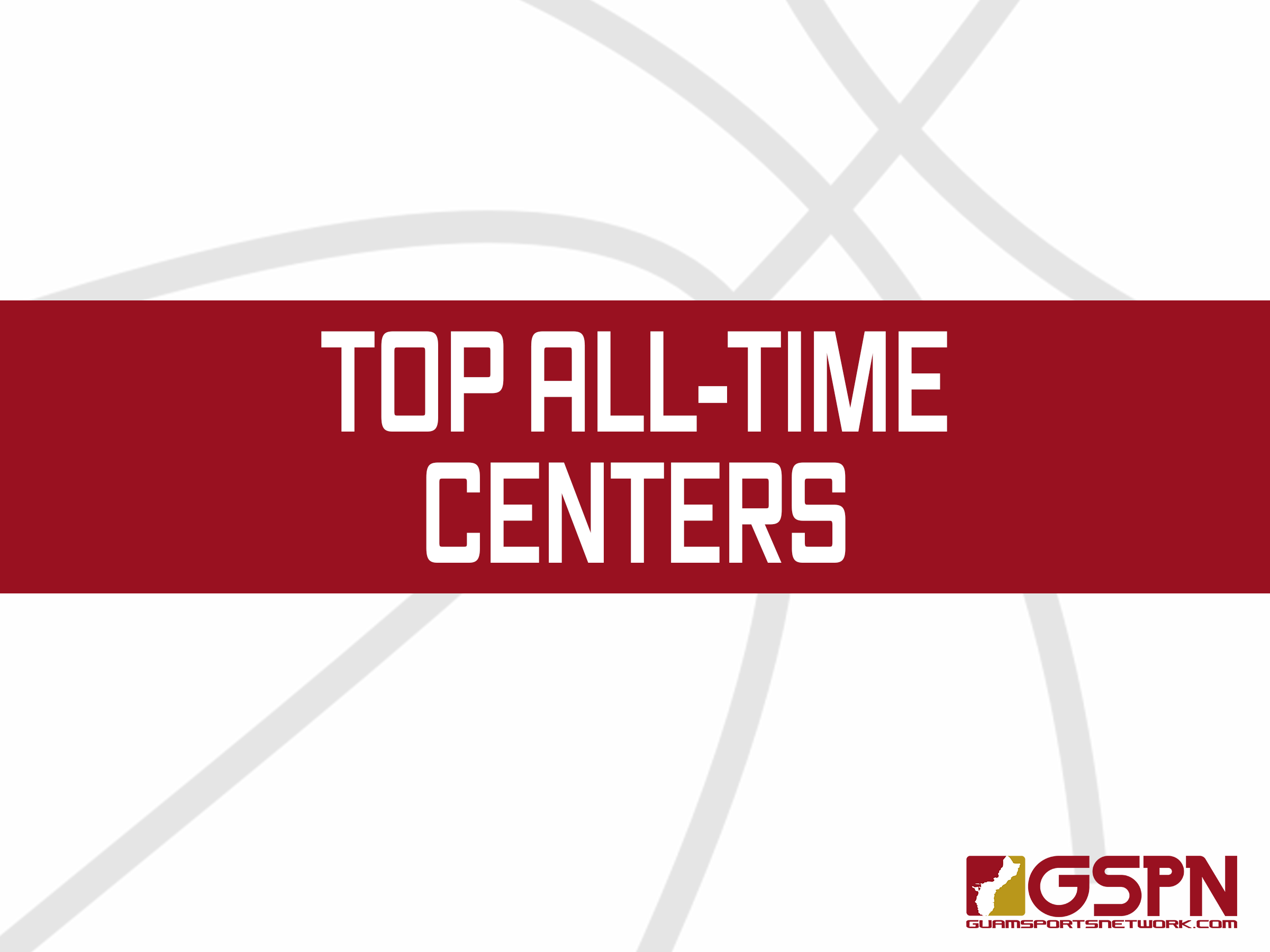 By GSPN
We conclude with the "All-Time Basketball School" rankings! We wrapped up The Guards last week, then The Forwards a couple of days ago and sparked up plenty of great discussion amongst the Guam Basketball Community.
Today, we finish our school basketball rankings at the top of the mountain where the big boys roam! Guam has a basketball history of lacking in size, but these guys aren't part of the vertically challenged.
We end our rankings with The Centers: The Anchors
#1 JFK – Terry Stotts, Curtis Hellyer, Ruel Ong
Fundamentals was the name of Terry Stotts' game at JFK. Already 6'6″ as a junior, Stotts can nail the hook shot with both hands with his back to the rim, a pure shooter and unselfish assist man. Defense was also very fundamental in an era when basketball was still considered a non-contact sport. Stotts ended up playing his senior year as a 16-year-old with the UOG Tritons with his dad as the head coach. Curtis Hellyer was tall and lanky as well under the tutelage of Joe Taitano, who pushed Hellyer to be the best he can be. He had very good footwork and could spin in either direction. There wasn't a jump ball or a rebound he didn't win. Taitano once said Hellyer was "the player with 1001 moves". Ruel Ong was Hellyer Light but had a hint of crazy. When he was rolling and the adrenaline was pumping, Ong kicked it into 'Psycho' mode and his team rode the emotion high off that.
Alternates: Alan Chang, Mario Garcia, Jeff Serrano
#2 FD – Darrell Payne, Michael Sakazaki, Matt Fegurgur
D-Payne is what Darrell Payne is known for because he definitely brought the pain. Payne was a monster inside and played the inside post to the T, even dominating bigger dudes in the Far East Tournament. Michael Sakazaki was the MVP of 2013 and used his shooting to shake up the league for a big. The 6'9″ Fegurgur really put it all together his senior season. He was already a defensive star, but he started to incorporate more skill in his offensive game with mid-to-long range shooting.
Alternates: Harry Chang, Seve Susuico, Mike Lee, Rob Leon Guerrero
#3 Oceanview/Southern – Mike Swaney, Mike Quitugua, John Paul Taimanglo
Mike Swaney was literally a man amongst boys. He looked like a 30-year-old playing high school hoops. Swaney was just brute strength who outmuscled most opponents but also had a killer spin move. The showdowns between him and FD's Payne were classics. Mike Quitugua did the dirty work for the Knights right before the transition to Southern. John Paul Taimanglo was a freak of nature: so long, so tall, so athletic. He is still considered arguably the best player coming out of Southern High.
#4 Okkodo – Ben Borja, Maks Kepwe, Jon Michael Lorena
The bigs at Okkodo were of the best in the generation. Ben Borja came in as a defensive superstar, but evolved into a dynamic wing player who could stretch the floor while maintaining his athletic ability to finish at the rim. Defensive MVP isn't award handed out at high school, but Borja was a lock for that award each and every season. Maks Kepwe was a dominant big who flourished in the paint. Maks had a soft shooting touch, but his game revolved around low-post dominance. John Michael Lorena was the latest MVP to come out of Okkodo, taking the honors of the first ever MVP holder in the ISA League.
Alternates: Jedd Antonio
#5 St. Paul – Ian Mesa, Tristan Tapia, Jon San Andres
Tapia was a player who can rebound and is dangerous in the paint. Tapia is a double threat with his three-point shooting ability could do just about anything offensively. Jon San Andres was a do-it-all center and captured co-MVP of the league during his senior season. The big man could score in a variety of ways and was the focal point of the offense for two straight seasons.
#6 GW – Ben Lizama, John San Nicolas, Danny Cepeda
Ben Lizama goes back to the golden days of the 70's when hoops was just exploding. Nicknamed 'Radar', Lizama made All-Tournament in the Far East in 71-70. Lizama also has a wealth of experience running as forward and sometimes guard for Guam's National Team in the South Pacific Games. John San Nicolas played all front court positions and was gifted in a facets: spot up jumper, strong and fundamentally tough. Danny Cepeda is also on GSPN's all-time multi-sport athletes list on both basketball and football. Sporting a vertical like no other, Cepeda wasn't afraid to tussle in the paint and outwork everyone. His jumping ability was an obvious advantage.
Alternates: Ben Guerrero
#7 St. John's – Richard Chou, Adeoye Mabogunje, Isaac Sim
Richard Chou was MVP in both basketball and volleyball and won the basketball title for the Knights in 1995. Very fluid for a big man, Chou definitely had the hops but also was the leader of that championship team. Adeoye Mabogunje obviously mirrored the athletic skills of his brother Deji and Isaac Sim was a nice compliment to Michael Min, Takumi Simon and company for their latest title round.
#8 GCC – Mark Richards, Frank Cruz, Mike Luty
Mark Richards, at 6'6″ and the son of coach Bob Richards, led the league in scoring, rebounding and blocked shots. Frank Cruz had a soft post up game and one of the best big-man passers around. Mike Luty was straight up mammoth and immovable with a surprisingly soft touch around the rim. No smart opponent would breach his airspace.
Altertnates: Peter Salas, Frank Perez, William Sablan
#9 Sanchez – Derrick Royster, Ben Whitaker
Derrick Royster was a tenacious big who was named MVP of the 2010 season. A strong finisher at the rim and could shoot the ball confidently, Royster was a bully inside the lane and not many could slow him down. Ben Whitaker is known as one of the school's best quarterbacks and happened to use his height at center for the hoops team.
#10 Guam High – R.J. Kranz, Khalid Volious
Khalid Volious was a monster on the boards and stuffed stat sheets every time he played, once grabbing 22 boards in a game. R.J. Kranz was a hybrid center who played big due to his height on the team, but he wasn't afraid to put the ball on the floor to get to the rim, and even had a consistent mid-range jumper to add to his arsenal.
#11 Harvest – Revis Henderson, Joe Henderson
The Henderson brothers arrived a little late on the scene, but there was no denying their skill set. Revis was a monster in the paint and younger brother Joe played an all-around style when he took over. Each of the brothers instantly became fan favorites with their whole family showing up each and every game!
#12 Inarajan – Frank 'Z' Taitague
Z Taitague is the best big man coming out of Inarajan. No other post player in the village had the moves like Z.
#13 ND – Peter Cruz
Cruz was a great ball handler for a big and could easily play guard if needed. His size plugged him in as one of the tallest on the team so he was regulated to being a Center, but didn't play like a tradition big with his ability to run up and down the court.

QUICK HITS
Bishop Obispos beat Mt. Carmel for the IIAAG Middle School Girls Basketball championship 37-25.
—————————————-
The Benavente Roadrunners crushed the Agueda Pirates 17-1 to win the 76 PONY Middle School Baseball League. Rodney San Nicolas was a beat, striking out 13 batters in a complete game while going 4-for-4 at the plate, including a homer and 4 RBI.