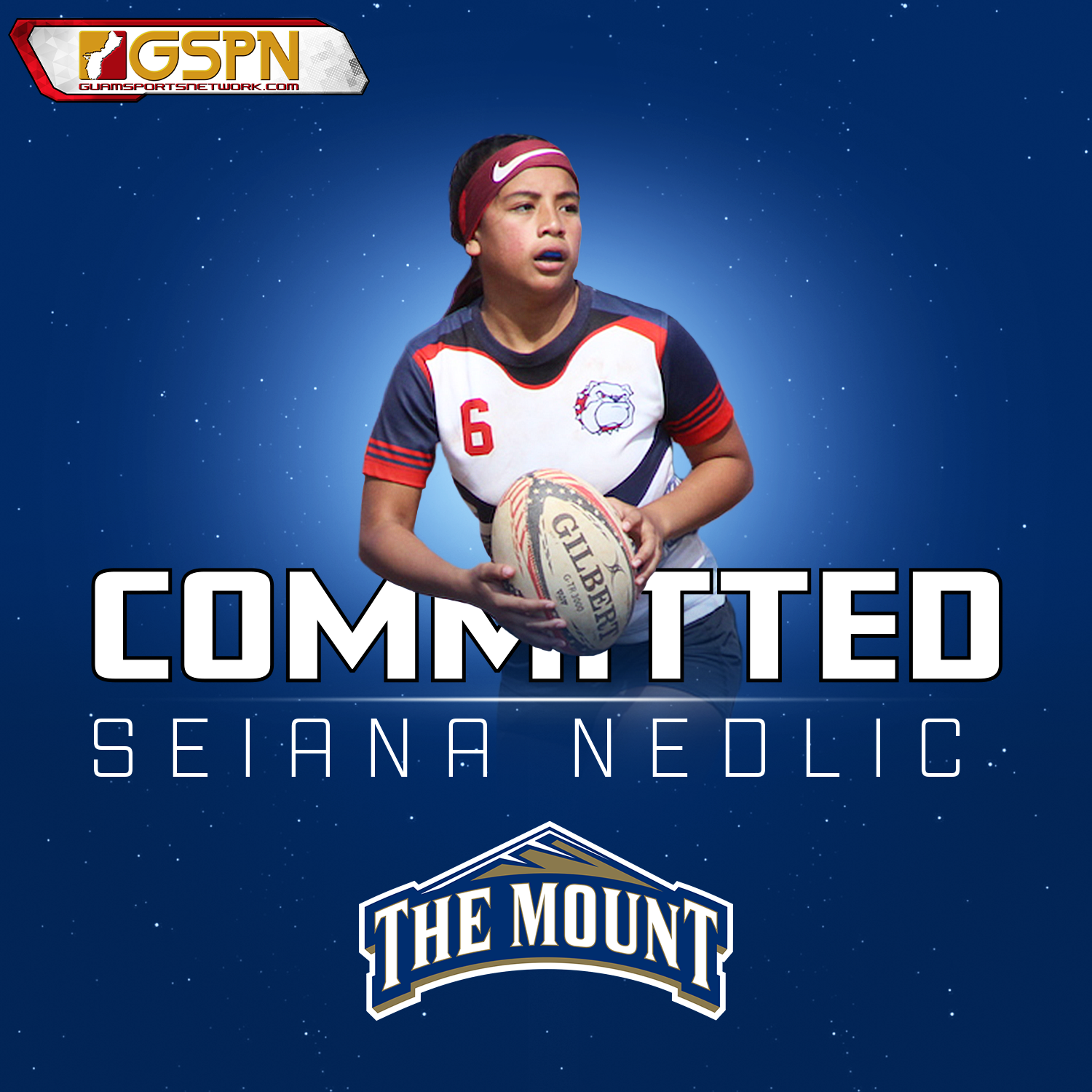 By Robert Balajadia
2020 Okkodo Bulldog senior Seiana Nedlic will be the newest recruit to join The Mount at St. Mary's to play Division I Rugby. Nedlic joins three other players from Guam in Jalana Garcia, Lavona Aromin and former teammate Mara Tamayo. Nedlic held an official signing event at Okkodo Friday morning with the media welcomed to join via livestream, but due to technical difficulties the stream was cut short.
Seiana becomes the first Kosraean/Chomorro to be recruited to play Division I rugby as her mother Regina was born on Guam, moved to Kosrae then moved back to Guam where she had all four kids. If the Nedlic name sounds familiar then you wouldn't be surprised to hear that Seiana is the youngest of four siblings, which her mother calls the 'brat pack'.
Seiana's eldest sister Anisha played for the Guam National Rugby Team after graduating from the school in 2013 and brothers Arthur and Rico would become staples for the football and rugby program from 2014-2018. Though, Seiana becomes the first sibling to commit to an off-island college, which has been a scary reality for Mom with the state of the world right now.
Former teammate and current player for The Mount in Mara Tamayo has been instrumental in Nedlic's rugby journey, giving the young star advice throughout her entire senior season.
"The biggest advice [Mara] gave me was not to be scared and that if there is a will, then there is a way. I'm excited to take this opportunity to make my family proud," said Seiana.
Seiana will receive an Academic Dean's Scholarship and additional Sports scholarship.
Siblings bond through sports
It was never Mom's intentions to have her kids play the most physical sports in high school, but somehow each of her four kids found their way to football and rugby. Her eldest ushered in the implementation of tackle rugby for girls in 2013 and Arthur would come home with news of him making the football team his freshman year. Mom had no choice but to support her kids wishes, as long as they kept up in school.
"I never wanted them to play rugby or football because I was scared of them getting hurt, but they really wanted to play. They really bonded together playing sports it's ironic that they did so playing the sports I didn't want them to at first," said Regina.
Mom loaded her kids with sports for all four quarters and it became her only requirement as she saw the positive impact it had on each of her kids lives.
Seiana watched all her siblings set the bar high with All-Island accolades as well as representing Guam at the National level, igniting her own competitive fire wanting to follow in their footsteps.
"I've seen my brothers and sister go off island represent the island. Knowing that they loved it, it made me want to reach that level," added Seiana.
Seiana held her own on the field, but also in the classroom. Mom made sure each of her kids prioritized education.
"I'm a mom of the 80's and school was a requirement back then. You do your homework right when you get home or before practice and if you ever got in trouble in school then, you're not going to be able to play sport. I always told them 'you're going thank me later'. I want them to be able to stand on your own two feet," added Regina.
Big for Okkodo
The Okkodo program has now seen two athletes in back-to-back years elevate their talents to the collegiate level and Seiana is proud of her school.
"The sports program overall is amazing and I wouldn't have had the same success if it wasn't for all the staff and coaches. I met a lot of great people throughout the years and it's given me this great opportunity," said Seiana.
Nedlic also gave a lot of credit to coach Max Veimau, who really built the Okkodo rugby program which has produced talents like Mara and Seiana.
"Coach [Max] inspired me to be in this sport and he's the coach that really made me love the game. He built the program… and that really motivated me to want to be the best I could to help the team," added Seiana.