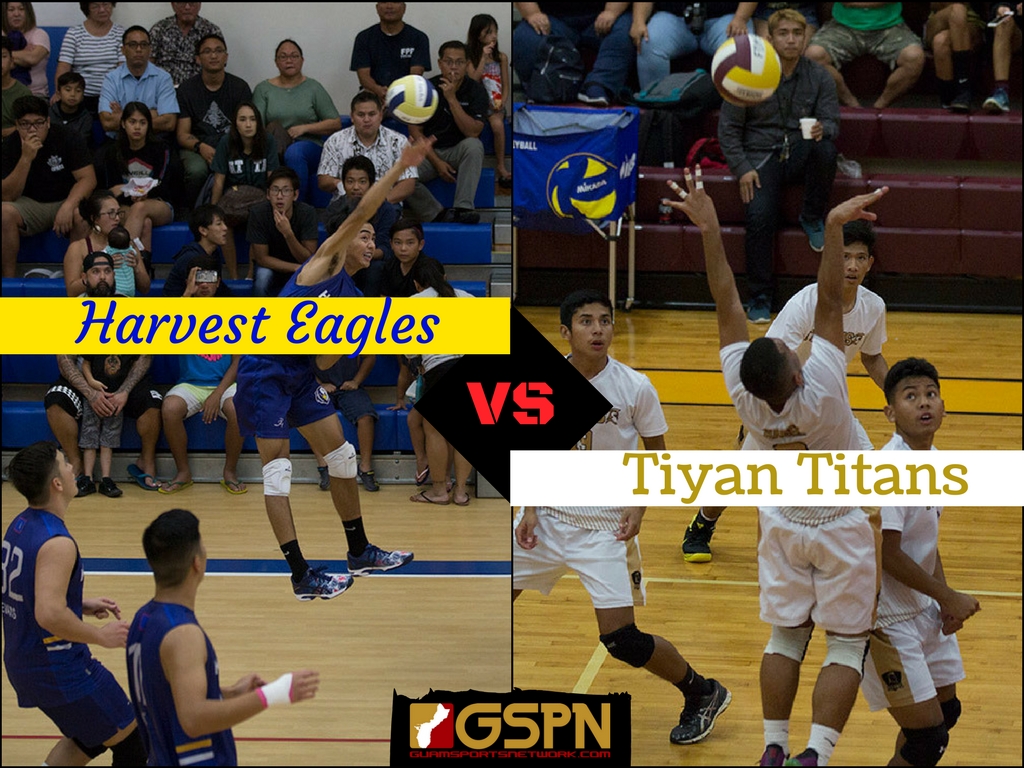 By GSPN staff
The 2017 boys volleyball season will come to one epic conclusion Saturday evening at the UOG Calvo Field House at 7 pm in a sure-fire showdown between the Harvest Eagles and Tiyan Titans.
History will be made which ever team wins as the Eagles try to send off long time coach Kevin Inafuku into the sunset, which would be just the second volleyball title in Harvest history. Not just for coach Kev, but the seniors behind MVP Sean Evans and Kobe Sotelo have been hungry for a title since 6th grade.
The Titans are still the new kids on the block and they're looking to reel in the school's first ever title. Their closest shot had been in baseball, but just like the upstart Okkodo Bulldogs in 2010 who won basketball after just opening its doors in 2008, Tiyan is quickly trying to cement their name in IIAAG history. Coach Rod Pama has his team flying high after beating the FD Friars in five thrilling sets.
BREAKDOWN
Who's going to win? If it's anything like their regular season match-up then it will be a razor-thin contest.
Setting: Advantage – Tiyan
Don't let Titan setter Johnsey Hagel's spot on the 'Honorable Mention' list fool you, he's as good a setter you will see in the league, if not the best. He knows when he makes mistakes, but rarely ever makes them. He turns decent-to-bad passes into flawless sets and his cardio is good enough for five grueling sets. He probably had only one bad set in the semis against FD. That's remarkable. The Tiyan hitters Giovanni Manglona, Jude Cruz and Ramil Padigos can swing away when Hagel puts it where they want it every time.
The Eagles passing will need to be precise in order for their offense to take advantage of all that fire power they possess.
Hitting: Advantage – Harvest
This is a tough one. So many weapons on both sides of the net.
Let's start with Harvest. They have MVP Evans, who's volleyball IQ is extremely high; sophomore tennis stud Mason Caldwell, who can leave dents in the floor; Allen Kong in the middle, who not only comes up with big hits from time to time, but his energy is contagious; and basketball star Sotelo can't be forgotten on the outside. But the wild card is junior Clay Mitchell. The soccer standout also has some hops and can ignite a rally in an instant. Lots of weapons here. Let's see if they'll all be used.
Tiyan has some big guns themselves led by senior Manglona, arguably the scariest hitter in the league; 11th-grader Padigos is silent but deadly; Middle Neil Ericsson can hold his own; and the versatile Cruz can do it all. Cruz didn't play in the regular season game against the Eagles and could very well be the difference maker this time around. The junior is reliable both in the front and backcourt. The shoulder injury he played through in the semis is something to keep an eye out for though.
Blocking: Advantage – Tiyan
Harvest has King Kong, but Tiyan has Team Kong. The Titans throw everyone up at the net for defense – almost always a two-man block. Even setter Hagel gets into the action as he came up with critical blocks on FD's Aiden McDonald in the semis. During the regular season, Kong came away with game-clinching blocks so he could have insight on just where the Titans hitters like to go. Although, the Titans have the best two-way player in Manglona, whom you might forget is their middle with how often he flies all around the floor.
Defensive: Advantage – Harvest
Sheesh. Another close one. Both teams are so well coached as far as court coverage and the two liberos – Tiyan's Dayvin Hattig and Harvest's JR Noh – are defensive wizards, able to scoop up the hardest of hits and offer up a pretty pass simultaneously. This is super close but the Harvest backcourt rotation gets the slight edge over Tiyan's backcourt.
So who wins?!
At this point, flipping a coin seems most logical when trying to decide who comes out on top.
But if there's one player that's going to hold the key to the championship, it's going to be Hagel. If he runs the offense the way he's capable of, the Titans will be tough to beat. We see this going five sets on a true toss up of a match.
Can the Eagles cap off a perfect season and send Coach Inafuku off riding high into Salt Lake City or will the Tiyan boys spoil those plans and make school history as the first team to win a championship?
We know, we didn't answer the question. We'll make the teams answer it for us Saturday night. It truly is that close of a matchup.

QUICK HITS
Bishop Obispos beat Mt. Carmel for the IIAAG Middle School Girls Basketball championship 37-25.
—————————————-
The Benavente Roadrunners crushed the Agueda Pirates 17-1 to win the 76 PONY Middle School Baseball League. Rodney San Nicolas was a beat, striking out 13 batters in a complete game while going 4-for-4 at the plate, including a homer and 4 RBI.