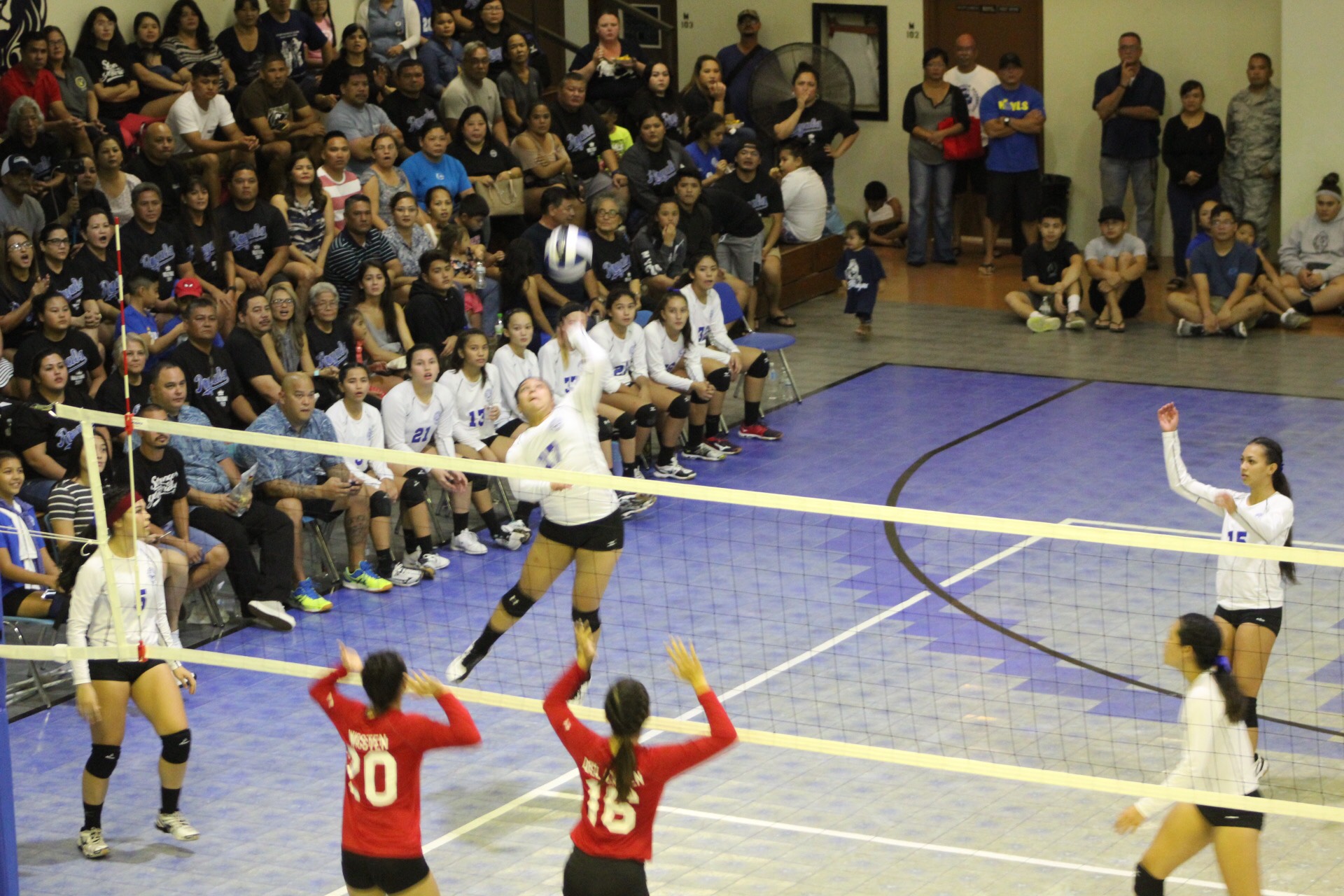 By Patrick Lujan
Halfway through the season and the Notre Dame Royals have pulled away from the pack as the clear favorite in the 2017 IIAAG Girls Volleyball League.
Two huge games this week. Two huge wins as they easily controlled the St. John's Knights 25-14, 25-19 Friday night on their home court in Talofofo. (ND def. JFK on Tuesday)
There seemed to be no weak spots on the Royals side of the court with solid serving, passing and defense. An array of offensive attacks that kept the Knights off balance all night resulted in the easy victory.
"Our team knew that this would be a challenge, so we wanted to work hard in practice (this week) so we can give our best in the game," said senior setter Marianas Kier, who was named Wendy's Player of the Game. "We're giving our best right now, but we're always looking to improve. It's the mid point (of the season) and we're just trying to get better from here."
Asked if he was impressed with the Royals, opposing head coach Chris Shepherd said, "Of course, I'm impressed with ND. They have great players and great coaches and this is a tough place to play. They're undefeated for a reason."
Seven different players registered a kill for ND, led by junior sensation Carlie 'Hand Quake' Quinata with eight kills. The Royals also registered 11 aces, compared to none for the Knights.
"We're just trying to play good volleyball," ND head coach Mike Rabago said modestly. "We're not necessarily there yet, but the speed is what we're trying to apply. Their passing was on point. A couple more games and we'll start tweaking even more."
KIER THE QUARTERBACK
Like football, the setter is the quarterback and leader for any volleyball team and Kier performed to her usual brilliance once again.
The senior ran advanced plays not normally seen in Guam's girls high school schemes, delivering perfect sets to her weapons all over the court in Quinata, DavieRae LeFever, Brianne Leon Guerrero, Carmen Gogue, Aeryn Anulao and even swing freshman Minami Rabago.
"It makes it easier when I have the talented team that I have," Kier said. "I set it anywhere, I know that they're ready. That makes my job as a setter easy so I can always depend on my team to be where they need to be."
"You have nine zones and she controls all nine zones," coach Rabago added. "There's five areas out here that we attack from and it's up to her to control it. In the four years we've been working with her, she's at that point where she can control the team. She's carrying this team right now."
GAME FLOW
ND never trailed in the opening set as their rock solid defense and off-balanced offense kept the Knights at bay.
The critical point is when the Royals went on an 8-2 run midway through to take a commanding 20-11 lead on Anulao's second ace of the set.
Down the stretch, LeFever and Leon Guerrero delivered back-to-back kills that woke up the crowd and Quinata ended the set with an ace.
St. John's sophomore Hallie Wigsten did all she could for her team with three kills, but several of her attacks were swooped up by the ND backcourt.
"I thought they passed very well and ran a pretty quick offense that not many teams run so it took us a while to get adjusted to that," Knights coach Shepherd commented.
The second set was much closer than the first as the teams exchanged the lead three times with the Knights actually taking an 11-9 lead on freshman Tylee Shepherd's fourth kill of the set.
The fire quickly died out as Leon Guerrero served up seven straight points (including two aces) to put the Royals up for good 16-11.
LeFever was instrumental at the net late in the game as ND rolled to the 25-19 set victory.
JUNIOR VARSITY
The Royals remained unbeaten in the JV division as well with a 31-29, 25-17 win. The Knights nearly handed ND its first set loss of the season as they led 23-16 in the opener, only to see the Royals come back from behind in the exciting set.
VARSITY STATS
1st Set (ND 25, SJ 14)
Unforced Errors: SJ 6, ND 5; Service Errors: SJ 3, ND 3. Kills: SJ 6 (Wigsten 3, Niu 2, Del Carmen), ND 10 (Quinata 4, LeFever 3, Anulao, Gogue, Leon Guerrero); Aces: SJ 0, ND 6 (Anulao 2, Quinata 2, Gogue, LeFever).
2nd Set (ND 25, SJ 19)
Unforced Errors: SJ 4, ND 7. Service Errors: SJ 3, ND 4. Kills: SJ 8 (Shepherd 4, Del Carmen 2, Mathews, Niu), ND 13 (Quinata 4, Anulao 2, Leon Guerrero 2, LeFever 2, Gogue, Kier, Rabago). Referees: Cruz, Mesngon. T: 46 min.
PHOTO GALLERY BROUGHT TO YOU BY:
St. John's freshman Angeline Del Carmen drops a shot past ND blocker DavieRae LeFever. (photo by Holden Barcinas)
Royals senior Aeryn Anulao faces a double block by Knights Hallie Wigsten (20) and Caitlyn Niu (3). (photo by Holden Barcinas)

QUICK HITS
Guam MTB National Championship: Edward Oingerang and Jennifer Camacho are your 2023 MTB national champions. Oingerang finished the course in 1:13:24 while Camacho won her second straight title in 54:08.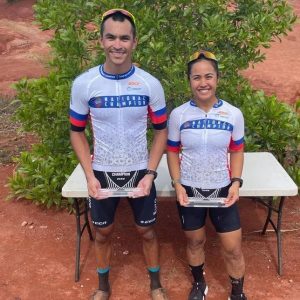 ——————————————
Kobe Miyashita, with St. John's coach Arvin Flores, was named the 2023 IIAAG Middle School Boys Volleyball MVP!