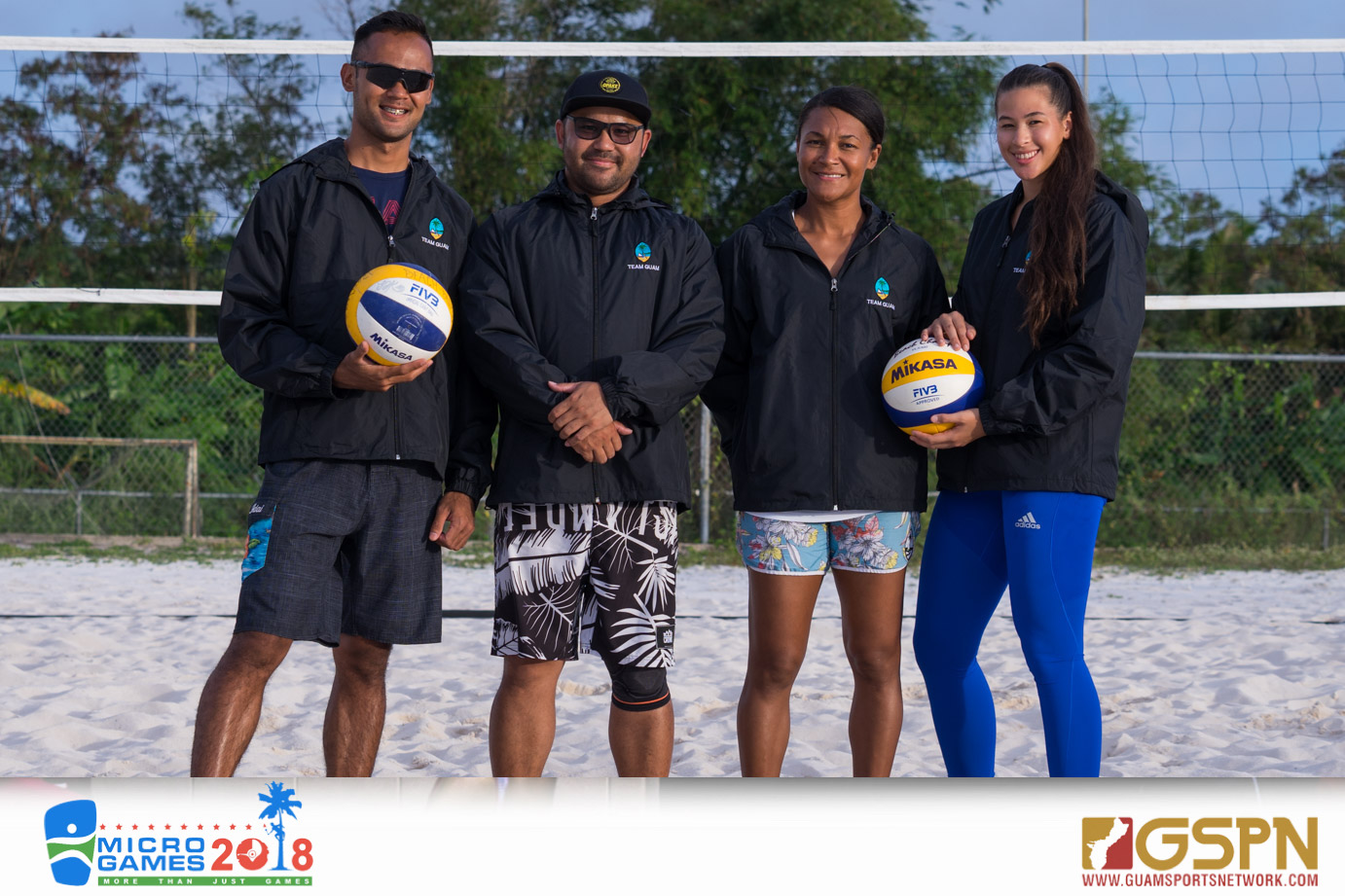 By Robert Balajadia
Beach volleyball hasn't been implemented in the Micro Games in over a decade, so to say that Guam's four beach volleyball members are eager to compete in the 2018 Games is a major understatement.
Long-time volleyball star Tatiana Sablan and Kiara Rojas will be holding down the ladies volleyball team while Shintaro Okada and Ryan Eugenio will be representing the mens team. All four often train at the GFA sand-court at GFA as the court provides the team the best sand available to train on.
Beach volleyball was added to the 2018 Micro Games after the committee took an interest in the sport, in big part to Palau for pushing the sport to get in. Other teams bought in to the sport before officially welcoming it back into the Games since the late 90's.
Both teams have a gold standard like the rest of Tea Guam, but hitting the sand for the Micro Games with Guam on their backs is a luxury that they aren't taking for granted.
Volleyball Roster
Women – Tatiana Sablan, Kiara Rojas
Men – Shintaro Okada, Ryan Eugenio
The Vet and The Rook
Tatiana Sablan has over 25 years of volleyball experience under her belt, but it wasn't until the 2012 where she decided to make the swap from inside courts to the beach scene. Sablan has competed for Guam in the South Pacific Games and she's now ready to tackle the 2018 Games.
"I'll always be interested in indoor volleyball, but beach is my current passion," said Sablan on her volleyball timeline.
Kiara Rojas will be competing in the Micro Games for the first time in her young career after spending her volleyball days playing for the Sanchez Sharks and Tiyan Titans. She caught the eye of her volleyball coach, Sablan, playing for the UOG Tritons which then urged Sablan to recruit Rojas to play beach. Since making the transition, Rojas has found a new love for a different spin on volleyball.
"I've always liked to challenge myself in volleyball," said Rojas on the transition. "The biggest thing I've learned from [Tatiana] is to conserve my energy, especially with this heat. This sport is a mental game and it can really affect you on the sand. I'm excited, and maybe sometimes overly excited."
The bond the two have developed in just a short time has exceeded expectations.
"I just knew that even if we didn't have chemistry I knew that I would still be able to play with her because she doesn't know how to give up. But actually getting practice in with her, turns out our chemistry is ridiculously good so everything just played out amazingly well," said Sablan.
Ready to work
Ryan Eugenio has been playing beach volleyball for over a decade, but 2018 will be his debut in competing for Team Guam. Due to unfortunate circumstances with teammate availability, Eugenio had to miss out on the South Pacific Games and East Asian Games in which he was training to compete in. Missing his chance to represent Guam won't happen a third time and he's ready to show out in Yap
"This sport is my passion and I'm just pumped to finally get the chance to represent Guam in the sport I love," said Eugenio on finally getting the chance. "[Shin] and I know each other very well and he knows my strengths so it's just going to be all about implementing out game plan out there."
Shintaro Okada has been competing for Guam under beach volleyball in the late 90's as well as suiting up for the Men's Basketball Team in the 2000's. Okada has found his way back to the beach, but a knee injury suffered a couple of weeks back has limited his output.
"Recovery time is going to be very important out there," said Shin on monitoring his injury. "We've discussed a lot of aspects of our game plan, things to do in the game and outside, and if we can execute that then I think we'll be fine."
Okada believes the strength of their duo will be the all-around ability of his running mate.
"[Ryan] is a very athletic and he has a quick twitch for the ball so finding that balance is pretty easy. We've played against each other so much before so we know what we can and can't do," said Okada.
Next Up
July 13 – Wrestling
Previous Stories
PHOTO GALLERY BROUGHT TO YOU BY:

QUICK HITS
The Figo Islanders 40s women's softball team took gold in the Senior Softball World Championship in Las Vegas. Figo came out of the loser's bracket and beat the Arizona Belles 17-3 in the AA division championship game Sunday afternoon.
Other Guam teams that played in the 40s tournament were: Team SOTTA (women's) and Bud Light Guam, Friars 671 and Sindalun Guahan (men's).
Sindalu finished a respectable 4th out of 24 AAA division teams.