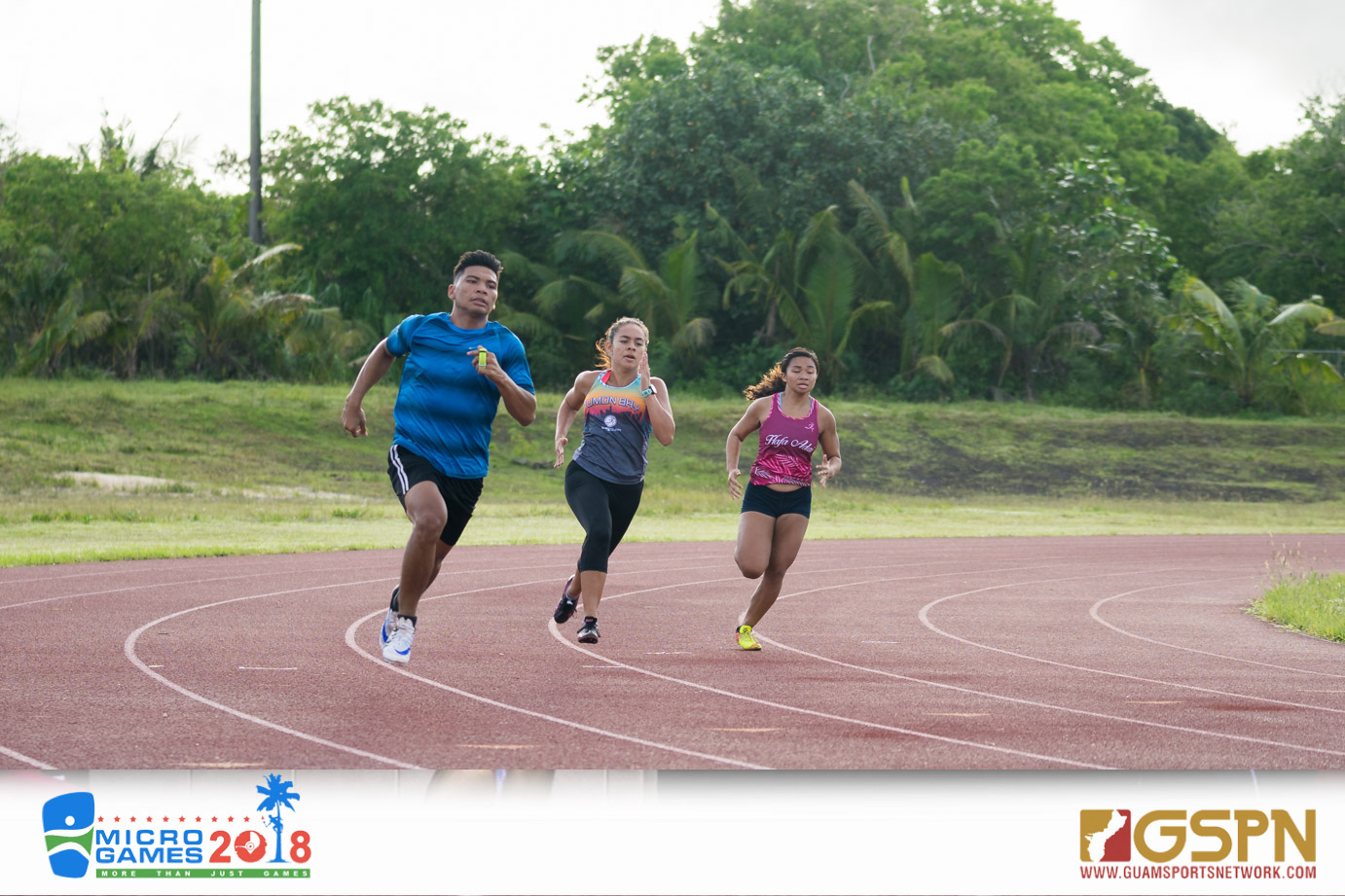 By Jay Leon Guerrero
Seventeen track and field athletes are on their final stages of preparations before the Micronesian Games (Micro Games) from July 15-27 in Yap. The contingent has a good mix of veterans, Olympians, and future young prospects that are all eager to bring home some hardware for Guam.
Leading the contingent are coaches Desmond Mandell III and Doris Abagatnan.  Two Olympic athletes, Joshua Ilustre and Regine Tugade, will headline the stacked team. Both Olympians represented Guam in Rio in 2016.
"I'm ecstatic to finally represent Guam again, especially in my first Micro Games. All those miles pounding the pavement along Marine Drive and doing speed workouts on the track, they were geared towards performing well in Yap," said Ilustre.  Tugade said she will do her best to perform well in her first Micro Games as well, breaking Micro Game sprinting records in the process.
The Micro Games will be special because Regine will be with her younger sister Richelle in Yap.
"I love being home and being able to train and compete with her. It's so much easier to critique and give out pointers in person than asking my Mom to send videos of her races and jumps," said Regine Tugade.
Joining the Tugade sisters in the sprint events will be upcoming stars Celine Amparo and Shania Bulala. Paul Dimalanta will also do sprinting events for Team Guam as well as the long jump.
The Tugade siblings will be joined by another pair of siblings with Genina and Zachary Criss racing in the middle and long distance events. Genina Criss looks to keep her momentum going after winning the most outstanding athlete award in Saipan last month during the Micronesia Regional Championships.
Jeofry Limtiaco will look to bring home double golds in the 400 meter sprint and 400 meter hurdles. Okkodo track star Darin Pascua will make his Micro Games debut and will race in the 800 and 400 meter races as well as the triple jump.  Madison Packbier will also look to bring some hardware home, running three middle distance races (1500, 800 and 400).
Based on previous events, team Guam is usually strong in the long distance races. An all-star group will look to continue the dominance in the long distance events in Yap. The Criss siblings will join Ryan Matienzo and Benjamin Middlebrooke in the long distance events. Middlebrooke will also run the half marathon.
Three field athletes will represent Guam in the shot put, discus and javelin events. Guam record holder Genie Gerardo will lead the throwers in her second stint at the Micro Games.  Amanda Cruz and Joshua Miller will both throw in the shot put and discus events; Gerardo is scheduled to throw in all three events.
Gerardo went to the Micro Games in Palau in 2010 and won silver in the shot put and bronze in the discus, she will be looking for gold in Yap.
"I'm looking to go for a PR (personal record) and go for gold. No one should train to lose or go into a competition thinking they are not going to win. At the same time, you should never underestimate your competition," said Gerardo. "It's not only about being physically strong but also mentally strong."
Future prospect Joseph Aguon hopes to gain experience and bring home a medal in the short distance races for team Guam. Aguon, along with more than half the national team, participated in the Micronesia Regional Championships last month in Saipan.
"The Saipan trip helped me gain a perspective on what is to come on racing older competition compared to the youth," said Aguon. "It's going to be more challenging since I have to race bigger and stronger athletes like Scott James and Rodman."
"I'm excited to represent Guam on this trip because I would like to show people that running is actually a good sport to participate in and watch. I hope to inspire younger athletes to join the sport and become greater athletes," said Aguon.
"Everyone on the team has been working really hard to represent Guam well. I'm sure I speak on behalf of the entire team when I say that we are excited to see the results of our training come to fruition," said Ilustre.
Team Guam roster and projected events:
Benjamin Middlebrooke – 10,000/5000/Half Marathon
Genina Criss – 10,000/5000/1500/800
Zachary Criss – 1500
Paul Dimalanta – 200/100/Long Jump
Celine Amparo – 400/200
Amanda Cruz – Shot Put, Discus
Ryan Matienzo – 10,000/5000
Shania Bulala – 200/100/Long Jump
Genie Gerardo – Shot Put/Discus/Javelin
Joshua Miller – Shot Put/Discus
Darin Pascua – 800/400/ Triple Jump
Jeofry Limtiaco – 400 Hurdles/400
Joshua Ilustre – 1500/800
Joseph Aguon – 400/200/100
Madison Packbier – 1500/800/400
Regine Tugade – 400/100/Long Jump
Richelle Tugade – 400 hurdles/ 100 hurdles/ Triple Jump/ Long Jump
Up Next
July 11 – Beach Volleyball
July 13 – Wrestling
Previous Stories
PHOTO GALLERY BROUGHT TO YOU BY:

QUICK HITS
3rd place: Big ups to the Para Todu Rugby Club for finishing 3rd out of 16 teams in the Manila 10's Rugby Tournament today. Biba Guam Rugby!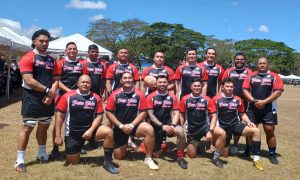 ——————————————
Guam MTB National Championship: Edward Oingerang and Jennifer Camacho are your 2023 MTB national champions. Oingerang finished the course in 1:13:24 while Camacho won her second straight title in 54:08.