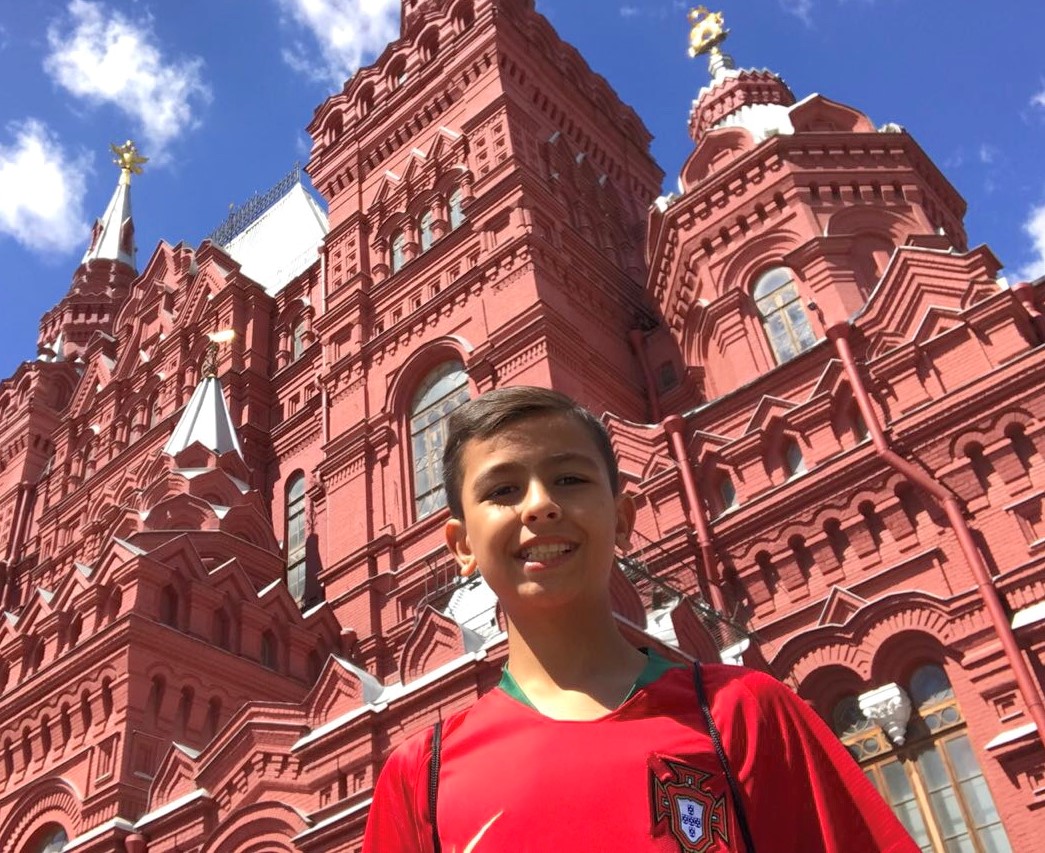 (11-year-old Raif Sablan is the GSPN correspondence to Russia, covering his first ever World Cup experience. This is Part V.)
Everyone knows that athletes like their gear and here in Moscow there's an Adidas store and a Nike Outlet! At Adidas my dad bought me an Egypt jersey. It is very special because they print your last name and a number in it. At Nike we picked up some Hypervenoms for my trip to Japan for a soccer tournament next month.
We headed back to the Spartak Stadium to watch Poland vs Senegal. When we got there it was louder than the previous days. There were far more Poland fans and we saw many big-name players such as Robert Lewandowski, Arek Milik, Sadio Mane and Kalidou Kuolibaly and more. Even though Poland had better players and were favorites to win, Senegal took the game with a 2 to 1 victory over Poland.
Today is our last full day here in Moscow. It was an extra special day, not only because we got to visit Red Square, but we were able to watch my favorite soccer player Cristiano Ronaldo!
Our group was able to see some very nice churches and also the Tomb of the Unknown Soldier. The changing of the guard was cool.
Portugal vs Morocco at Luzhniki Stadium was our 4th and last game to watch for the World Cup. All I wanted to see was Ronaldo score and he was able to pull off a header from a corner kick! The stadium went wild. After that the fans of Morocco would boo every time CR7 had the ball. Morocco kept pushing hard to score and made many attempts. Portugal held on for the win 1-0.
My friend Gavin and I wanted to play soccer so bad, so we used the Metro to take us to a place that had the Panna Pro freestyle cage. We played some boys from Russia that were a little older than us, but we held on and won every match.
Goodbye Moscow, it's been great! We'll continue following World Cup 2018 from Guam along with all of you up until the finals on July 16th. Enjoy the games!
Part II: Sights and Sounds of Moscow
Part III: Excitement of a World Cup Stadium

QUICK HITS
The Figo Islanders 40s women's softball team took gold in the Senior Softball World Championship in Las Vegas. Figo came out of the loser's bracket and beat the Arizona Belles 17-3 in the AA division championship game Sunday afternoon.
Other Guam teams that played in the 40s tournament were: Team SOTTA (women's) and Bud Light Guam, Friars 671 and Sindalun Guahan (men's).
Sindalu finished a respectable 4th out of 24 AAA division teams.