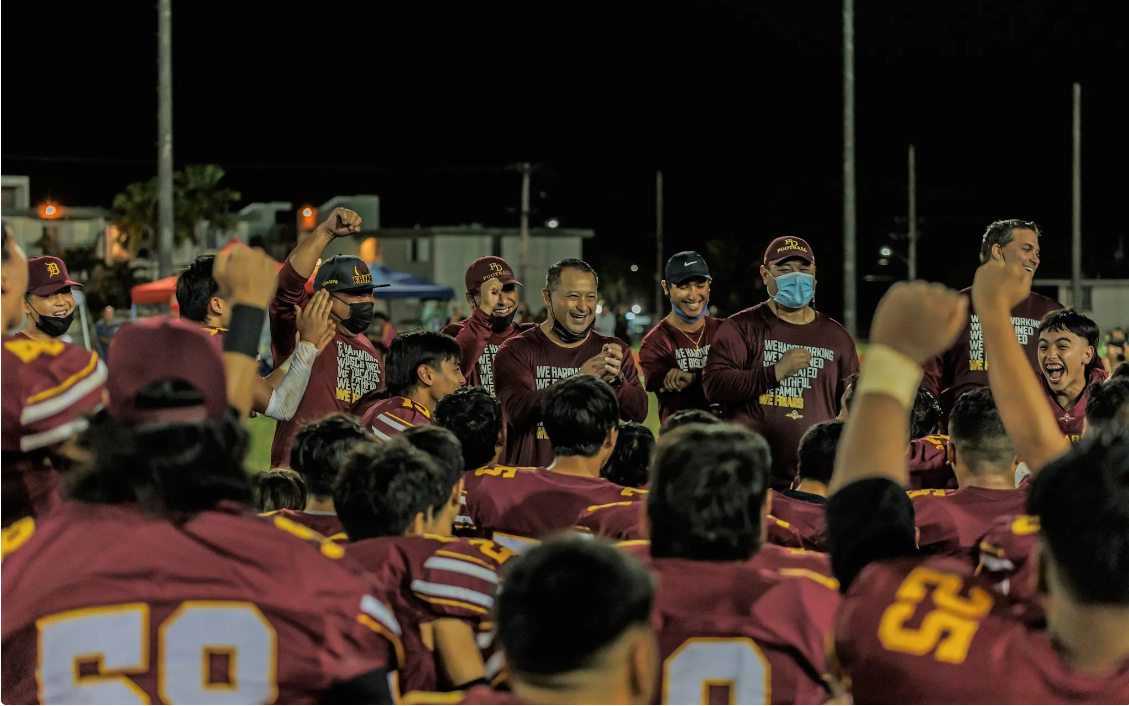 By Patrick Lujan
Every successful team has its own unique recipe in building a solid sports program. Talent and commitment are two obvious ingredients, but the main course boils down to leadership – in this case, the head coach of accomplished programs.
GSPN ranks the top five high school sports programs based on current success.
Warning: before you continue to scroll down, be aware that you'll see the FD Friars frequented on the list.
#1: Father Duenas Football (Bruce Meno)
Coach Bruce Meno didn't inherit a juggernaut, believe it or not. The current record of 57 straight wins is already an incredible feat, knowing that the previous record was 27 held by the GW Geckos in the 1980's.
Meno's system is the closest to stateside level with position-specific players, non-verbal signal calling and year-round preparation just some of the reasons why the Friars are a football powerhouse with really no end in sight. And the peculiar part of it all is that Meno isn't reinventing the wheel. He's taken and implemented pieces of the NFL, NCAA and even stateside high school into the well-oiled machine that you see today.
#2: JFK Boys/Girls Soccer (Lad Manansala)
Coach Lad Manansala brings your head down/eye on the prize approach to leading the JFK soccer program to where it is today. Oh so quiet in doing business, you barely know who leads the JFK teams until they win their championships. The boys have won six of the last 10 championships, including the last three. The boys have a total of seven under Coach Lad.
As of this writing, the girls are on a 25-game win streak are heavy favorites to win their third straight crown. Talk about total domination, the girls are 8-0 this season and have outscored their opponents 73-1 so far.
#3: FD Wrestling (Terry Debold)
Seven straight boys wrestling titles. Coach Terry Debold is known to run a rigid training system where all his wrestlers will step on the mat in tip-top shape. Add the number of athletes and it all calculates into success and a powerhouse program.
Coach Debold had previous coaching success at JFK as well, winning five titles prior to moving to FD.
#4: Guam High Track & Field/Cross Country (Joe Taitano)
The Panthers are riding a five-year championship run in the boys squad and three straight titles for the girls with all eyes looking at legendary coach Joe Taitano.
Forget that he has over 40 high school championships in basketball and track over the last four decades. What's astounding is that he's still doing it today! (see 2017 special feature)
The modern athlete has changed mentally, socially and physically and Coach Joe has changed along the way. What hasn't changed is Taitano's championship pedigree.
#5: Tiyan Boys Volleyball (Rod Pama)
Let's face it, Tiyan has not been a steady sports threat in the decade of existence – except for boys volleyball. All credit goes to coach Rod Pama, who's tireless commitment to the boys and the sport results in consistent championship contending. It also helps that Pama runs the Untalan Middle School volleyball program as well, which is a feeder school to Tiyan.
There's a running joke that Coach Pama holds practice 365 straight days. Though we think that can't be true, it sure seems that his teams do so with their preparation, skills and mindset brought to the court because of Pama.
Just last season, the Titans did not event drop a single set. 42 sets played, all wins!
HONORABLE MENTIONS
FD Golf (Gus Gogue): Coach Gogue has been teaching the game for decades. FD's dominance dates back to the early 1990's and it hasn't stopped as they are currently riding a 13-year reign.
FD Rugby (Paul Claros/Josh Lujan): four straight titles (12 overall)
FD Tennis (Dan Tinsay): Coach Tinsay has won nine title in 17 years coaching the Friars. Before that, he took the St. John's girls teams to eight championships dating back to 1998. Over his 25 years of coaching, his players have won 83% of the time.
FD Volleyball (Steve Pangelinan): four straight titles (six total)
GW Football (Ryan Rios): Perennial championship game team, Coach Rios has won seven football championships
GW Girls Volleyball (Bobbi Quinata): Coach Quinata has won 17 championships with the Lady Geckos
Notre Dame Girls Rugby (Conrad Kerber/Nicole Paulino/Paul Claros): four straight titles
Notre Dame Volleyball (Mike Rabago): four titles (six overall)
St. Paul Girls Basketball (Julian Canovas/Deren Stinnett): four out of last five titles

QUICK HITS
Guam MTB National Championship: Edward Oingerang and Jennifer Camacho are your 2023 MTB national champions. Oingerang finished the course in 1:13:24 while Camacho won her second straight title in 54:08.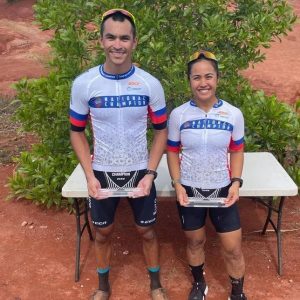 ——————————————
Kobe Miyashita, with St. John's coach Arvin Flores, was named the 2023 IIAAG Middle School Boys Volleyball MVP!